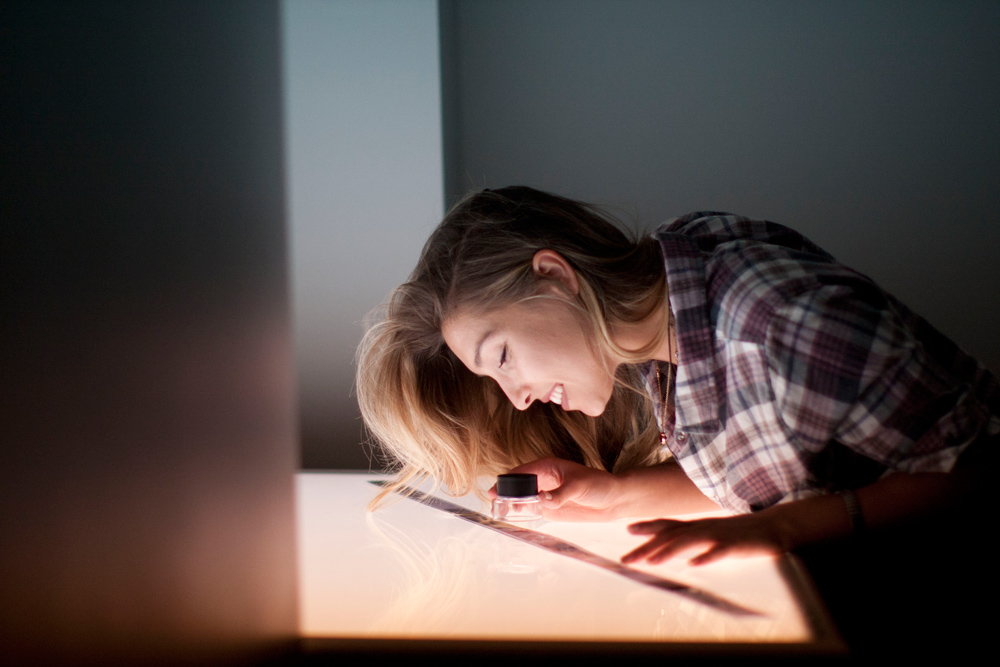 In Focus: A look a City College's photography program
November 2, 2016

|
Cynthia Sinclair had established herself in careers as both a nurse and an attorney before she decided to pursue her true passion and dive into photography. A graduate of the photography program at San Diego City College, Sinclair today is among the region's most respected sailing photographers and her business, Cynthia Sinclair Photography, has been hired to shoot everything from the recent College Sailing Championships in San Diego to events for the St. Francis Yacht Club in San Francisco.
"I really didn't have any experience as a photographer before I started taking classes at City, but I decided it was time to go for it," Sinclair said. "I found a supportive atmosphere, the price was right, the teachers were fantastic, and the equipment was excellent. It's just a phenomenal program that taught me so much about things like composition, lighting, editing, and understanding what your equipment can do and what your lens can do."
Sinclair is not the only person who feels that way. Thanks to top-notch facilities and certificate and associate degree programs designed to provide the technical skills needed to thrive in the profession, graduates are flourishing.
"Our responsibility is to create professional-grade photographers, and we're doing an excellent job at meeting our responsibility," Professor David King said.
The program's modern digs don't hurt. Part of being the best means having the most advanced tools of the trade, including 30,000 square feet of darkrooms, digital labs, studios, and the Luxe Photography Gallery, all housed in the recently built, $72.5 million Career Technology Center on 16th and C streets in San Diego's East Village.
"You're not going to find studios like what we have here at any other community college," King said. "You're not going to find a gallery like this. You're not going to find computerized classrooms like this. You're not going to find the kind of gear that students can check out like this."
Photography Professor David Eichinger said City College facilities have a reputation for excellence around the country.
"We've had professors from coast to coast tour our facilities and I haven't had one yet leave without saying this is the finest they've seen anywhere," Eichinger said.
"A focus on fundamentals is another strength," said Walter Wilson, a former student whose La Jolla-based business, Walter Wilson Studios Inc., shoots weddings around the world and has been retained by the likes of Rubio's restaurants, Jack in the Box, Nike, and Home Depot.
All students begin by taking Photo 100, an entry-level darkroom class that underscores the roots of the trade, including shutter speeds and f/stops. Other beginning courses can include Introduction to Black & White Photography, Photographic Composition & Design, and History of Photography before moving into the more advanced Digital Imaging/Adobe Lightroom, Photographic Lighting Techniques, Advanced Digital Photography, and Photographic Styling. The program offers nearly 50 courses in all.
The curriculum also covers the business side with an emphasis on branding, marketing, and advertising. Gallery and Exhibition Techniques, Photographic Exhibition & Curatorial, and Photographic Portfolio are also included in the menu of options.
"That's key," Wilson said. "About 6 percent of what I do involves photography. The other 94 percent involves running a business."
Veterans of the program such as Wilson are its biggest boosters.
"Everything in that program is state-of-the-art," Wilson said. "It's going to cost you $100,000 or more to find a private program that is comparable to what City College is offering."
And at just $46 per unit, courses at City College are less than $140. King calls it "the deal of a lifetime."
"We want our students to be the best," King said. "In the end, the only thing that matters is the quality of the student when they leave here and start working in the profession."
Learn more about the photography program at San Diego City College.