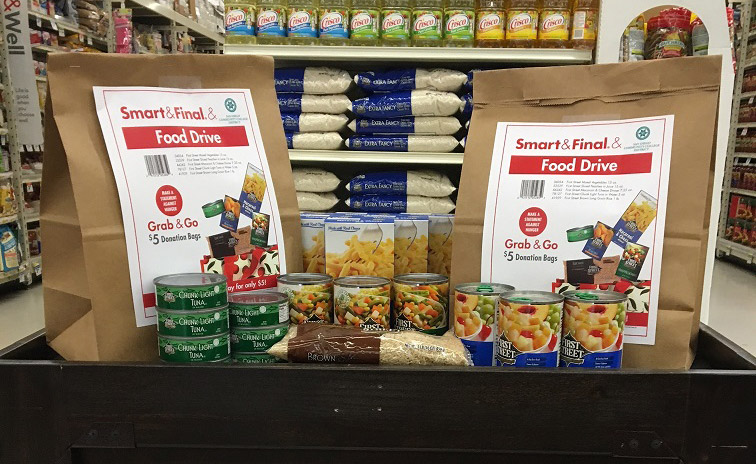 City College, Smart and Final team up to stock campus food pantry
April 4, 2017

|
Fourteen San Diego County Smart & Final stores are holding a food drive through April 16 to help restock San Diego City College's Food Pantry, which provides approximately 300 emergency lunches to hungry students each week.
"It's wonderful to see this kind of support from the community, and we are grateful to Smart & Final for going above and beyond in helping our students," said Tania Serhan, a City College business professor who also serves as Food Pantry-Emergency Lunch Program Coordinator.
The impetus for the drive came in December when Judy Rueda, a Smart & Final Business and Community Representative who earned a retail management certificate from a community college near Los Angeles, assisted with the delivery of food purchased by City College. She met with Serhan, toured the site, and learned about the large number of community college students facing hunger daily.
"It was eye-opening," Rueda said. "I didn't realize how many students are food insecure."
In fact, the National Student Campaign Against Hunger & Homelessness recently found that nearly half of more than 3,700 respondents in 12 states reported instances of food insecurity within the previous 30 days. And a 2015 survey by the University of Michigan of more than 4,000 students at 10 community colleges across the country found that nearly 30 percent of students cut the size of their meals or skip meals because there wasn't enough money for food.
Rueda and Serhan soon began planning a food drive that began April 1. Flyers at 14 Smart & Final stores promote the effort, and cashiers also ask shoppers if they would like to contribute $5 for a "grab bag" containing tuna, brown rice, a can of mixed vegetables, a can of mixed fruit, and a helping of macaroni and cheese. When the drive ends April 16, Smart & Final will tabulate the donations and deliver the food to the City College Food Pantry.
During the first weekend of the drive, contributions for more than 300 bags were collected, Rueda said.
"Smart & Final is committed to supporting organizations and nonprofits in our community, and we're proud to do what we can to help San Diego City College's Food Pantry," Rueda said.
The San Diego City College Food Pantry provides pre-packaged items suitable for an on-campus lunch. An example of a typical lunch may be a pop-top can of soup or pasta, a fruit or applesauce cup or granola bar and bottled water. A bowl and spoon are provided so students can microwave their meal in the cafeteria.
Staffed by student interns enrolled in City College's Small Business Entrepreneurship Program, the Food Pantry provides valuable lessons in management, supply and demand, and other key elements in business planning. It also is just one of several efforts aimed at helping those in need at City College. Student interns also operate an on campus used-clothing store, Fantastique, where students can buy very affordable business or interview attires. In addition, students from the college's Cosmetology program, for example, regularly partner with local charities, providing haircuts to those in need and their families.
Where to donate
These are locations of the Smart & Final stores that are contributing to the food drive:
1. 1220 PLAZA BLVD, NATIONAL CITY
2. 6235 EL CAJON BLVD, SAN DIEGO
3. 5195 CLAIREMONT MESA BLVD, SAN DIEGO
4. 720 15TH STREET, SAN DIEGO
5. 3141 MAIN STREET, CHULA VISTA
6. 2804 MIDWAY DRIVE, SAN DIEGO
7. 933 SWEETWATER ROAD, SPRING VALLEY
8. 40 N 4TH AVENUE UNIT D, CHULA VISTA
9. 10633 TIERRASANTA BLVD, SAN DIEGO
10. 3681 AVOCADO BLVD, LA MESA
11. 150 B AVENUE, CORONADO
12. 360 EAST H STREET, CHULA VISTA
13. 350 W SAN YSIDRO BLVD, SAN YSIDRO
14. 2235 UNIVERSITY AVENUE, SAN DIEGO