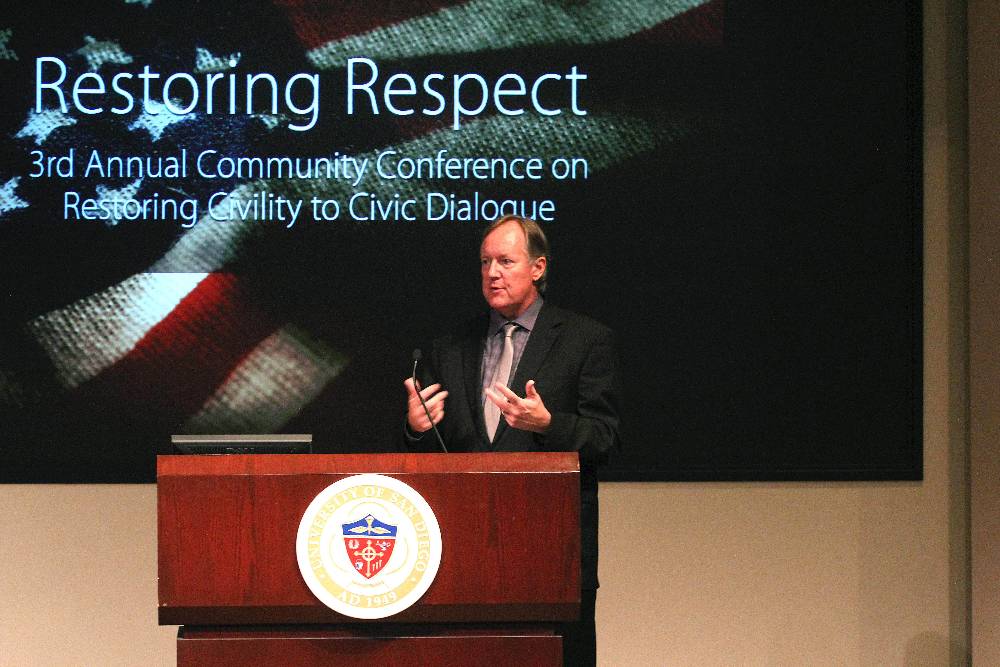 Conference to focus on Restoring Civility to Civic Dialogue
March 19, 2015

|
The theme of conference is "Celebrating Civility"
Leaders in San Diego education will be among those addressing the 4th Annual Conference on Restoring Civility to Civic Dialogue on Friday, March 20, at the Joan Kroc Institute for Peace and Justice at the University of San Diego.
The theme of this year's conference is "Celebrating Civility" and it is focused on reincorporating civility into an increasingly acrimonious political climate. The conference will highlight the work done by the region's high school seniors to foster civility, and several will be honored with the first in an annual Celebrating Civility Awards: Creating Civility on Our Campuses and In Our Community.

The conference is a product of Restoring Respect, a community initiative that aims to bring civility to public discourse, and is held in partnership with the San Diego Community College District (SDCCD), the San Diego Unified School District, and the University of San Diego (USD).
San Diego Gas & Electric is a principal program sponsor.
The conference kicks off with opening remarks by USD President Dr. Mary
Lyons, SD Unified Superintendent Cindy Marten, and Catfish Club of San Diego founder the Rev. George Walker Smith.
Steven Dinkin, director of the National Conflict Resolution Center Director, will be the keynote speaker. Dinkin has directed the National Conflict Resolution Center since 2003 and is co-chair of the Alternative Dispute Resolution Section of the San Diego County Bar Association.
A panel discussion moderated by San Diego Mesa College Professor Carl Luna – who co-chairs Restoring Respect and directs the larger Institute for Civil Civic Engagement – includes San Diego County Supervisor Greg Cox, U-T San Diego reporter Karla Petersen, local consultant and lobbyist Michel Anderson, UC San Diego Associate Vice Chancellor Mary Walshok, and Adam Garcia, president of San Diego City College's Associated Student Government.
Closing remarks will be presented by San Diego City College President Anthony Beebe.
Reality Changers founder Christopher Yanov will be the keynote speaker during a luncheon following the conference for nominees of the Celebrating Civility Awards, their parents, and faculty and staff from participating high schools. Reality Changers is a San Diego-based nonprofit that mentors and tutors at-risk, high school students aspiring to become first-generation college students.
Through essays, video, multimedia platforms, or art, SD Unified high school seniors ruminated on what civility means and how can it be advanced. One student from each high school was nominated as a finalist, and the top three student entries will receive cash scholarship awards. Nominated students will be honored at the Restoring Respect conference and the scholarship winners will be announced.
"We are tremendously appreciative of the support given to us by our principal program sponsor, San Diego Gas and Electric. Indeed, the broad range of organizations and academic institutions supporting the Restoring Respect initiative underscores our commitment as a San Diego community to pursuing greater civility in our public lives," said Luna.
The March 20 conference is scheduled to run from 9 a.m. to noon, with registration beginning at 8 a.m. USD's Joan Kroc Institute for Peace and Justice is at 5998 Alcala Park, in San Diego. The event is free and open to the public.