From Miramar College to Fire Chief
December 9, 2016

|
San Diego Miramar College alumnus Colin Stowell is the new chief of Heartland Fire & Rescue, which provides fire protection to El Cajon, La Mesa, and Lemon Grove under a joint powers agreement.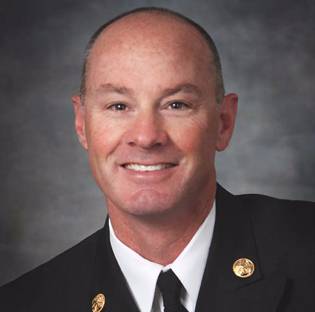 Colin Stowell
Stowell, who spent 28 years with the San Diego Fire-Rescue Department where he rose to become Assistant Fire Chief, began his new job Nov. 7. Stowell replaces former Heartland Fire Chief Rick Sitta, who retired Aug. 12.
Stowell earned his Associate Degree in Fire Science from Miramar College before securing a Bachelor of Arts in Public Administration and a Certificate in Fire Protection Administration from San Diego State University. He graduated from Mira Mesa High School in 1985.
Stowell, 49, worked for the San Diego Fire-Rescue Department from 1988 to 2016 in a variety of roles, including Fire Captain, Fire Battalion Chief, Deputy Fire Chief, and Assistant Fire Chief of Emergency Operations. His latter post had him overseeing the Emergency Operations Division, which includes 48 fire stations, 845 sworn personnel, the Training Division, special operations, lifeguards, and emergency medical services.
Stowell's starting salary as Fire Chief will be $175,302.