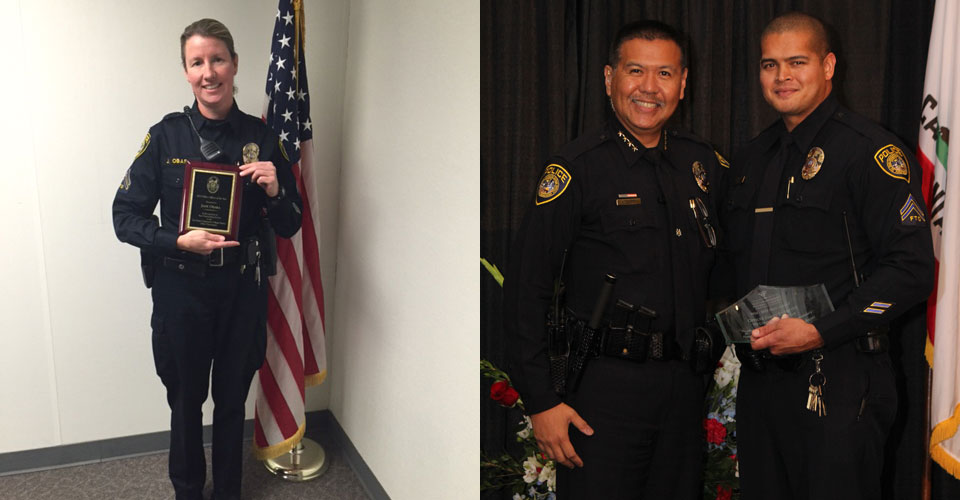 College Police Department salutes two of its finest
April 12, 2016

|
Two San Diego Community College District police officers are being honored for their exemplary service to students, faculty, staff, and the surrounding community.
Officer Jane Obara has been recognized as the SDCCD Police Department's Officer of the Year, and she is among those from agencies throughout the region who have been nominated as Officer for the Year in San Diego County. Officer James Everette is receiving an Award of Distinction at the annual conference of the California College & University Police Chiefs Association on April 14 in Lake Tahoe.
Officer Obara is one of six field training officers with the Police Department, she serves as a liaison to the Drug Enforcement Agency, and she helps coordinate a Prescription Take Back program that works to reduce prescription drug abuse.
"Jane is a good example of what the college Police Department stands for in our college community," said SDCCD Police Chief Raymund Aguirre. "She is easy to approach and easy to work with. She is very professional with everyone she confronts, not just the staff and students, but even the criminals."
Officer Obara has been with the department for the past dozen years. Currently assigned to a weekend patrol shift, Officer Obara in 2015 responded to 774 calls for service, initiated more than 40 traffic stops, conducted 33 criminal investigations, and made 20 arrests.
"I really appreciate the recognition, but each and every one of us in the college district police department works hard every day to provide the students, faculty, and staff with a safe environment," Obara said.
San Diego County Crime Stoppers will honor Officer Obara at its annual Enough is Enough luncheon on May 18, an event celebrating exemplary professionals from throughout the region. The same month, she will be honored at a similar event sponsored by the San Diego Police Officers Association.
Officer Everette is being recognized for his actions at a July 2, 2015, disturbance call at the Continuing Education North City Campus on Aero Drive. The disturbance involved a former student who was refusing to follow instructions from the campus dean and quickly escalated when he began to threaten faculty and staff. After police were called, the former student refused to comply with Officer Everette's commands and violently resisted arrest. During an ensuing struggle, the two fell to the ground, with the former student landing on and breaking Officer Everette's leg. Despite being in excruciating pain, Officer Everette was able to subdue and arrest the man.
"Officer Everette's only concern was that no other member of the campus community had been injured by the male, showing Officer Everette's true character and dedication as an officer who cares about the public he serves," said Chief Aguirre.