Chancellor honored for efforts expanding access to baccalaureate degrees
March 20, 2017

|
A national organization promoting baccalaureate programs on community college campuses has honored Chancellor Constance M. Carroll of the San Diego Community College District with its annual Pioneer Award for her leadership in expanding access to bachelor's degrees.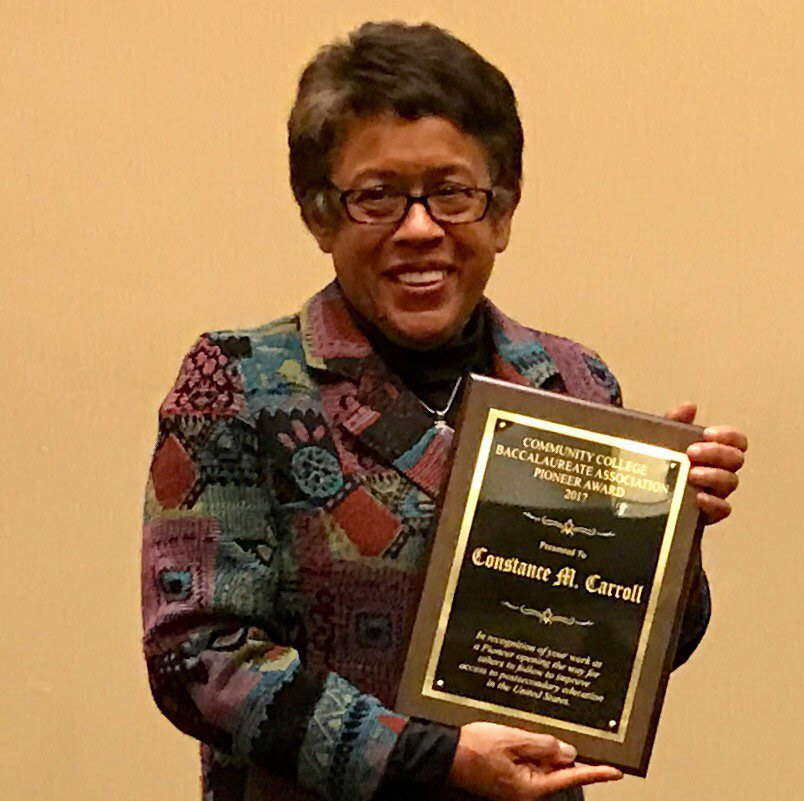 Chancellor Carroll received the award from the Community College Baccalaureate Association during the organization's 17th Annual International Conference on March 10 in San Francisco.
Chancellor Carroll was an effective proponent of Senate Bill 850, legislation signed into law in the fall of 2014 that launched a pilot project enabling 15 California community colleges to offer four-year degree programs. Chancellor Carroll co-chaired the advocacy effort for the bill, which was authored by San Diegan Marty Block, who has since retired from the state Senate. The bill swiftly made its way through both the Senate and Assembly and received zero "no" votes on its way to being signed by Governor Jerry Brown.
One year later, San Diego Mesa College became the first community college in the state to offer a bachelor degree when it enrolled its first class of students seeking a bachelor's degree in Health Information Management.
Currently, Chancellor Carroll is taking the lead once more, this time in advocating for SB 769 (Jerry Hill-San Mateo), which would expand the pilot program from 15 to 30 degrees, remove a sunset provision ending the program in 2023, and allow community colleges to offer some of the same degrees available through the University of California and the California State University – but only if those programs are not available at a campus within 100 miles.
Public universities and four year-colleges in California award approximately 110,000 bachelor's degrees annually, and private institutions are generating an additional 60,000. The state is projected to see a shortfall of 60,000 workers annually who will need bachelor's degrees by 2025 to keep the California economy competitive.
Now in her 13th year as Chancellor, Dr. Carroll has overseen an extraordinary transformation of California's second-largest community college district, including unprecedented gains in student success and $1.6 billion in bonds for new construction.