Adults graduate with high school diploma in 6 weeks
February 14, 2017

|
San Diego Continuing Education, the adult education institution within the San Diego Community College District, recently introduced an Accelerated High School Program.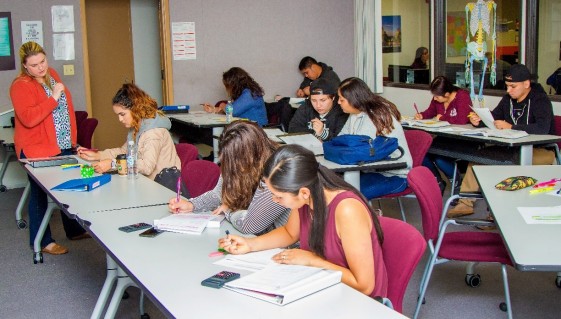 Students can now earn one credit in six weeks compared to an 18 week semester. The fast track program takes place at two campuses: the Education Cultural Complex and César E. Chávez in the Mountain View and Barrio Logan communities of San Diego.
With greater reason than ever before, a high school diploma or equivalency is the most sought after economic necessity. "This is about adults of all ages reaching their dreams," says Cat Prindle, SDCE Counselor, and High School Diploma and Equivalency Program Chair.
"By 2020, 65 percent of all jobs in the economy will require postsecondary education and training beyond high school," according to Georgetown University on RECOVERY Job Growth and Education Requirements Through 2020. The first step into a collegiate education or obtaining better pay in the workforce requires a high school diploma or its equivalent credential.
Disheartened by seeing adult learners give up on their education, SDCE faculty members and former co-chairs of the Adult Basic and Secondary Education Program Holly Rodriguez and Leticia Flores invested their time to create a more dynamic and expedited high school curriculum. Humbled by their impact, Rodriguez says, "There has been a transformative shift in adult basic education, campus-wide."
"Seven in 10 ninth-graders complete high school on time," according to The Huffington Post on INFOGRAPHIC: America's School Dropout Epidemic by the Numbers. "A child is kicked out or drops out of high school every 26 seconds."
For many adults who fall into these statistics, SDCE offers them a second chance at an education. Rodriguez explains in addition to learning core subjects, she teaches her students how to prioritize their life around school. "A diploma truly matters to them," she says. "These students work night shifts, two jobs, takes buses, and walk here."
SDCE faculty member Holly Rodriguez reviews homework with SDCE student Lydia Soto
"For the first time in my life I'm moving forward," says Lydia Soto, SDCE student, age 49. Growing up, Soto dropped out of high school as a sophomore and at age 17 had her first child. She quoted a former counselor, "You'll never graduate. You need too many things." Despite those words, Soto never gave up. She struggled with math her whole life and is currently being supported by Disability Support Programs and Services (DSPS) at SDCE to reassure her that she understands the material. As we talk about commencement and her resiliency, Soto in tears responds, "A high school diploma is everything to me. For others, it's not a big deal." Upon obtaining her diploma she plans to transfer to California State University San Marcos.
Students that need to finish as little as two credits or as many as two years of high school can enroll into the Accelerated High School Program at any time. They will start classes at the beginning of a new six-week session. Each semester at SDCE is broken into three six-week sessions. Rodriguez comparatively explains, "A traditional semester is 18 weeks and that seems to result in a higher attrition rate in adult education. On the other hand, students come to SDCE because they like the structure. It's a definitive six weeks. They know when they will graduate."
Partnerships have been established to ensure students strive beyond their diploma. "College prep is huge here," states Rodriguez. The SDCCD counseling department assists SDCE students who transfer into the honors program at San Diego City College. They are also given hands-on help with two-year and four-year college applications. Students often transition into one of the Districts three for credit colleges, City, Mesa or Miramar.
Today an increasing number of employers will not hire applicants without a high school diploma, a tangible outcome of completing the Accelerated High School Program is employment. SDCE also offers preparation for the GED (in English and Spanish), HiSET and TASC as well as free vocational and technical training.
SDCE is now recruiting students for a new San Diego Gateway to College and Career program. The initiative mentors young adults between the ages of 18-24 toward their high school diploma and also transition to college or technical education that includes paid internship opportunities. For more information contact, sdgateway@sdccd.edu.