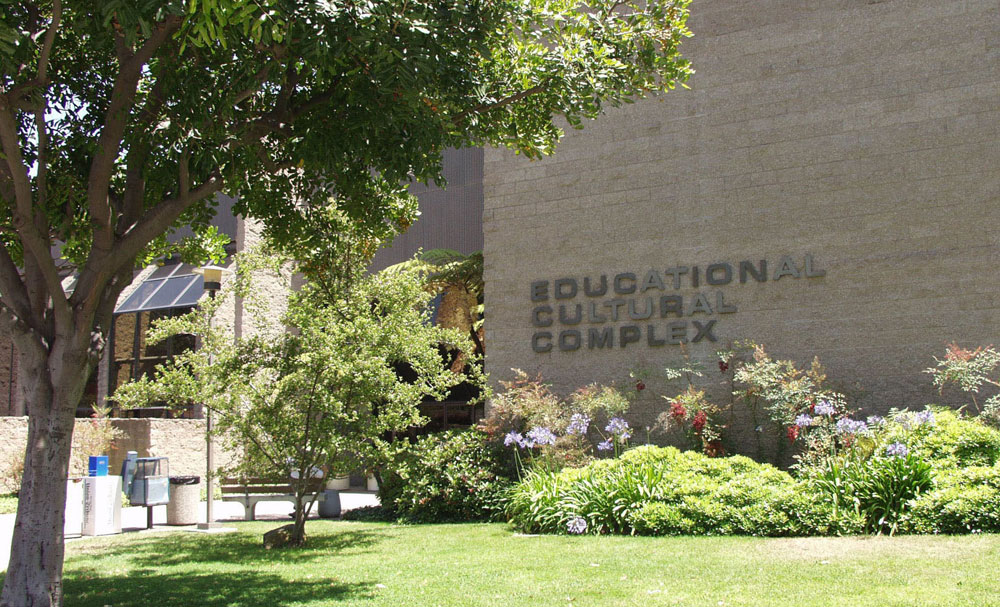 Continuing Education's Educational Cultural Complex celebrating 40th anniversary
June 6, 2016

|
The Educational Cultural Complex is celebrating 40 years of serving students and community in San Diego's Mountain View community. ECC is the largest of San Diego Continuing Education's six adult education campuses in San Diego.
The celebration on Wednesday, June 8, 2016 from 10 a.m. to 2 p.m. includes a look back over the past four decades, recognition of the past and current leadership, an awards ceremony to honor community partners, and a community forum to look ahead as to what's next for ECC.
"We're looking forward to hearing from our community partners about their perspective for the future for ECC," said Jane Signaigo-Cox, Resident Dean at ECC. "And to collaborating with community organizations on specific focus areas such as education, community, youth, cultural, student alumni and immigrants," she said.
ECC's history began in 1972 when the San Diego Community College District and Model Cities, Inc. pooled funds to purchase additional lots of the already-donated Preble-Sachem Navy housing on Ocean View Boulevard. The purchase created 20 acres available for the construction of ECC. Over the next two years, money was approved by the San Diego City Council, San Diego County, and Model Cities to begin construction on the land. In 1974, several local elected officials and leaders, including ECC's first President, Dr. Lawrence Davenport, Mayor Pete Wilson and San Diego Urban League Leader Clarence Pendleton, participated in a groundbreaking ceremony. By May, 1976, ECC had opened and was serving students in programs such as auto mechanics, graphic reproduction, electronic assembly, clothing and textiles and office skills labs.
"Originally, one of the goals of the ECC was to house classrooms and programs that would help adults achieve skills in areas that would lead to jobs," said Carlos O. Turner Cortez, Ph.D., SDCE's President. ECC would also operate a performing arts theatre, and include a local city library (Mountain View/Beckwourth Branch Library) on its property. Today, ECC continues to offer short-term job training in career technical areas; the theatre has hosted well-known dignitaries and stars such as Jesse Jackson and Stevie Wonder, and continues to support local productions and events, and the Beckwourth library still serves the students at ECC and the surrounding community.
In addition to short-term job training classes available through SDCE, in 2008, college degrees became available at ECC through San Diego City College. Students attend classes at ECC to complete an AA degree in several areas of study including real estate and child development.
Community Forum + Program
These organizations and individuals support education, community engagement and workforce development. Each will share perspective on how SDCE can collaborate with the community to address student and community needs in the future.
- Maria Nieto Senour, Ph.D., Professor Emeritus, Community-Based Block Program, San Diego State University, and David Lopez, Executive Director, Teach for America in San Diego will provide focus on educational perspective. Senour is also the President of the SDCCD Board of Trustees.
- Omar Passons, Vice President, Community Development & Policy, Jacob Center for Neighborhood Innovation will provide community perspective.
Rahmo Abdi, a Somali activist will provide perspective toward refugee and immigrant populations.
- Elizabeth Vargas, Outreach Coordinator, San Diego City College will provide perspective for student alumni.
- Dorothy Smith, Ed.D., First African American female Board President for San Diego Unified School District, Professor Emeritus, San Diego City College and ECC, and Board member, Common Ground Theater will provide perspective regarding culture and art.
Michael Brunker, Executive Director, Jackie Robinson Family YMCA will provide perspective toward serving youth in the community.
Since 1974 when the first wing of classrooms and offices opened to students, the ECC has reached many construction milestones, including the latest addition of a 67,000 square foot green expansion in 2008. The addition houses hands-on instructional areas, shops, labs, classrooms, demonstration theatres and other learning spaces. The expansion was the result of San Diego voters approving Propositions S and N, which lead to $1. 6 Billion for new construction and renovation throughout SDCCD facilities. Event attendees will have an opportunity to tour the campus following the program and learn about current programs.
SDCE serves 45,000 students annually representing dozens of nationalities and more than 100 countries. Students are served at six main campuses, including ECC.
Event Details
ECC 40th Anniversary Celebration
Wednesday, June 8, 10 a.m. to 2 p.m.
Educational Cultural Complex
4343 Ocean View Blvd.
San Diego, CA 92113