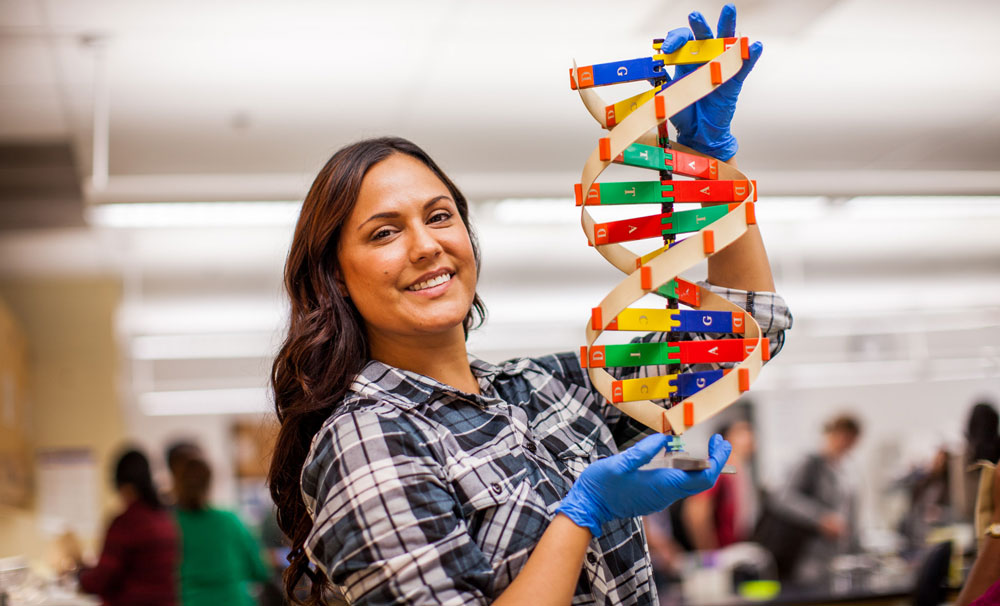 A culture focused on STEM
February 22, 2017

|
San Diego Mesa College is creating a new STEM Center and research incubator to help students from underrepresented communities find their way into careers encompassing science, technology, engineering, and mathematics.
The Miramar College-based Southern California Biotechnology Center works with schools, biotechnology firms, economic development groups, and others to fashion an all-encompassing effort that is upgrading skills in the workforce. At San Diego City College, dozens of students enrolled in the Math, Engineering, and Science Achievement program (MESA) worked as researchers or interns this past summer in six different states.
From new state-of-the-art facilities to groundbreaking educational programs, the San Diego Community College District has placed STEM front and center, and students — along with industry — are reaping the rewards.
"None of our many science, technology, engineering, and mathematics programs is operating in a vacuum," SDCCD Chancellor Constance M. Carroll said. "The continued growth of STEM industries is vital to San Diego's future, and the District has responded by aligning our academic programs, facilities, and support systems to expand the pipeline of students moving into these fields.
Indeed, more than 51,000 professionals in San Diego County are working in the life sciences industry alone, according to Biocom, an organization which advocates for California's Life Science sector. Scientific research and development, meanwhile, affects more than 100,000 local jobs and generates more than $14 billion in economic impact, according to the San Diego Regional Economic Development Corp. Student Emmanuel Gutierrez embodies the excellence of the STEM offerings at Mesa College.
Gutierrez recently earned a top award in Organic Chemistry at the SACNAS National Research Conference in Long Beach for his work on what could become a potential anti-cancer drug. Gutierrez is part of the college's prestigious Bridges to the Baccalaureate program, a National Institutes of Healthfunded endeavor that is boosting transfer rates of students from underrepresented populations who are studying biomedical or behavioral sciences and are eyeing careers in research.
Since the Bridges to the Baccalaureate inception in 2005 at Mesa College, nearly every student in the program has transferred, or is planning to transfer, to a four-year college or university. Many are pursuing or have secured advanced degrees.
Gutierrez said the atmosphere at Mesa and the college's Bridges to the Baccalaureate program have combined to expand his vision for his future. "Initially, I was thinking only about getting a bachelor's degree and working in the lab as a chemical engineer, but working with the Bridges to the Baccalaureate program and meeting with other people has shown me that it is completely doable to get a Ph.D. in the STEM field and go beyond my original expectations," he said.
Other campus initiatives include the Mesa College Research Conference, along with "STEM Conexiones" (STEM Connections), which is funded by a $5 million U.S. Department of Education grant for a new STEM Center, enhanced counseling services, peer mentoring and outreach, and new pathways for high school students to study math and science at the college level.
The Mesa College STEM Engagement for Enrichment of Diverse Students (SEEDS) Program encourages students from underrepresented communities to explore STEM fields that are defined as high-priority areas by the U.S. Department of Agriculture, including sustainability, global food security, and hunger.
Efforts are similarly being expanded at Miramar College, where the Advanced Transportation Technology and Energy Center is working with community colleges statewide in developing programs and training instructors to educate students on alternative fuels technology.
Also at Miramar is the Southern California Biotechnology Center, whose flagship programs include a Life Science Summer Institute where high school students spend weeks earning college credits while working in research labs; a Biotech Employment Skills Training initiative designed for job and internship seekers and those already employed in the sciences; and registered life sciences apprenticeships. For those already working in the industry, the Biotechnology Center coordinates a Biotech Employment Skills Training Program, a 20-hour, hands-on workshop designed for job and internship seekers and those already employed in the sciences.
City College's MESA program is drawing attention from throughout the California Community Colleges system thanks to an impressive number of students who take part in research around the country.
"Success doesn't just happen at the City College MESA program," said Rafael Alvarez, who serves as the MESA program director. "It's cultural. All of our students are trained in a culture of learning, and they take that culture to create success everywhere they go."
MESA isn't the only program steering its students toward success. The San Diego Institutional Research and Academic Career Development Award (IRACDA) program provides training and support from mentors at UC San Diego to increase the number of students from underrepresented populations engaging in research and entering graduate programs in the biomedical sciences.
"City College has created a community of students, faculty, and staff that is turning out a number of scholars in the STEM field," said Dr. Minou Spradley, dean of Engineering Technologies, Mathematics, Sciences, and Nursing. "My office window is plastered with pictures of students who have graduated from City College and gone on to earn a Ph.D."