Daniel Rodriguez: Representing Mesa College Excellence
February 11, 2016

|
The Marine Corps saved Daniel Rodriguez's life. San Diego Mesa College helped him find his future.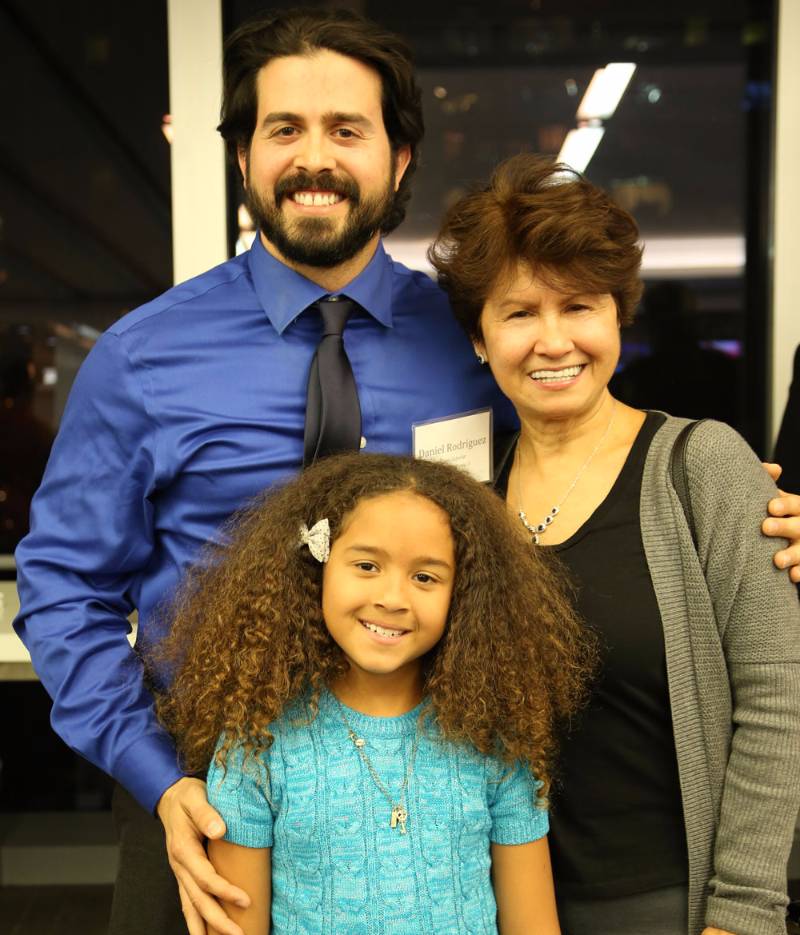 Now the single father of a 9-year-old girl is transferring to Wesleyan University in Connecticut – one of the top liberal arts colleges in the country – for a fully-paid postsecondary education, thanks to the nonprofit Posse Foundation's Veterans Program.
Rodriguez said Mesa College was pivotal in his journey.
"I had nothing but support at Mesa since the first day I stepped on campus," he said. "But the most impressive thing for me was the Veterans Center. Everybody welcomed me with open arms, and I've been there virtually every day."
The Posse Veterans Program identifies and supports military veterans interested in pursuing bachelor's degrees at top colleges and universities, including Vassar College, Dartmouth College, and Wesleyan University. It evolved from the Posse Foundation, which was established in 1989 to identify public high school students with extraordinary academic and leadership potential that can be overlooked by traditional college selection processes and prepares them for admission to the nation's top universities.
Rodriguez will be studying film when he enrolls at Wesleyan University this fall with a cohort of nine others in the Posse Veterans Program. His goal is to become a film director.
"I'm super excited, this is a great opportunity," said Rodriguez, 33.
The road to Wesleyan has included a wealth of challenges.
Born and raised in Union City, N.J., Rodriguez said he turned to drugs as a youth in a fatherless home and barely managed to graduate from high school. "I found myself living in subway stations, sleeping on park benches, going from house to house, just trying to survive," Rodriguez said. "I was either going to end up in jail or dead."
That's when his mom sought intervention through the Marine Corps. Rodriguez recalled that he had spent the night at his grandparents' home when he heard a knock on the door. It didn't take much for the Marine recruiter contacted by Rodriguez's mother to convince him to sign up.
After passing a physical, a background check, and an assessment exam, Rodriguez was off to the Marine Corps Recruit Depot at Parris Island, S.C. His 14 years in the service included three combat tours of Iraq and Afghanistan, two tours on naval ships, along with stops in Korea, Japan and the Philippines.
Rodriguez's final stop was at Camp Pendleton, where he was assigned to the 1st Intelligence Battalion. When he left the Corps in December of 2014, he scouted colleges in the region and quickly settled on Mesa College.
"I went to several colleges, but when I was at Mesa, it felt more like a college experience," Rodriguez said. "The Veterans Center, though, is what sold me on the campus."
That's no surprise to Juan David Ortiz-Romero, president of the Student Veterans Organization at Mesa College, who has come to know Rodriguez well.
"The Veterans Resource Center here is a place for us to come to relax, decompress, and find support and get mentoring to help you succeed," Ortiz-Romero said. "It's kind of like a clubhouse."
Rodriguez enrolled at Mesa College in the spring of 2015 with the aim of transferring to USC or UCLA to study film while racking up a 4.0 GPA. It was at the Mesa College Veterans Resource Center that Rodriguez heard about the Posse Veterans Program and submitted his application. The program looks for leaders in their places of work, communities, and/or families who demonstrate strong academic potential.
Rodriguez made it to the final round of applicants, attended a group interview, and met representatives from participating colleges. Upon being selected to take part in the program, he spent a one‐month, pre‐ collegiate training program in New York during winter break, during which participants focus on leadership development, academic excellence and team building.
Rodriguez is planning to leave for Wesleyan University in June.
Ortiz-Romero has no doubt Rodriguez will flourish.
"Daniel is a very calm, very collected, level-headed and organized individual who will succeed in whatever he does," Ortiz-Romero said.
Rodriguez isn't wasting any time. He already has completed four film projects here, and he briefly worked as a production assistant in Los Angeles.
"I'm inspired and so grateful and appreciative," Rodriguez said. "I've seen it through adversity and I've always been able to overcome obstacles. I can't say it's not been tough, but I've benefited from listening to people… and common sense."