City College's Daron Woods is serving students
October 17, 2016

|
It didn't take long for Daron Woods to get involved at San Diego City College. In just his second semester at the downtown campus, Woods ran unopposed to become the new President of Associated Student Government, and he now serves as a student representative on the San Diego Community College District's Board of Trustees. Woods, 26, hails from Trinidad, is majoring in Political Science and is hoping to transfer to either UCLA or UC San Diego en route to a career in academia. We asked Daron a few questions about his experiences.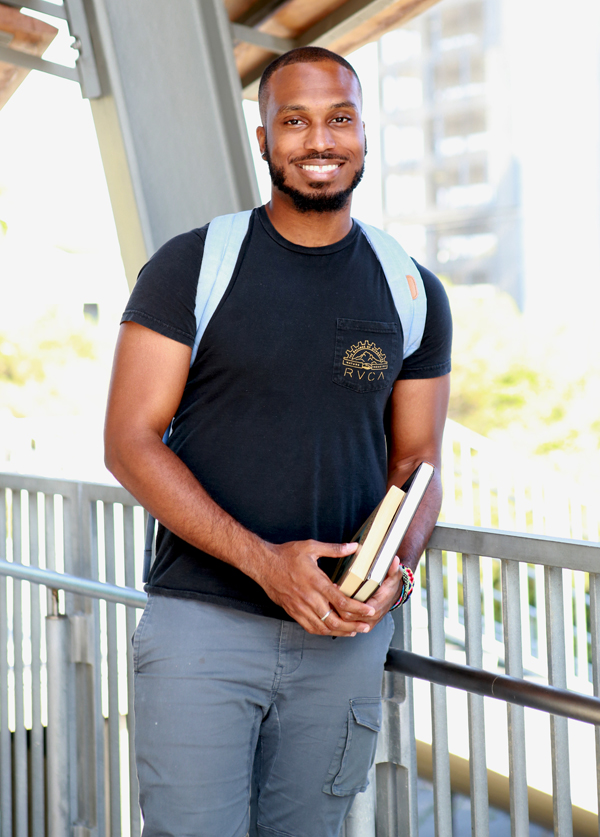 San Diego City College Student Daron Woods.
Q. What do you like best about City College?
A. I love the diversity at my school. I have met so many people with so many different experiences. This is reflected in our ASG Board and the richness of the ideas we come up with.
Q. Why did you become involved in student government?
A. My friend and current ASG Vice President Suma Massaley suggested I join the ASG during international student orientation. She is from Liberia and suggested that it was a good way for international students to get involved on campus. I joined because I thought that sounded like a good idea that would keep me out of trouble.
Q. What are your goals as Associated Student President?
A. I want to continue to advocate for students on the issues they care about most, like school fees and campus safety. I want to further develop campus life to build a stronger sense of campus community. I want to continue to help our students achieve their goals.
Q. What's your favorite spot on campus?
A. City has a lot of little parks and green spaces dotting the campus, and there a nice one with rolling hills right near my office.
Q. How do you relax before an exam?
A. The only way I can relax before an exam is if I feel like I'm well prepared. I try to maintain healthy study habits and then everything usually falls into place.
Q. What are some of your favorite tunes on your playlist?
A. 'Untitled 2' - Kendrick Lamar; 'That Part' - Schoolboy Q; 'Man of the Year' - Schoolboy Q; 'It's a Carnival' - Bunji Garlin and Major Lazer; 'Disparate Youth' – Santigold; 'Look at Wrist' – Father; 'You Can't Always Get What You Want' - The Rolling Stones