Aerospace student David Mueller shooting for the stars
December 10, 2015

|
David Mueller is shooting for the stars. And thanks to San Diego Mesa College, he is well on the way toward reaching them.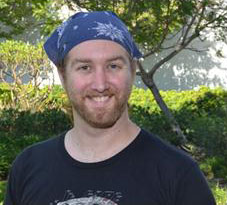 Mueller, a Marine Corps veteran who will be transferring to a University of California campus next fall en route to an advanced degree in aerospace engineering, recently took part in the ultra-competitive NASA Community College Aerospace Scholars program that yielded several days studying at the NASA Jet Propulsion Laboratory (JPL) in Pasadena. He was one of just 50 or so community college students in the nation invited to the JPL, which included a competition among four ad-hoc teams tasked with designing models of Mars rovers from and programming them to engage in various tasks.
The JPL workshops followed a five-week, online NASA education program that included various design challenges.
"It's a phenomenal program and I was honored to take part," Mueller said. "Just being exposed to such a high level of scientists and engineers was remarkable."
Not to mention a huge boost toward reaching his dream of becoming an astronaut. "That's my pie-in-the-sky goal, but anything in the space program would be awesome," he said.
Mueller, a native of Iowa, served in the Marine Corps for more than five years, most of them at Marine Corps Air Station Miramar as a C-130 crew chief responsible for mechanical inspections while the aircraft was on the ground and responsible for monitoring the plane's operating systems while it was in the air. When he left the Marines in 2011 and looked at educational opportunities to advance his goal of working in the space program, friends suggested he enroll at Mesa College. He has been maintaining a grade point average of just under 4.0 and will leave with at least two associate degrees, one in physics, the other in mathematics.
"I've had a fantastic experience at Mesa College," he said. "It is a great school with an abundance of resources and programs that provide a strong foundation in the sciences."
It was at Mesa where Mueller, learned about the NASA Community College Aerospace Scholars program. "I heard about it through my Physics 195/196 professor, Mr. Claude Mona," Mueller said. "When he told the class about it, I was ecstatic and immediately jumped on the opportunity."
The time spent at the JPL in October included 20-hour days packed with lessons, competitions, networking with NASA personnel, and resume workshops. Sleep was almost an afterthought. "It was like drinking water out of a fire hose," said Mueller. "The sheer amount of content in such a short amount of time was incredible."