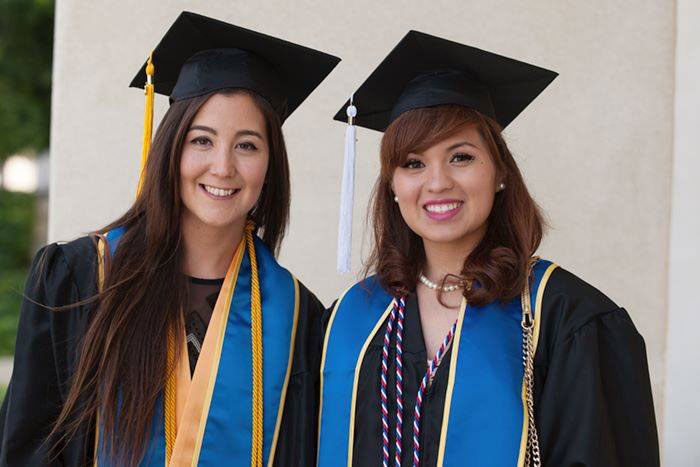 A record 11,365 degrees and certificates to be awarded at commencements
May 17, 2017

|
It's cap-and-gown season at the San Diego Community College District, which this year is awarding a record 11,365 degrees and certificates to graduates who will be celebrated at commencements beginning May 19.
The number of associate degrees conferred this year is up 18 percent districtwide compared to last year, including increases of 19 percent at both City and Mesa College and a 15 percent increase at Miramar College. The number of certificates awarded by the district's colleges and San Diego Continuing Education is up 2 percent.
"Transforming lives is the main business of the San Diego Community College District and its four institutions," said SDCCD Chancellor Constance M. Carroll. "One can see this clearly at the commencement ceremonies at which students are not only completing their studies but also beginning their journey to the next phase of their lives."
Commencements include:
San Diego Miramar College will hold its 2017 commencement on Friday, May 19, from 1 to 3 p.m. at the Hourglass Fieldhouse on campus. Veronica Hughes is the student speaker. Hughes, a mother of three, is a former employee of a local school district who became homeless and at one time was living out of her Nissan Altima. Today, she is a graduate of Miramar College and financially independent. San Diego Miramar College is at 10440 Black Mountain Road, 92126.
San Diego Mesa College will hold its 2017 commencement on Saturday, May 20, at 3 p.m. at the University of San Diego's Jenny Craig Pavilion. Alexander Szeto, a Systems Engineer at Northrup Grumman, will be Mesa College's 2017 Distinguished Alumnus. Szeto earned an associate degree in math from Mesa in 1982 before securing a Bachelor's Degree in Aerospace Engineering from Cal Poly Pomona and a master's degree in aerospace engineering from San Diego State University. Szeto is sponsoring the 2017 Scholarship Challenge in which he will match all donations up to $10,000 that Mesa College receives toward scholarships between April 17 and May 17.
San Diego City College will hold its 2017 commencement on Friday, May 26, at 5 p.m. at the Spreckels Organ Pavilion in Balboa Park. Daron Woods is the student speaker. Originally from Trinidad and Tobago, Woods serves as President of the Associated Student Government, is graduating with an associate degree in Spanish, and will transfer to UC San Diego to pursue studies in political science. He hopes to become a policy developer for an international organization in Latin America.
San Diego Continuing Education and San Diego Unified School District will celebrate a joint 2017 Adult Education Commencement at 5 p.m. on Friday, June 2, at the Spreckels Organ Pavilion in Balboa Park. The commencement speakers include Christina Rosas, a DACA student whose parents immigrated to San Diego from Mexico to create better future for her and her two brothers. Prior to attending SDCE Christina attended Lincoln High School but did not graduate. She enrolled at SDCE in 2015, the same year the California Dream Act was instituted. Following graduation, she plans to complete SDCE's short-term career training program in Child Development and then transition to City College. Taking part in the ceremony are students who have earned a high school diploma, a high school equivalency diploma, or an SDCE career training certificate. One of California's largest adult education divisions, more than 6,000 certificates alone will be awarded by SDCE this spring.
Students are earning more than a diploma. Data shows that students who transfer with an associate degree are far more likely to earn a bachelor's degree within four years, compared to students who do not have an associate degree, and associate degree holders earn $421,000 more over a working lifetime than someone with a high school diploma.