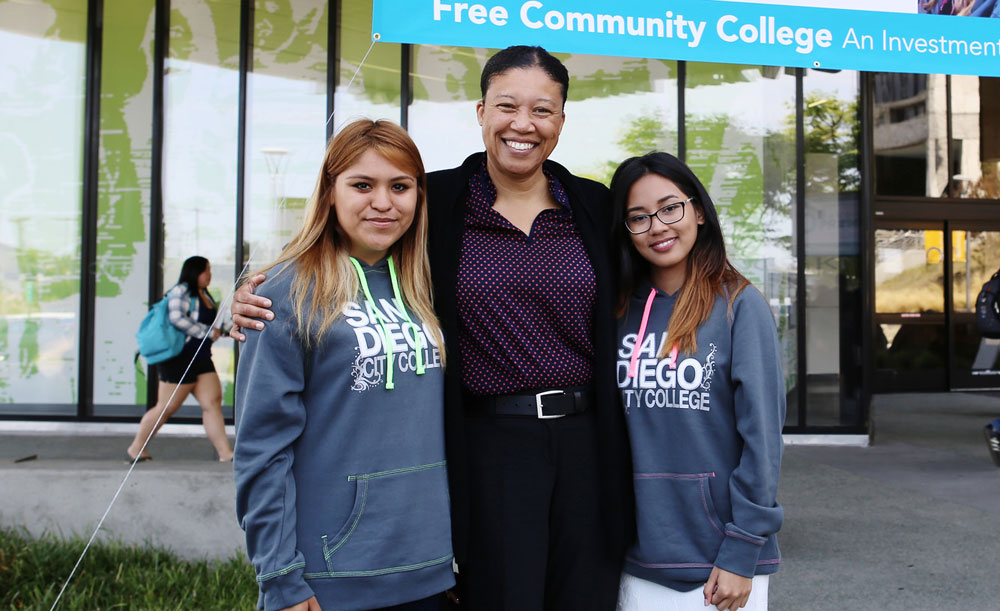 Interim president named at City College
July 19, 2016

|
Denise Whisenhunt has been appointed interim president of San Diego City College. Whisenhunt brings more than 15 years experience in a variety of leadership positions in the San Diego Community College District – most recently as City College's Vice President of Student Services. She will lead the district's flagship college as a national search is conducted for a permanent president by July 2017.
"Denise Whisenhunt is the perfect person to serve as Interim President of City College," said SDCCD Chancellor Constance M. Carroll. "She knows the college well and enjoys widespread respect throughout the district for her leadership, hard work, and talent. She also has extensive professional experience, connections with the community, and a strong commitment to advocacy for students. I am truly looking forward to working with her in this new role during a critical period of transition for the college."
Whisenhunt will immediately assume leadership of San Diego's oldest community college – City College celebrated its centennial in 2014. The college has recently undergone a massive transformation of its 60-acre downtown campus. As part of the SDCCD's Propositions S and N bond program, City College has benefited from more than $475 million in new facilities and infrastructure with 16 new and renovated buildings either completed or scheduled for completion over the next few years.
"The opportunity to serve the district's flagship community college in this leadership role is an honor," said Whisenhunt. "I look forward to working with students, faculty and staff to continue to carry the mission of the college in our community."
Whisenhunt earned her Bachelor of Arts degree in political science from the University of California, San Diego and her Juris Doctorate from the Columbus School of Law at the Catholic University of America.
Whisenhunt has served as Acting President of City College since May when former President Anthony Beebe resigned to take a position as Superintendent/President of Santa Barbara City College.
From its humble beginnings with 34 students and four instructors in 1914, San Diego City College has grown into a diverse campus of 17,000 students. At build-out, the college will have the capacity to serve 25,000 students in first-rate classrooms and lab facilities. For more information on City College, visit www.sdcity.edu.