Betty Robles-Leal named Director of Employee Services for Human Resources
December 14, 2016

|
What do you call the person responsible for making sure your paychecks, benefits, and retirement contributions are all in good order?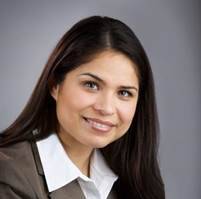 At the San Diego Community College District, that would be Betty Robles-Leal, who, as the new Director of Employee Services for Human Resources, oversees payroll, retirement reporting, and employee benefits, among other duties.
"It's a great job," said Robles-Leal. "I like helping people, I like making sure people are getting the services they need. We have a really good team here and I enjoy coming to work every day."
Robles-Leal lives with her husband of 15 years, Francisco, just two blocks from her childhood home in Linda Vista. A graduate of Mission Bay High School, Robles-Leal attended UC San Diego, where she earned a bachelor's degree with a double major in political science and an emphasis in public law and Spanish literature.
Her career track was set while working with a local law firm, where she would take on the duties of office manager and bookkeeper. That led to accounting classes at UC San Diego Extension and a job as an accounting manager at a landscape architecture firm before becoming a payroll supervisor at National University in La Jolla, where she earned her MBA with a specialization in human resources management.
After three years at National University, Robles-Leal was hired last year as Payroll Supervisor for the District. A few months later, she became the Acting Director of Employee Services for Human Resources. She was named permanent director in December.
Robles-Leal embodies the district's mission.
"I was lucky, I was able to go to a four-year university right out of high school," Robles-Leal said. "But not everyone has that opportunity. Maybe it's because of finances, maybe it's because of grades, whatever the reason, a lot of people don't have the option of going from high school straight to a university. So it means something to me to work for a college system that is open to everyone no matter who you are or where you come from. To work for a college system that allows you to work toward transferring to a university or get the training you desire to improve your life, that's a place I can definitely say I'm proud to work for."