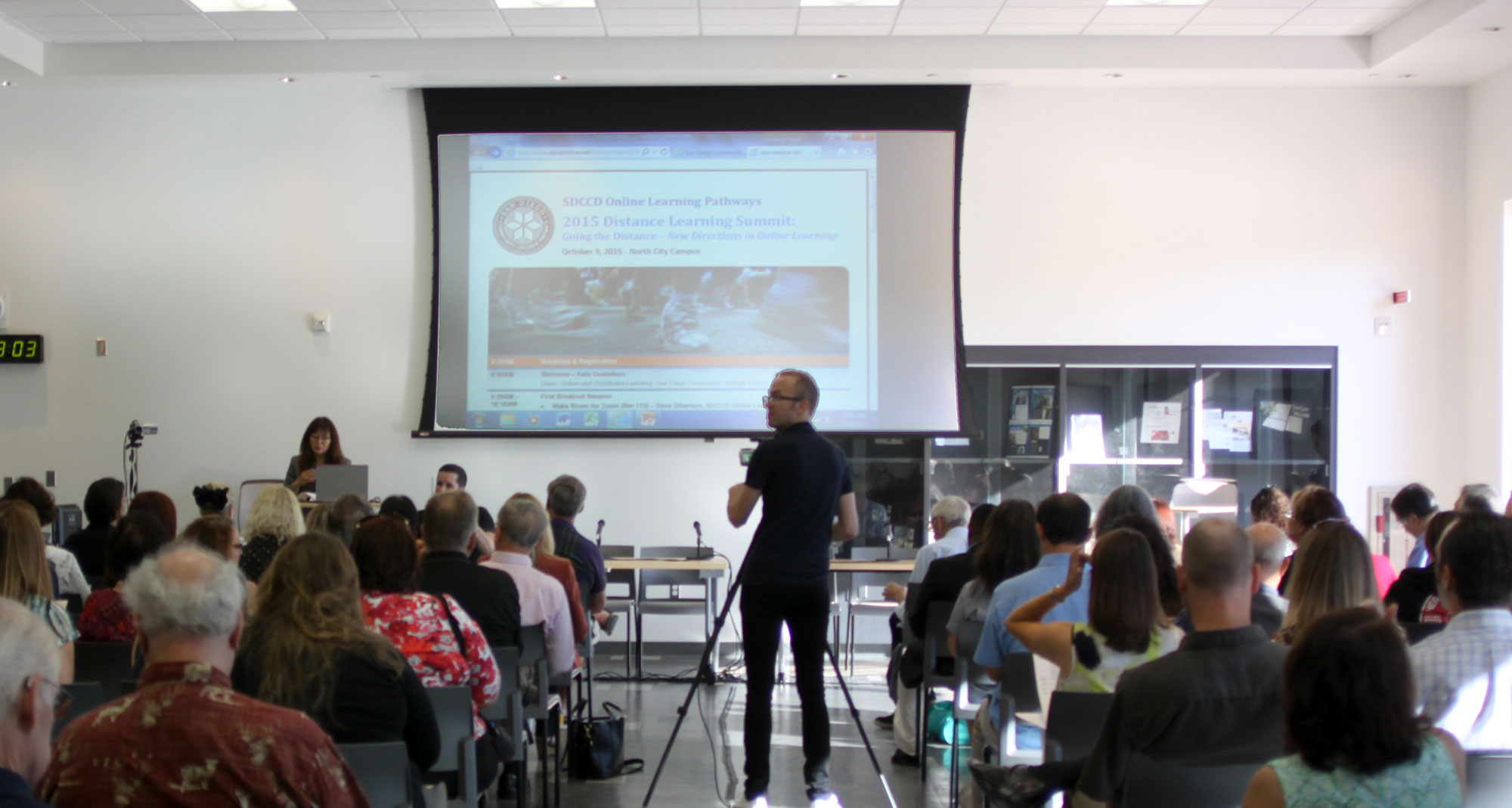 Summit helps keep professors learning
October 21, 2015

|
Professors became the students Oct. 9 at the Distance Learning Summit at the San Diego Continuing Education's North City Campus. The summit is one of the several opportunities available to educators to help them sharpen their skills in technology and incorporate online learning into their teaching.
The summit was first held in 2014, following about 15 years of expos and retreats put on by the district's Online Learning Pathways, according to Kats Gustafson, Dean of Online and Distributed Learning.
"Hopefully, the faculty who attended will be more informed about the trends in distance learning including online tutoring, using video for student feedback, using synchronous tools (Zoom), engaging in social media, and the perceptions of online students (student panel)," said Gustafson.
After opening up attendance this year to the San Diego/Imperial County Community College Association (SDICCCA), the 2015 summit hosted 123 participants and 12 learning sessions.
A presentation by Eddie Sampson of Canvas and Steve Klein, Statewide Program Director for the Online Education Initiative provided information about the Online Education Initiative (OEI) sponsored by the California Community Colleges Chancellor's Office.
At the event faculty also learned how using videos can engage students, how live chats can help with tutoring and how social media can help you reach students who may not look at their email as often as their professors would like.
One discussion allowed instructors to hear feedback directly from online students.
"The student panel is always a success as faculty hears first-hand experiences from online students and how online learning has helped them meet their educational goals," said Gustafson.
Michael Timog from the SDCCD's Online Learning Pathways taught the social media class that focused on communicating with millennials on their level. He pointed out that the brick-and-mortar classroom is not the only classroom. Social learning such as mentoring, group projects and online discussions take the classroom to new arenas.
"It's how students have been conditioned to communicate. Social learning is definitely an important aspect," said Timog.
Online courses make getting to the classroom a little easier for busy students. Much of the summit addressed teaching and tutoring online. Various professors shared their tricks of the trade, which included discussions about tools and resources, connecting with students in a virtual classroom and designing online courses with usability in mind.
"(Millennials) expect to use technology in their everyday lives and especially in their learning activities. For them, informal learning and information sharing are incorporated in their daily routine via social media," Gustafson said.
With 4 billion views a day on YouTube, of course video is an important way to reach students in 2015. That's where Katie Palacios comes in. She's the Instructional Design Coordinator for the district and one of the video gurus at the summit. She and Ailene Crakes of Mesa College showed professors how video could be used to engage with students and offered tips on how to get started.
Just because the Distance Learning Summit has come to an end doesn't mean that the Online Learning Pathways' work is done. Gustafson said she is seeing an increasing interest in online learning with the district. "We have had a large number of faculty enroll in our Online Faculty Certification Program. This program 'certifies' that the faculty have been trained and have the necessary tools to begin teaching online."
Additional Instructional Technology Workshops are planned throughout the 2015-16 academic year. The schedule can be found here.
Learn more about Online Learning Pathways at sdccdonline.net.