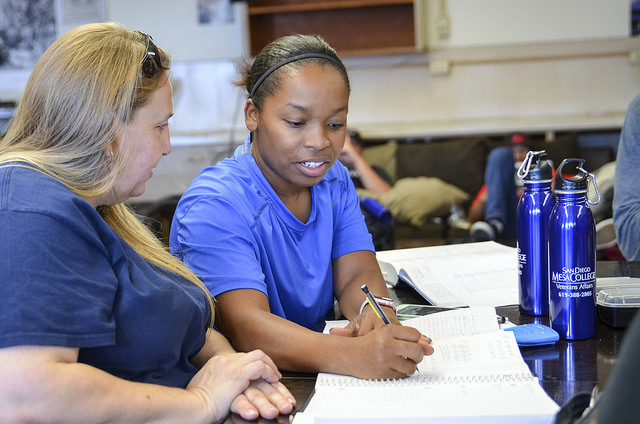 District Colleges Again Honored as Military Friendly
November 10, 2016

|
All three of the San Diego Community College District's for-credit colleges – City, Mesa, and Miramar – have again earned the prestigious honor of being named a Military Friendly School by Victory Media, publisher of G.I. Jobs, STEM JobsSM and Military Spouse.
The Military Friendly Schools designation is awarded to colleges, universities, community colleges, and trade schools in the country to embrace veterans, active-duty military, and their dependents, providing the resources needed to ensure their success both in the classroom and after graduation. Factors include retention rates, graduation rates, job placement rates, loan payment rates, and loan default rates.
"The San Diego Community College District has prioritized providing our veterans and active-duty military with an array of programs and a comprehensive support network that will help them earn a degree or prepare them for the workforce," said Chancellor Constance M. Carroll. "We are honored to be recognized for our ongoing efforts."
The SDCCD currently enrolls more than 12,000 veterans, active-duty military and military dependents. San Diego City College houses an on-campus Veterans Service Center that offers peer support and mentoring, referrals to resources throughout the community, and conducts meetings and workshops relating to veterans' issues. In addition, the SDCCD Military Education Program is based at City College. Currently serving 15,407 Navy personnel in four states, the Military Education Program has provided specialized instruction to officers and enlisted personnel for some 37 years.
San Diego Mesa College, home to more than 2,000 student veterans, offers an array of services to active-duty and former military members. The college opened a new Veterans Resource Center in 2014, and Mesa has a counselor to support student veterans. In addition, the Mesa College Foundation actively conducts fundraising activities in support of student veterans.
San Diego Miramar College features a Veterans Affairs office that staffs a full-time Veterans Affairs Specialist. The college has been awarded a sizable grant from San Diego Gas & Electric to develop the 'Vets-2 Jets' program, which offers varied grants to cover books, tuition, and living expenses. And Miramar's Transfer Center assists military students by providing a pathway for transfer to four-year institutions, while student health services assists with screening for depression, anxiety, and Post-Traumatic Stress Disorder (PTSD).
Approximately 240,000 military veterans are living in San Diego County, which also is home to 115,000 active-duty personnel, according to the San Diego County Office of Military & Veterans Affairs.