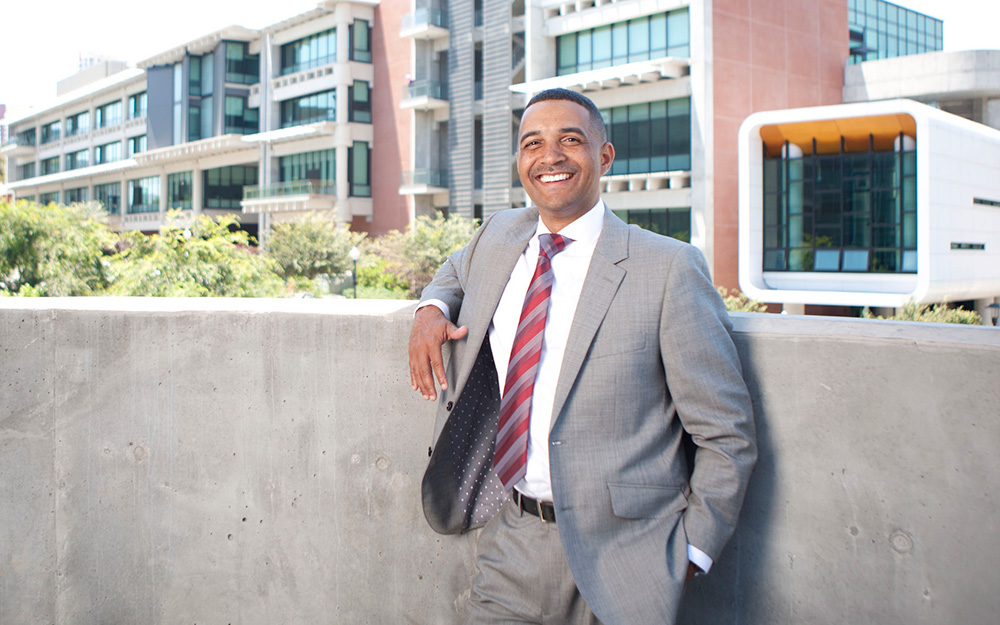 City College welcomes new President Dr. Ricky Shabazz
July 11, 2017

|
When Dr. Ricky Shabazz came to Compton College a decade ago to serve on its leadership team, the once-proud institution was in shambles. It had lost its accreditation and was placed under the jurisdiction of a state-appointed trustee. Enrollment, along with the trust of the community, was falling fast.
No more. Today, Compton College is seeing record enrollment, recently secured its accreditation, and is on sound financial footing. And Shabazz, who established a long track record of growing enrollment while promoting student equity and success, has brought his management skills south as the new president of San Diego City College, the flagship campus of the state's second-largest community college district.
He couldn't be happier.
"This is a special place," Shabazz said. "The faculty and staff here are special, the location here is special, and the commitment to social justice is special. I'm honored to be here and I look forward to working with the community to explore our opportunities."
His priorities include working with faculty, staff, and the community in building a culture of trust and support that will catapult City College into a national leader.
"It's far too early in the process to establish goals per se, but my No. 1 goal at this point is to build relationships on and off campus, and that includes listening to people, hearing their stories, and securing the resources that will enable the faculty and staff to build a strong model of student success," he said.
Chancellor Constance M. Carroll has no doubt he will succeed.
"The Board of Trustees and I were impressed by his energy and record of success, as well as by his commitment to diversity at all levels," Chancellor Constance M. Carroll said. "His excellent working relationships with faculty, staff, and administrators at his present institution and his student-centered approach to his work are characteristics that will serve him well at City College and in the district. We are all looking forward to working with him."
Shabazz can empathize with the challenges facing many of today's community college students. An only child whose mother was just 15 when he was born, Shabazz's parents split up before he began his schooling and he and his mom – who often had to work two jobs just to make ends meet – lived with his grandmother in her Pasadena home for most of his childhood.
Shabazz knew that education was critical in creating a pathway to a successful future. While still at Pasadena High School, Shabazz enrolled at nearby Pasadena City College to get a head start on earning a degree. He then embarked on a life-changing venture at UC Davis, where he earned a bachelor's degree in Native American studies with the help of a few classes at Sacramento City College. Shabazz was attending at an event honoring student leaders when the university president at the time struck up a conversation and let him know about a job opening that might be a good fit for him. After several interviews, Shabazz was named assistant director of admissions at UC Davis and placed in charge of recruitment and admissions from Southern California.
He was just 22 years old. His responsibilities included working with high schools, community colleges, alumni, and community based organizations from Santa Barbara to San Diego to recruit targeted and high-achieving students to the university.
"The job taught me enrollment management and how to build partnerships, including partnerships between instruction, student services, and marketing," he said. "When instruction, student services, and marketing integrate their efforts and start working with each other, something special happens. The college starts working as one entity. Everybody benefits. It's a wonderful thing."
After brief stops at Discovery Charter Prep School in Los Angeles (during which time he earned his master's degree in Educational Administration from Cal State San Bernardino) and Harvey Mudd College, a small liberal arts school consistently ranked among the top science, engineering, and mathematics institutions in the nation, Shabazz was named director of outreach and relations with schools at El Camino College Compton Center. It was not an easy assignment. Founded in 1927 as Compton Community College, the Compton Center became a satellite campus of El Camino College after losing its accreditation and independence in the wake of investigations into fraud and poor oversight. Enrollment plummeted.
As director of outreach and relations with schools, Shabazz helped lead the Compton Center's recruitment, admissions, and retention efforts, and his success led him to being named dean of student services – all while earning his doctorate in educational leadership from Cal State San Bernardino. Enrollment doubled to more than 14,000 by the time he left in 2014 for San Bernardino Valley College as vice president of student services.
"Ricky Shabazz is a talented individual who is focused on student success and he will be a great addition to the San Diego Community College District," said Dr. Keith Curry, President and CEO at what is now known as Compton College.
The success continued in San Bernardino, where Shabazz and his team opened one of the state's first Dreamer Resource Centers supporting high school students lacking proper immigration papers transition to college. He also oversaw a successful promise program in partnership with the San Manuel Band of Mission Indians, along with the First Year Experience, the Transfer/Career Center, the Veteran's Resource Center and more in working with college President Diana Rodriguez to implement data-driven strategies aimed at bolstering student success while growing the college's enrollment.
But Shabazz, a distant relative of baseball legend Jackie Robinson, isn't all work and no play. He's also a professional fisherman who developed his passion while angling for largemouth bass at Castaic and Pyramid lakes north of Los Angeles with his grandfather. He has qualified to fish the Bassmaster Elite Series, the highest level of professional bass fishing tournaments in the country, and once finished in the Top 10 on the Fishing League Worldwide Tour. He has represented various sponsors at sports and trade shows throughout the West and he writes outdoor articles for several fishing magazines and websites.
"Growing up, that's all we did in the summers. Take trips and go fishing. We had family from both Louisiana and from Texas, so fishing is in our genetic makeup."
His priority, though, is on growing enrollment and boosting student success.
"I am committed to the mission of community colleges to serve all students, be they military veterans, right out of high school, moms on welfare, disabled, it doesn't matter who you are," he said. "We are here to serve everyone and anyone who wants to change their life through education."