Dr. Ricky Shabazz named President of San Diego City College
May 17, 2017

|
Dr. Ricky Shabazz, an experienced higher education leader with a track record of promoting student equity and success, has been named the new president of San Diego City College.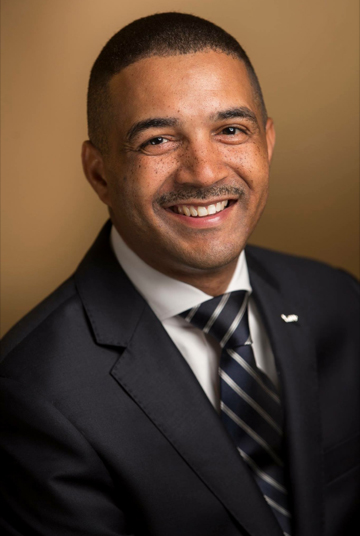 Dr. Ricky Shabazz, will assume the presidency
of San Diego City College on July 11.
Dr. Shabazz comes to City College from San Bernardino Valley College, where he serves as Vice President of Student Services and has been responsible for leading the college's strategic initiatives, student support programs, various instructional programs, and educational partnerships with K-12 schools and employers. At SBVC, Dr. Shabazz has proven to be especially adept at utilizing data in developing strategies to improve student success and retention while also growing the college's enrollment.
"Dr. Shabazz has the experience and drive that City College needs at this point in its history," said San Diego Community College District Chancellor Constance M. Carroll. "The Board of Trustees and I were impressed by his energy and record of success, as well as by his commitment to diversity at all levels. His excellent working relationships with faculty, staff, and administrators at his present institution and his student-centered approach to his work are characteristics that will serve him well at City College and in the district. We are all looking forward to working with him."
Dr. Shabazz earned his bachelor's degree in Native American studies at the University of California, Davis, his master's degree in educational administration and supervision, and his doctorate in education in educational leadership from California State University, San Bernardino. He served for more than five years as Assistant Director of Admissions at UC Davis after earning his bachelor's degree, with much of his outreach work concentrated in the San Diego area. He has also held positions as Associate Director of Admissions at Harvey Mudd College, and as a director of counseling at a charter high school in Los Angeles.
In 2007, Dr. Shabazz was named Director of Outreach and Relations with Schools at the Compton Community College District south of Los Angeles. At Compton, Dr. Shabazz's success in overseeing concurrent enrollment efforts at seven feeder high schools led to a doubling in enrollment. He would serve nearly two years as Dean of Students with the district before moving to SBVC as Vice President of Student Services.
In the spring of 2016, Shabazz's team opened one of the state's first "Dreamer Resource Centers" to support undocumented students in successfully transitioning into college. Additionally, he oversees one of the state's most successful promise programs, The Valley-Bound Commitment Program, a community partnership with the San Manuel Band of Mission Indians, which provides approximately 250 SBVC students free college tuition during their freshman year.
"I am very excited to be joining the faculty, staff, administration, and students at San Diego City College," Dr. Shabazz said. "City College has been transforming students' lives for more than 100 years, and I am extremely impressed with the faculty and staff's commitment to social justice, educational equity, and inclusiveness. I look forward to building lasting relationships both on and off campus to ensure that City College continues to be the flagship community college of the San Diego Community College District and a leading college in San Diego County."
Dr. Shabazz's first day at City College will be July 11. His appointment is subject to ratification by the SDCCD Board of Trustees at their May 25 meeting.
"Dr. Shabazz brings the kind of energy and commitment to San Diego City College that has earned him accolades throughout education circles for his work in promoting various student success initiatives," said SDCCD Board of Trustees President Maria Nieto Senour. "The Board of Trustees is pleased to welcome him to the district and have him assume the presidency of City College."
The search for a new City College president was an extensive effort, attracting candidates from across the country.
City College was the first community college in San Diego and just the fifth community college in the state when it opened its doors in 1914. Located in downtown San Diego's flourishing East Village neighborhood, the college offers more than 200 degrees and certificates to more than 16,000 students.