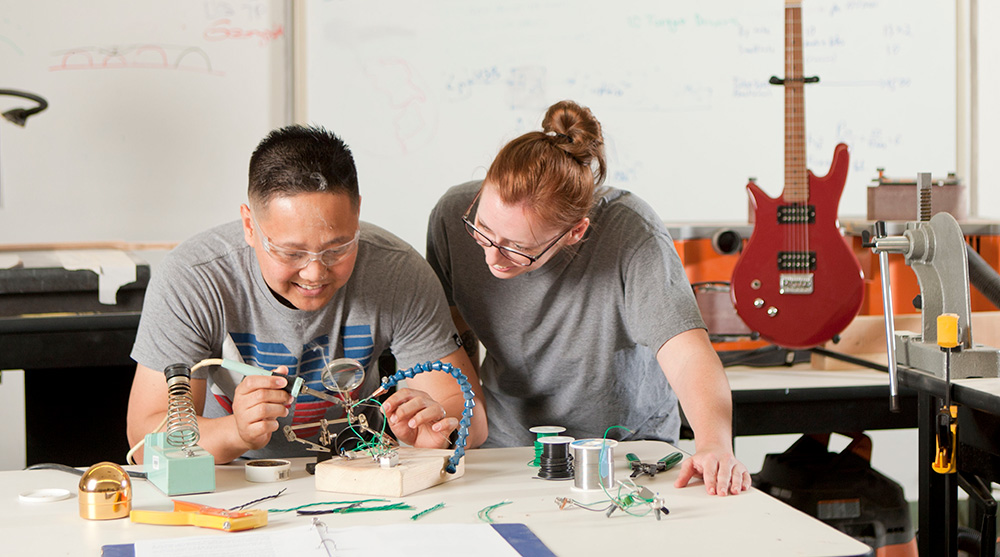 Career Technical Education programs are driving the workforce
August 4, 2017

|
Jason Carr was looking for something better. Eleven years as a restaurant manager was enough.
"It wasn't what I was passionate about," he said. "So I went to City College, talked to a counselor, and realized what I really wanted to do was enroll in their cybersecurity program. So here I am. The program covers absolutely everything you need to succeed to work as a security analyst either for a government agency or for private industry, and there are a huge amount of jobs out there and not enough people to fill them."
Carr is among those who are turning to Career Technical Education (CTE) programs, which fulfill employer needs in high-skill, high-demand fields. These fields range from advanced manufacturing, an area in which the Manufacturing Institute says 2 million jobs will remain vacant over the next decade because of the skills gap, to health care, an area in which almost two-thirds of registered nurses graduated from community colleges.
Among the SDCCD's more popular CTE offerings, which typically consist of both associate degree and short-term certificate programs, are fire technology, biotechnology, and radiologic technology.
"Many good-paying jobs today do not require a four-year degree, and the San Diego Community College District is at the head of the class in creating pathways through the CTE programs at our colleges and Continuing Education," SDCCD Chancellor Constance M. Carroll said.
Those pathways include an array of District-sponsored apprenticeships that require participants to take classes on theory and technical training before or after their on-the-job assignments, at which they earn hourly pay. Some 800 or so students are working at apprenticeships through the SDCCD in trades like construction; electrical; heating, ventilation, and air conditioning (HVAC); pipe fitting; plumbing; and sheet metal.
Meanwhile, students who complete a certificate nearly double their pre-degree earnings after five years in the workforce, according to the latest data from the California Community Colleges Chancellor's Office. About 44 percent of students who graduated with a certificate earned $56,000 or more annually five years after graduating.
San Diego Continuing Education alone offers 60 certificate programs, including a highly acclaimed and cost-free welding program.
"We're very close to the shipyards down here in San Diego. That's a route we encourage students to take," said master welder and Continuing Education instructor Brad Dorschel. "We also have a local ironworkers union, pipe and steamfitters union, as well as the variety of fabrication shops and an aerospace industry in San Diego. There are so many career pathways available."
Continuing Education student Mackenzie Crommett is sold. "This program really prepares you for awesome careers like pipeline or structural welding, and welding on ships for things like Merchant Marines," Crommett said. "I'm really excited to see where the path leads me. The sky really is the limit with welding and fabrication."
The associate degree Judy Wade earned through a CTE program at Mesa College to become a registered veterinary technician led to her current work as a lab manager taking blood samples from mice at the Sanford-Burnham Medical Research Institute. She's been at Sanford-Burnham for 16 years.
"It was a really good, super hard, but really good program that helped prepare me for the job I'm doing today," Wade said.
Students including Wade, Crommett, and Carr say a highlight of the District's CTE programs is they are taught by working professionals who are up to date on the latest developments in their field and who have connections that can help them land jobs.
Nick Tzakis, who teaches Homeland Security at Miramar College, fits the bill. He is a retired intelligence officer who worked with the Army, Navy, and Air Force, and whose courses include Introduction to Homeland Security, Intelligence and Security Analysis, and Transportation Security.
"We're seeing strong interest and increased demand in this area coming not only from people looking at possible government jobs, but also from people who are looking at working for private security firms," said Tzakis, a former Army major. "Homeland security is a huge growth area."
It's that sort of demand that drew Carr's interest and is prompting City College to establish a new 18-unit program leading to a Certificate of Achievement in Information Security. All courses in City College's cybersecurity program lead to industry standard certification.
"Every time you read a paper or turn on the news you hear about an entity that has been hacked," said Rose LaMuraglia, dean, School of Business and Information Technology, and Cosmetology. "It is a problem that is not going away, and that is creating a growing need among private and public institutions to protect themselves."