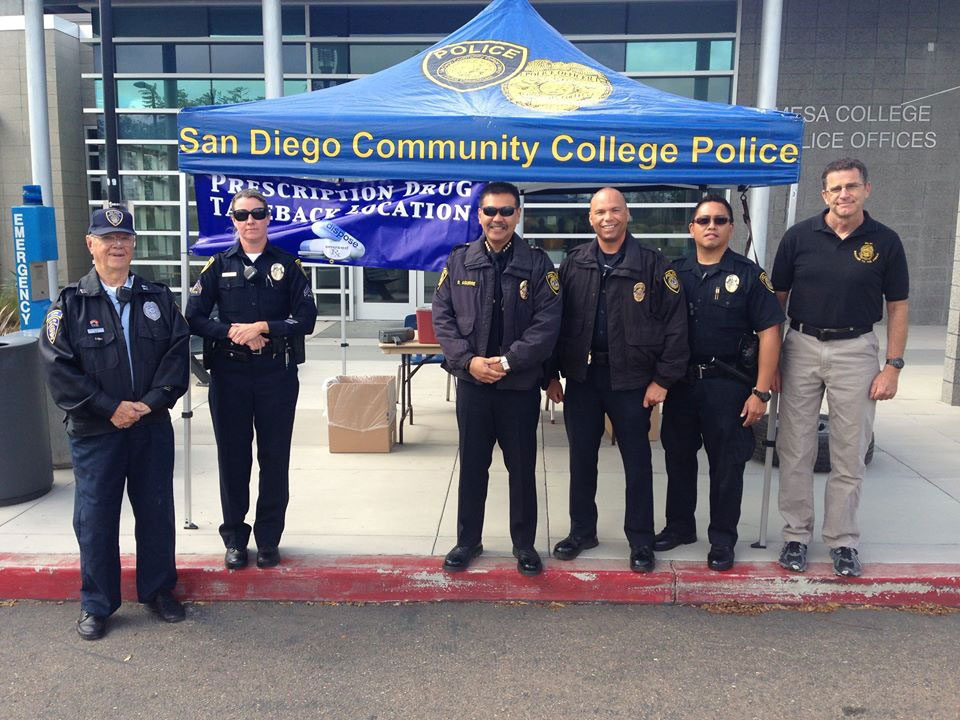 Prescription Drug Take Back Day
April 21, 2016

|
The federal Drug Enforcement Administration has dedicated Saturday, April 30, as National Prescription Drug Take Back Day, and the police station at San Diego Mesa College is among the sites where residents can dispose of their unwanted prescription drugs.
From 10 a.m. until 2 p.m. anyone who has accumulated unwanted, unused prescription drugs can drop them off with no questions asked in the parking lot of the Mesa College police station, 7250 Mesa College Drive, San Diego.
The DEA began hosting National Prescription Drug Take-Back events in 2010. Since then, more than 5.5 million pounds of unneeded or expired medications have surrendered for safe and proper disposal. At the most recent event in October, more than 3,800 federal, state and local police took in more than 700,000 pounds of unused, expired or unwanted drugs at more than 5,000 collection sites across the United States.
The disposal service is free and anonymous for members of the public.
The National Institute on Drug Abuse estimates that 52 million people – or 1 in 5 of those aged 12 and older – have used prescription drugs for nonmedical reasons at least once in their lifetime, and National Prescription Drug Take Back Day is an attempt and reducing those numbers by reducing the amount of unused prescription drugs kept at home. According to the 2014 National Survey on Drug Use and Health, a majority of abused prescription drugs are obtained from family and friends, including from the home medicine cabinet.
The Mesa College location will be staffed by San Diego Community College Police Department officers and volunteers, along with two DEA agents who will ensure that prescription drugs that are weighed and impounded properly.