Bridges To The Baccalaureate scholar wins SACNAS chemistry award
November 3, 2016

|
Bridges to the Baccalaureate scholar Emmanuel Gutierrez-Alfonzo from San Diego Mesa College was recently honored at the Society for Advancement of Chicanos/Hispanics and Native Americans in Science annual National Research Conference in Long Beach for his chemistry research.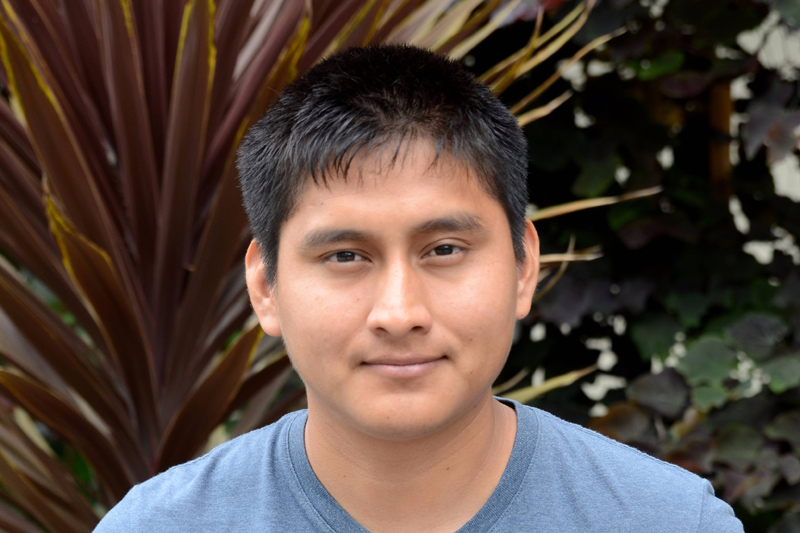 Emmanuel Gutierrez-Alfonzo
Gutierrez-Alfonzo is a chemical engineering major who hopes to transfer to UC San Diego in fall 2017. He is in his second year as a Bridges scholar and has been participating in this current research project for about 9 months.
Originally inspired to enter the sciences by his high school chemistry courses, he said that the Bridges program has helped to guide his career as a scientist.
"I was taking chemistry in high school and I liked it so much that I wanted to pursue it," he said. "I think that (Bridges) helps me a lot because it is motivating me. When I first started taking chemistry classes, I didn't have a good idea of where I wanted to go, but now being here, it is pushing me to want more than just a bachelor's degree – I want to actually pursue my Ph.D."
The research that received the top undergraduate chemistry award at the Oct. 13-15 conference was conducted by Gutierrez-Alfonzo and his partner Jose Rizo, a former Mesa College Bridges scholar and current student studying molecular synthesis and pharmacological chemistry at UC San Diego.
Working on what could be a potential anti-cancer drug, their organic chemistry research is based on creating the synthesis of compounds that are derivatives of Vitamin C, which are then linked up to fatty acids. Thus far, Rizo and Gutierrez-Alfonzo have been successful in the synthesis of these compounds, according to Chemistry Professor Edward Alexander, the Principal Investigator for Bridges.
"These compounds inhibit the activity of enzymes that are responsible for the metabolism of glucose," Alexander said. "Every living cell requires glucose to stay alive. The machinery that goes in to breaking down the glucose in the cell involves enzymes. If you can block the activity of these enzymes, you can block the ability of the enzymes to break down the glucose. If you block their ability to break down the glucose, then the glucose won't be taken in as food, and the cells will die. Cancer cells require the glucose more than normal cells, so the cancer cells would die much more rapidly than the normal cells."
Gutierrez-Alfonzo's award is the second consecutive time that a Mesa Bridges scholar has taken the top recognition at the SACNAS, following biochemistry major Samantha Barrera who won last year.
A partnership between Mesa College and UCSD for the Bridges to the Baccalaureate program was launched 11 years ago by Mesa's psychology Professor Jaye Van Kirk and Emeritus Professor Yoshito Kawahara.
The Bridges to the Baccalaureate Program works to encourage the success of community college students from historically underrepresented populations who are majoring in science or psychology with plans to transfer to four-year colleges. The Bridges program is funded by grants from the National Institutes for Health and the National Center on Minority Health and Health Disparities.
Since it began, almost 100 students have participated, 98 percent of whom have transferred to a four-year school, and 95 percent of those who have transferred have graduated from those institutions. Many of the Bridges scholars have received or are continuing to pursue bachelor's, master's and doctorate degrees from universities such as UCSD, UCLA and Cornell University, according to Alexander.