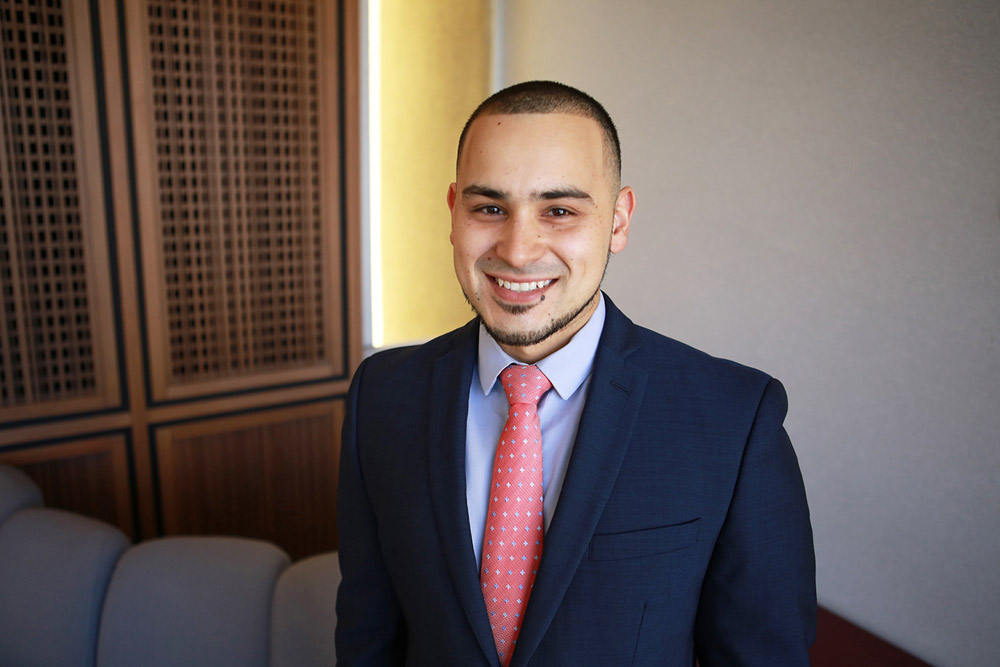 Graduation means higher ground for these district employees
May 8, 2017

|
It's not just students in the San Diego Community College District who are graduating this year. Numerous SDCCD faculty and staff will be walking across the stage during commencement ceremonies this spring, too.
Giovanni Garcia is among them. A Chancellor's Office Assistant, Garcia earns his bachelor's degree and graduates with distinction May 14 from San Diego State University as the top student in the Public Administration program's Class of 2017.
"The degree means a lot to me for many different reasons," Garcia said. "For one, I'm the first person in my immediate family to earn a college degree. And it also represents that when I set a goal, I can achieve it, no matter how difficult it might be."
Several administrators have earned their doctor of education degrees, including: Rachelle Agatha, Vice President of Administration at San Diego Mesa College; Susan Topham, Mesa College's Dean of Student Development; Dotti Cordell, Director of the Student Health Clinic at City College; and Seher Awan, City College's Vice President of Administrative Services.
"It was an intense, busy life, for sure," said Dr. Awan, who earned her Ed.D. from Pepperdine University in Malibu and will be taking part in Pepperdine's commencement on May 20. "But I love my job, I'm passionate about it, and this will make me a better teacher and a better leader. It will help me in being the best I can possibly be in what I do."
Dr. Awan said she is especially grateful for the backing she received from her supervisors at City College. "Interim President Denise Whisenhunt has been incredibly supportive, unconditionally supportive," she said, noting that 60 percent of her studies took place online, with the remaining time in class at Pepperdine all day from Thursday through Sunday once every other month.
Garcia, too, credited the assistance he received from the SDCCD in motivating him to reach his educational goals. "The District has been very supportive of me, especially the Chancellor and my direct supervisor, Amanda Ficken-Davis."
Indeed, Garcia was one of 76 district employees this year who took part in the SDCCD's Tuition Reimbursement Program, which defrays the cost of courses connected with a present job assignment, is related to an employee's potential career in the District, or is required for an undergraduate or graduate college degree in a field related to the employee's current or potential assignment.
Garcia, 30, earned his associate degree from San Diego Mesa College in 2014 before transferring to San Diego State. He excelled in his studies, even while working full time. "For the past two years at SDSU, most of my time has been dedicated to work and school and getting good grades," he said.
Now he's going to take a year off before enrolling in graduate school and pursuing his master's degree in Public Administration.
"Working for the District showed me on a daily basis how education could transform your life."
Like Garcia, Dr. Cordell isn't done learning, either. "I hope to take additional classes at City College in the near future in history, Spanish, political science, Black Studies, and ceramics," she said.