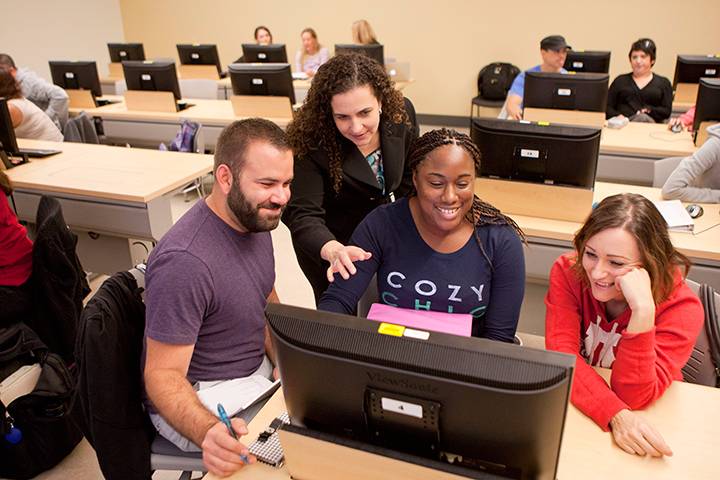 Historic changes in store as new fall semester begins
August 14, 2015

|
More classes, more instructors, and more academic programs – including a historic new bachelor's degree at San Diego Mesa College – are among the numerous additions greeting some 53,000 San Diego Community College District students when the new fall semester gets underway Aug. 24.
District Chancellor Constance Carroll is enthusiastic about the new academic year. "Improved state funding has made it possible for us to implement our plans to increase the number of class sections, to add more faculty positions and support services for students, to purchase state-of-the-art instructional equipment, and many other benefits." Dr. Carroll also noted improvements in campus facilities. "Almost every campus of the district is opening new instructional buildings to enhance the learning environment for students."
Among the changes:
- San Diego Mesa College this fall launches its new baccalaureate program in the rapidly growing field of Health Information Management (HIM). It is one of the first community colleges in the state to move forward in offering a bachelor's degree under the state's Baccalaureate Pilot Program. Students admitted into the current Health Information Technology two-year degree program will have the opportunity during their first year of classes to apply for continuation on to the baccalaureate program and complete their bachelor's degree in spring 2019.

- Students will have 150 more course sections to choose from this fall, including many new courses that are being offered online. To accommodate new student demand, the SDCCD is hiring 31 additional full-time faculty members. The anticipated enrollment of 53,000 students marks a 4 percent increase from last year. The district was able to expand its offerings thanks to a 2015-16 spending plan that includes a record revenue increase of at least $79 million compared to last year.

- San Diego Miramar College, home of the Southern California Biotechnology Center, features an expanded and remodeled science building that includes a two-story, 49,000 square feet addition to the existing science facility. The renovation includes new lecture halls, nine new laboratories, a rooftop greenhouse, and observatory stands and ports for 12 telescopes. The $34 million expansion project is one of nine projects currently under construction as part of the San Diego Community College District's $1.555 billion Propositions S and N construction bond program.

- A new agreement with Point Loma Nazarene University will allow nursing students graduating from San Diego City College to earn a bachelor's degree from Point Loma Nazarene University within 15 months without having to leave the City College campus. Courses will be taught by Point Loma Nazarene University faculty, and the university will provide a full-time advisor at the City College campus.
- Significant changes also are coming to San Diego Continuing Education (CE), which opens its doors for the fall semester on Sept. 8. Dr. Carlos O. Turner Cortez, a longtime educational leader with an unwavering commitment to social justice, begins his first academic year as CE's new president. Dr. Cortez came to San Diego from Berkeley City College, where he has served as Acting Vice President of Instruction and Dean of Academic Pathways, Workforce Development, and Student Success.
In addition, a grand opening at CE's new César E. Chávez campus in the heart of Barrio Logan is set for Oct. 28. The $50-million, 67,924-square-foot building will house 22 classrooms for vocational training, English as a Second Language, Adult Basic Education, high school equivalency preparation courses, Business Information Technology, and Parent Education.
- Students can apply or register at sdccd.edu/startnow.