Construction kickoff for Fine Arts Building at Mesa College
October 12, 2017

|
San Diego Mesa College will hold an event kicking off the construction of a future Fine Arts building from 8 to 10 a.m. October 19, 2017 on the campus, 7250 Mesa College Drive, San Diego.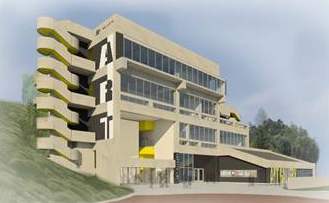 At 10 a.m. Mesa President Pamela T. Luster, Ed.D. will make brief remarks at the construction site, adjacent to the Student Services Center.
About the new Fine Arts Building
The four story, 26,500 assignable square feet Fine Arts Building, funded through the District's Propositions S and N bond program, will be constructed within an existing building on campus, the former I-300 Building, and will serve as a highly visible and thriving hub for Fine Arts students, providing modernized facilities and equipment for programs in drawing, painting, photography, sculpting and ceramics.
The first floor will serve as the main entrance and public face of the Fine Arts department and will house the Mesa College Art Gallery and an Art History lecture classroom. The second and third floors will include large, open studio classrooms for drawing, digital graphics, and sculpture. The fourth floor will house the ceramics and painting studios. Shop spaces will be adjacent to corresponding studios and classrooms to allow for ease of access, and to support the shared used of art equipment, material, and supply resources.
The project is designed to obtain a Leadership in Energy and Environmental Design (LEED) Silver certification from the US Green Building Council.