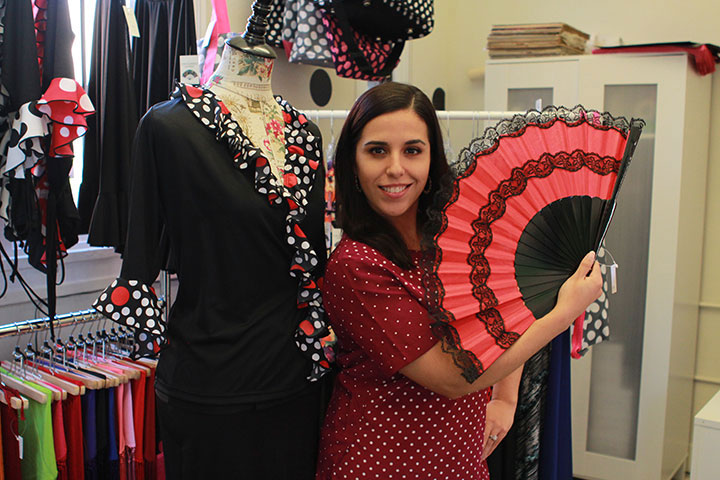 Continuing Education student is sewing her future
March 25, 2016

|
Maria del Mar Hinojosa enrolled at San Diego Continuing Education to learn how to sew. A little more than a year later, she is creating elaborately designed skirts and shawls at her newly opened flamenco store.
"The initial objective was to learn how to sew so I could make my own skirts for flamenco dancing," said Maria, a flamenco dancer who began formal training 25 years ago and has been teaching flamenco for the past 18. "Flamenco skirts are expensive and there are not a lot of places here where you can buy them. After I took my first class, I liked it so much and I was learning so much that I kept taking classes. I wanted to learn everything."
Within a year, Hinojosa had earned a certificate in Sewn Product Business. In January, she opened The Pure Flamenco Store, a Liberty Station shop offering mantones, mantoncillos, flecos, skirts, and more that were stitched together by Hinojosa, who also offers flamenco classes in a nearby studio.
Her success has attracted a following of admirers along the way.
"María came to Continuing Education with the full purpose of expanding her knowledge," said Jeanne Reith, who was among Hinojosa's instructors. "When María saw what she was capable of producing, she became more and more inspired. Her dream took shape and she stepped forward and embraced it."
Hinojosa's road to The Pure Flamenco Store began in Monterrey, Mexico, where she grew up and began studying flamenco while earning a college degree and launching a career as an architect and urban designer for Casas Javer, a planned community development firm. She later tired of the work, though, and used her entrepreneurial skills to open her own stationery business. Her future changed again when she married a software developer from Connecticut and the couple moved to San Diego.
That's when Hinojosa decided it was time to learn how to sew. Hinojosa's inspiration to take sewing classes at Continuing Education's West City Campus came from her mother, who long ago had enrolled in community college courses while living in Houston. "She told me to look at the community colleges in the area," Hinojosa said.
The courses she took at Continuing Education's West City Campus include Tailoring (both classic and contemporary); Fundamentals of Pattern Making; Sewing Fundamentals; and Sewing like a Professional.
Sewing instructor Shirley Pierson is glad Hinojosa enrolled in the program.
"In the classroom I saw a woman who possessed motivation and a passionate curiosity in her endeavors," Pierson said. "She not only followed directions and learned, but she explored beyond the required to accomplish her goals. She did this all in a balanced way, as I know she had a full schedule of commitments in her life. She rocked the classroom!"
San Diego Continuing Education is the adult education division of San Diego Community College District and is one of the oldest and largest noncredit institutions in the nation. Classes are offered at no cost, and approximately 45,000 students are served each academic year at six main campuses and several community locations.
Hinojosa said she couldn't believe the quality of the Continuing Education program.
"They have everything," she said. "All the equipment and modern sewing machines --everything. It's an amazing program. Crazy amazing. And the teachers are incredible, too."
Hinojosa, who lives in University City, also met people coming from a variety of backgrounds enrolled in the sewing courses.
"I found a lot of people who were not happy with their job or what they were doing and maybe wanted to take their hobby and turn it into a career," she said. "And I found a lot of people who were just kind of bored and wanted to learn something new and make new friends."
Reith, who is also an award-winning costume designer at Lamb's Players Theatre, said Hinojosa serves as an inspiration to many.
"María had a dream, and she made it into a reality," said Reith. "I am so honored to have been part of that process."