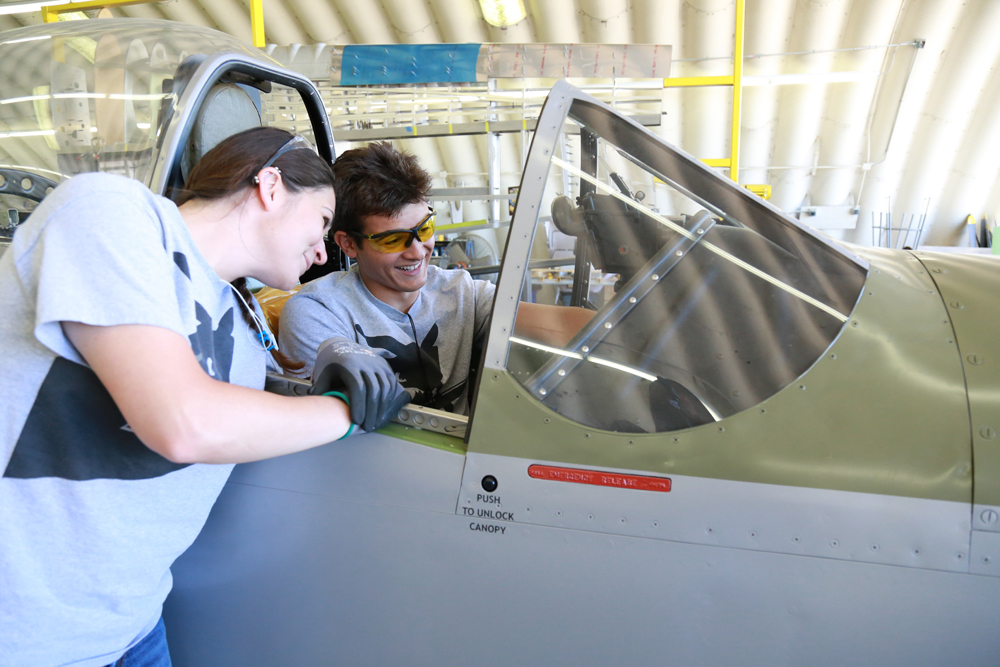 Miramar interns restoring piece of aviation history
August 12, 2015

|
They've restored one of only 32 Curtiss P-40 Warhawks left in the world, a type of aircraft flown by the legendary Flying Tigers in China during World War II.
That followed their restoration of a Grumman TBM-3 Avenger, which first saw action at the Battle of Midway.
Now the current and former students of San Diego Miramar College's Aviation Maintenance Technology Program who have gone on to work at Flyboys Aeroworks in El Cajon are restoring a P-51D Mustang, a single-seat fighter/bomber that will be painted to match a plane flown by Capt. Roscoe Brown of the acclaimed Tuskegee Airmen.
"This is not just an airplane, this is history," said Flyboys Aeroworks chief engineer Rolando Gutierrez as he placed his right hand on the restored fuselage of the P-51D Mustang. "This is going to be exhibited in one of the most prestigious museums in the United States."
That would be the National World War II Museum in New Orleans, home of the restored P-40 Warhawk and TBM-3 Avenger.
Remarkably, few of those working on the restorations knew anything about airplane maintenance before enrolling at the Miramar College Aviation Maintenance Technology Program, the only FAA-approved school of its kind in either San Diego or Imperial County.
"I've gone from knowing nothing about aviation to restoring airplanes for a museum affiliated with the Smithsonian," said Gutierrez, whose Gillespie Field-based company has also restored, renovated, or rebuilt aircraft on display at the USS Midway Museum and the San Diego Air & Space Museum.
Gutierrez wasn't looking for a new career when he found the program. The retired corporate executive enrolled after he began volunteering at the Midway Museum about seven years ago and wanted to learn more about the ship's aircraft that he was caring for. Before long, he and others at the school formed a bond that became a business – Flyboys Aeroworks – that caught the attention of the folks at the National World War II Museum. The Avenger was the first project commissioned by the museum.
Twelve students were hired to work on the 18-month project.
"They were so impressed with the quality of the work that they asked us to do their next plane," Gutierrez said.
Gutierrez put together another crew for the P-40 Warhawk, this one composed primarily of ex-military personnel. Again, everyone who worked on the project was either a current or former Miramar College Aviation Maintenance Technology student.
Among those working on the P-51D Mustang are two Aviation Maintenance Technology interns.
"It's an incredible opportunity," said Genevieve Cindrich, 26, who spent her summer working on the wings and engine of the plane with fellow student Derrick Caceres, 22.
"I'm trying to get my foot in the door of aircraft maintenance, and this program is helping me do that," Caceres said.
Jenny Bishop can vouch for that. She is an Aviation Maintenance Technology graduate who worked with Gutierrez on the first two National World War II Museum restorations.
"I learned everything from nose to tail, everything about the functionality of an airplane, through the Miramar program," said Bishop, who later worked with a civilian contractor maintaining Navy F-18 Hornets and the E-2C Hawkeye and C-2A Greyhound at Naval Air Station North Island before moving to her current assignment on Sikorsky H-60 Seahawks.
The Miramar College curriculum includes more than 1,900 hours of instruction designed to be completed in three, four, or five semesters. The program is designed to enable students to secure an FAA Airframe and Powerplant (A&P) Technician Certificate. Such certificates are needed to work on an aircraft in this country, and virtually all Miramar graduates who take the A&P exam pass the test and earn their mechanic's license.
"It is the principle pipeline to the industry in this region," said James Ostrich, 60, a program manager in the research and development division at Qualcomm who enrolled at Miramar because he also owns and operates Warbirds West Air Museum at Gillespie Field in El Cajon.
Students are anywhere from 18 to 70 years old. About 240 are enrolled annually.
"We have people who come in here with some experience, we have people who come in here with some military background, we have people who come in here straight out of high school with no experience, and we have people coming in here looking for a change in careers who have no experience in the field," said David Buser, an Aviation Maintenance Technology professor and former Aviation Maintenance Technology chair. "It runs the gamut."
And often, the path from Miramar leads to Flyboys Aeroworks.
Lead mechanic Dan Smith has worked on the past two restorations for the National World War II Museum. "As soon as I saw the P-40, my eyes lit up like a kid at Christmas," said Smith, who worked on Huey and Cobra helicopters when he was in the Marine Corps. "I knew this was what I wanted to do. I knew I had made the right decision in coming here."
Gutierrez feels the same way.
"We do this because we love it, and because it's a passion, and it is a privilege most of all," he said. "I think it's a good experience for young people to not only work on an aircraft, but work on an aircraft that has so much history behind it. They have learned not just about who built them and who designed them but who flew them and how brave these men were."