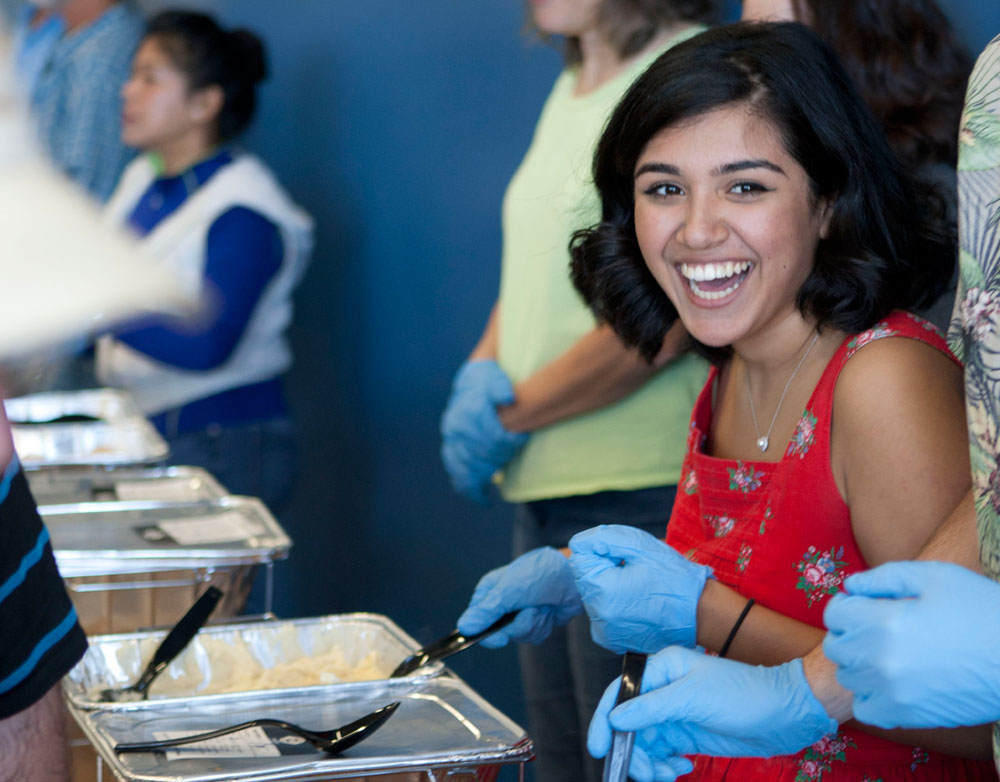 District holding food drives for the holidays
November 14, 2017

|
The San Diego Community College District is ramping up its efforts to help hungry students during the upcoming holiday season.
From distributing gift cards redeemable at grocery stores to restocking campus pantries, San Diego City, Mesa, and Miramar colleges, along with San Diego Continuing Education, are busy reaching out to those in need. Each of the district's colleges and Continuing Education maintains a list of local resources and provides this information to students in need of shelter or a meal. In addition, each campus runs a food pantry for students in need.
City College
Associated Students Government, the Office of Student Affairs, and the Inter-Club Council at San Diego City College are teaming up once again with California Coast Credit Union to provide holiday gift cards to homeless and hungry students. Students are being asked to submit an online application explaining how a gift card will enhance their holiday, and winners will be invited to an event set for Thursday, Dec. 7, sponsored by California Coast and Panera Bread in which gift cards for meals will be distributed. Contributions also are being sought at the City College Pantry, which distributes food Monday through Thursday to approximately 300 students each week.
Mesa College
Mesa College is accepting donations at The Stand, a food pantry and professional clothing closet supplied through monthly food drives and campus competitions as well as community donations. The Stand also will be the focus for Mesa College's #GivingTuesday campaign, which happens on Tuesday, November 28. Mesa College will be accepting monetary donations, as well as canned goods and clothing on that day. In addition, Mesa College Associated Student Government has a Homeless Outreach Student Transition (HOST) Program that last year hosted a Thanksgiving Dinner for more than 60 students, family and Mesa College community members who had no place to go for the holidays.
Miramar College
Miramar College is staging a Holiday Food Drive to restock the college's Emergency Food Pantry. From now through Nov. 17, Miramar is encouraging donations of non-perishable food items – including canned goods, instant microwaveable meals, snacks, and juices – along with toiletries, school supplies, and more. In addition, Miramar is hosting an early Thanksgiving Dinner for foster students on Nov. 17 at 1 p.m. in Room K1-107. The dinner is being hosted by C2AMP Program (College Connection Access Mentoring Program), which helps current and former foster youth at Miramar College by providing one-on-one counseling, foster youth tailored workshops, and resources such as school supplies, gas cards, and food.
Continuing Education
San Diego Continuing Education's Associated Student Body is collecting non-perishables for the San Diego Food Bank at the Educational Cultural Complex, the Mid-City campus, North City campus, West City campus, and at Continuing Education buildings on the Miramar College and Mesa College campuses. Campuses have set up collection bins in lobby areas.
The need is profound. According to a recent national survey conducted by The Ohio State University that included the SDCCD:
- More than 40 percent of the more than 400 SDCCD students responding said they either sometimes or often ran out of food and did not have money to buy more.
- Nearly 27 percent of respondents agreed it was "sometimes true" and nearly 26 percent said it was "often true" that they could not afford to eat balanced meals.
- More than 45 percent of respondents said they had to skip or cut down on the size of their meals for lack of money. Nearly one-third said this happens almost monthly.
- Nearly 31 percent – or more than 1 in 3 students – described their food security status as "very low."
The Ohio State study is the latest in a series of reports highlighting detailing food insecurity on college campuses. The Community College Equity Assessment Lab at San Diego State University found that 12 percent of community college students in California sometimes aren't sure where they'll get their next meal, and the National Student Campaign Against Hunger & Homelessness reported that nearly half of more than 37,000 respondents in 12 states reported instances of food insecurity within the previous 30 days.
Visit SDCCD Food Pantries online