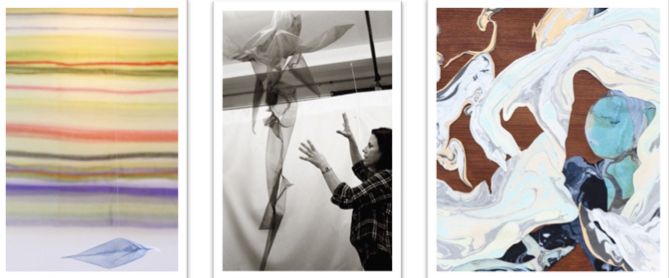 Mesa College Art Gallery features installation by Cathy Breslaw
August 13, 2015

|
Cathy Breslaw creates fantasy landscapes out of industrial mesh, paint, plaster and vinyl fabric. Her artwork revolves around an interest in space and light but it is also very much connected to life, ecology and nature—reminding us of the fragility of our surroundings.
Her visual inventions incorporate the myriad points of a constellation, a macro view towards the universe or zoom in to capture a minute detail. The process of transforming this scientific perspective into sensual revelations is evident in the San Diego Mesa College exhibit Macro View, Micro Wonders.
Artwork elements hang gracefully from the ceiling or sprawl on the ground. Acrylic paint is layered and spilled to form gorgeous splotches of varying thicknesses. It evokes a multi-hued growing organism as seen through a microscope—a glorious amoeba or a Roscharch blot.
Macro Views, Micro Wonders

Artwork and installation by
Cathy Breslaw
Sound piece collaboration with Francisco Eme
Reception: 4:30-6:30 p.m. Thursday, Sept. 10, Art Gallery D101
Lecture by Cathy Breslaw following reception in G102, 6:30-7:30 p.m.
Gallery Talk: 11 a.m. Sept. 30
The installation Dream Scape suggests the sky, the birds and the clouds; it has an atmospheric feel with light dancing through delicate organic shapes. Another installation, Sensation was inspired by a surreal experience at Columbia Glacier in Alaska. Mesh and reflective materials combined with photographic images suggest the surface of glaciers while a sound piece by Mexican artist Francisco EME utilizes the sound of icebergs cracking. Eme's audio fragments reveal the effects of climate change and the brittle nature of melting glaciers.
A single floor piece, Labyrinth, refers to the spiral as a structural form in nature and is created with industrial mesh and found objects. Also included are a series of mixed media drawings on plastic which reference cosmology as well as the invisible spaces around us. An outdoor window display World Within Worlds is comprised of mobile-like forms inspired by seeds and growth.
Large-scale wall works created from industrial mesh have been manipulated in various ways that reference the history of painting and speak to organic processes. Breslaw reinterprets and expand the boundaries of painting. Painting is not dead—it is transformed as it is molded into a solid organic form and as layers of color mesh take the place of expansive brush strokes in a color field painting.
Cathy Breslaw is a Southern California artist who has been featured in over 34 solo exhibitions and has participated in over 50 group exhibitions across the U.S. Breslaw's work is in many private and corporate collections. She holds an MFA from Claremont Graduate University in Claremont, CA, where she received two fellowships. Breslaw is also a contributing writer for Art Scene, Visual Art Source, Vanguard Culture, the San Diego Visual Arts Network and has a blog www.artfullifebycathy.blogspot.com.