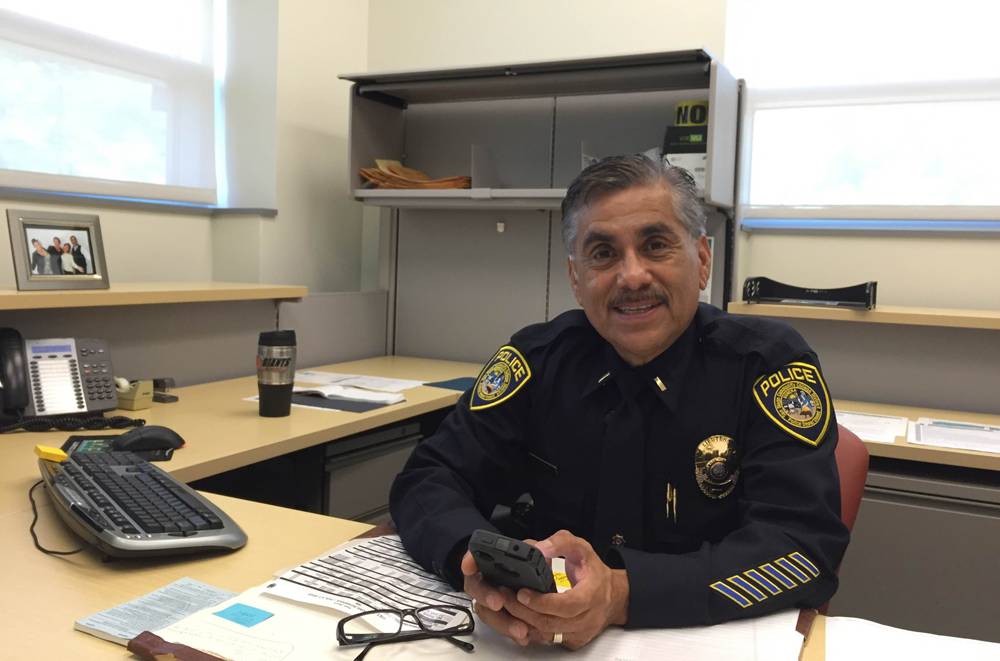 Bay Area cop finds new home at district Police Dept.
September 25, 2015

|
After more than three decades as a law enforcement officer in the San Francisco Bay Area, Lt. Gilbert Torres was finding it a little challenging to adjust to the retired life. "I'm not a golfer, and I don't paint," he said. "I needed something to do. I needed to get back to what I do best."
Lt. Torres took care of that when he started working Sept. 3 as Commander of the San Diego Community College District Police Department's Northern Division, which includes Mesa College, Miramar College, and all Continuing Education sites in the northern part of the district, including the new North City campus. He says it was one of the best decisions he's made.
"The district is awesome, from the Chancellor's office to each and every one of our campuses," Lt. Torres said.
Lt. Torres, whose wife of 27 years is a high school principal, was in his first year of graduate school at San Jose State University en route to becoming a social worker when a friend told him the city Police Department was hiring and encouraged him to apply. He spent the next 30 years at the San Jose Police Department. His numerous assignments ranged from patrol to homicide to internal affairs. During much of that time, he also worked as a high school teacher specializing in Chicano Studies.
Lt. Torres, 60, retired from the San Jose Police Department in 2010, but returned to law enforcement as a lieutenant with the San Jose/Evergreen Community College District a short time later. He retired a second time before deciding to come to San Diego.
"I heard so many positive things about the San Diego Community College District," Lt. Torres said. "It was a good fit."
The SDCCD Police Department is a POST (Peace Officer Standards and Training) certified full service agency, and the largest community college police department in California. Officers receive the same basic and ongoing training as city and county peace officers throughout the state, plus additional training to meet the unique needs of a campus environment. SDCCD Police Officers provide the primary law enforcement response on and around City, Mesa, and Miramar colleges, the six Continuing Education campuses and various SDCCD business offices, classrooms and properties.
SDCCD Police Chief Raymund Aguirre, who worked with Lt. Torres at the San Jose/Evergreen Community College District, said Lt. Torres is an invaluable addition to the department. "He brings a vast amount of experience that will serve us well, and he knows how to reach out and bond with young adults and the community. He has a very open, unassuming personality."
Lt. Torres, who spent his summers growing up working the fields with his grandparents in the Central Valley, said he's impressed with his new agency. "The men and women of this organization are doing a phenomenal job," he said. "I'm very fortunate to be here."