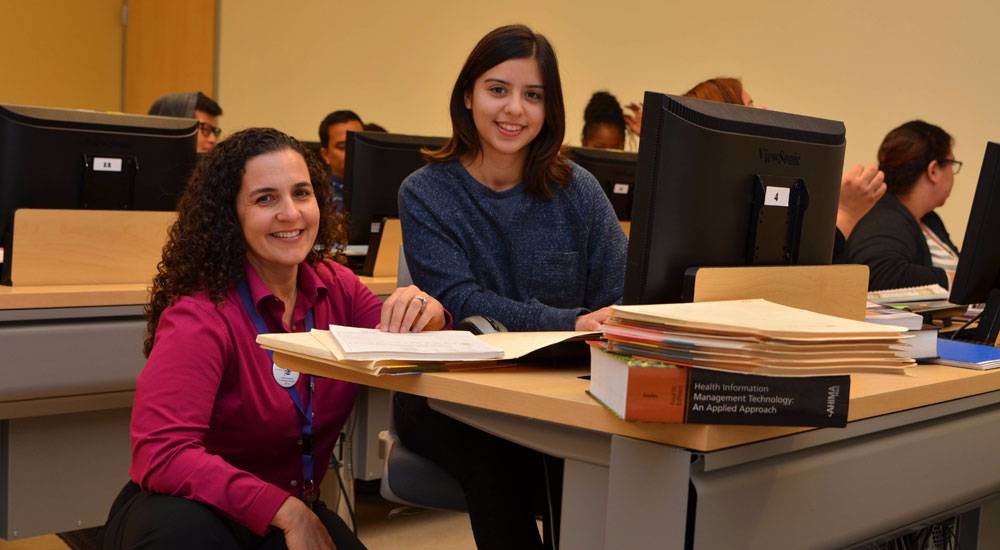 Health Information Management's junior class embarks on journey to baccalaureate
February 2, 2017

|
As the premier junior class of San Diego Mesa College's Health Information Management bachelor's degree program moves into their second semester, the program is accepting applications online until April 27 for the fall of 2017.
One of the first bachelor's programs offered at a community college in California, Mesa's HIM program began in fall of 2016, and has been met with great enthusiasm by initial enrollees.
After Gov. Jerry Brown signed Senate Bill 850 into law Sept. 28, 2014, which allows community colleges to offer baccalaureate degrees, the San Diego Community College District got to work and put its plan into action.
The first HIM junior class is comprised of 18 full-time pilot program students, all of whom are Mesa alumni from the classes of 2000 through 2016, per HIM Program Director Connie Renda.
The group takes two courses every eight weeks and is on track to be complete their graduation requirements at the end of four semesters. In addition to the HIM courses, students in the Program will also take upper-division course in English, psychology and computer and information sciences.
The requirements for entering the two-year Program include already having a Registered Health Information Technician certification. Those who graduate with the bachelor's degree will be prepared to earn the Registered Health Information Administrator certification as well.
Though members of the pilot junior class have already received their associate degrees, Renda said that future groups will likely begin "as freshman, and go all four-years straight through." The associate's degree has been available at Mesa since the late 1960s, but Renda sees the addition of the bachelor's as "icing on the cake" and an addition that is great for the community of San Diego.
"The reason we developed it was for affordable access to a four-year education – it's only $10,500 for all four years," Renda said. "It's kind of an important thing for people to know, because a lot of times when people are looking at going to four-year school, even state schools are more than that per semester."
Class of 2004 RHIT graduate and HIM junior Benjelene Andriga, who works as a Hospital Unit Coordinator at Kaiser Permanente, said that the affordability and proximity of the program has now made it possible for her to earn a bachelor's degree. She encourages others in the field to pursue a baccalaureate degree at Mesa, as it can be a great stepping stone for success in one's career.
"Mesa is a really good school, and going here, they have really good teachers, and it's closest," Andriga said. "It's affordable right now, and the Health Information Management industry is booming, so we're going to need more people."
Though the competitive price is certainly a major motivating factor for students to choose Mesa College's HIM program, there are other clear benefits that the students have been able to enjoy.
Student Brandee Raaz has been waiting for a bachelor's degree program since graduating from Mesa with her RHIT degree in 2003 with "eager anticipation." She currently works at UCSD as a Manager of Coding Compliance.
From her experience, Raaz said that she sees bachelor's degrees "becoming much more of a required minimum" for those who work with health information. Now that she is several months into the program, she said that it was the right decision for her to choose Mesa.
"They have a great reputation in the community and very close ties to our profession locally," Raaz said. "Mesa has an in-person education – much better than an online only program – and it's still flexible for working adults. There's lots of support that you don't see at other institutions – socially and financially – they really care about you succeeding here."
Blair Watson, who graduated with the RHIT in 2012, is currently working at Sharp Coronado Hospital as the Supervisor of Health Information. She said that her fond memories of her time at Mesa helped to solidify her choice to continue her education there.
"I love Mesa, it's a great place," Watson said. "As far as the HIM program, the faculty – there are just a lot of different faculty who have been amazing – and I enjoy the students that I'm in class with, the curriculum, the resources, the environment, and the classes are nice."
For more information about Mesa's Health Information Management bachelor's degree program, contact Connie Renda via email at crenda@sdccd.edu or via phone at (619) 388-2606.