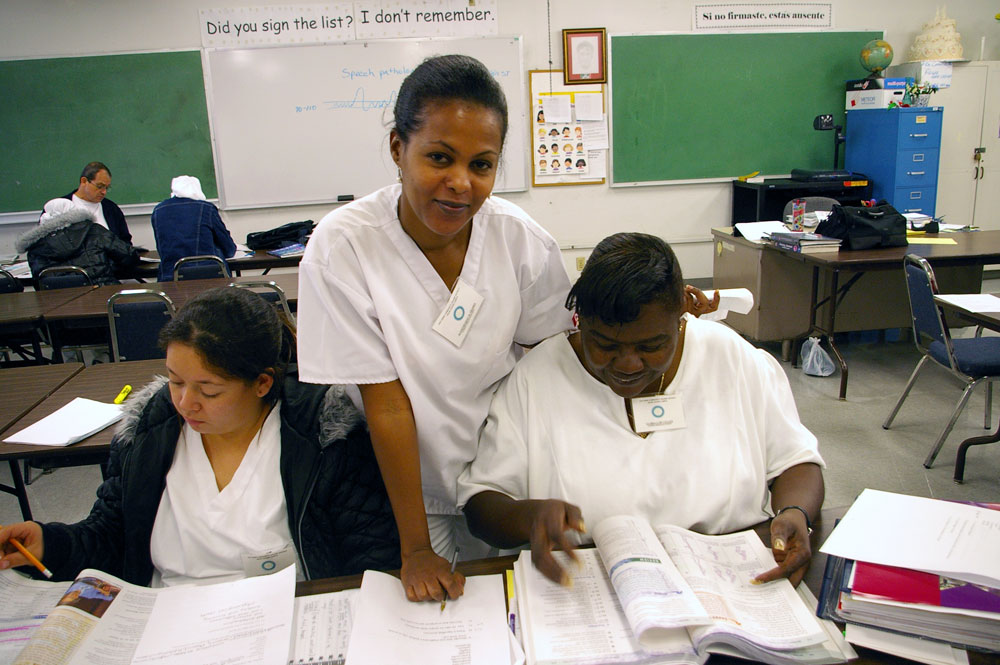 Free classes help students prepare for employment in healthcare industry
January 27, 2016

|
Faculty and administrators at San Diego Continuing Education are responding to local economic needs by expanding free classes and certificates in healthcare careers.
Classes are free and train students for employment in various areas of the healthcare industry. Instruction is designed for the beginning student, as well as for students who have already had basic nursing assistant training and who are Certified Nurse Assistants (CNAs).
"We've expanded our program to serve students who are already working in the healthcare field and need to keep skills current by completing Continuing Education Units (CEUs)," said Dean Robin Carvajal.
The classes are held at SDCE's new Cesar E. Chavez Campus, the Campus of Excellence for Healthcare Careers in Barrio Logan. The campus opened in August 2015 and is expecting to serve as many as 7,000 students annually.
"The new campus expands SDCE's ability to more than triple the number of health classes we had been offering prior to the campus opening," said Carlos O. Turner Cortez, Ph.D., SDCE President. "The healthcare industry is growing in San Diego and has a high demand for skilled workers."
Training to become a certified Home Health Aide is one example of free training students can receive from SDCE. According to data provided by the San Diego Workforce Partnership, this is an occupation with an expected growth of 22% by 2019.
In addition to health classes, SDCE offers several free certificate programs and short-term training to help San Diegans join or remain in the workforce. Additional examples at the Cesar E. Chavez Campus include Accounting, Business, Child Development and Digital Media.
Spring semester begins Feb. 3. Interested students are encouraged to contact the campus for enrollment information at 619-388-1910.