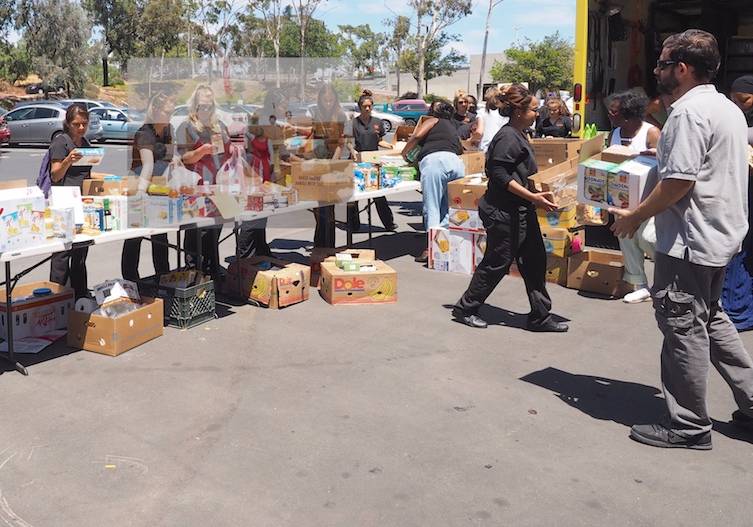 Help available for homeless, hungry students
July 31, 2015

|
For many local community college students, homelessness and hunger are real challenges. To assist students in the San Diego Community College District, San Diego City College, Mesa College, Miramar College, and San Diego Continuing Education are collaborating with local nonprofits, local government and service agencies to assist students in need.
Each of the district's colleges and SDCE maintains a list of local resources and provides this information to students in need, including lists of shelters and locations for food. In addition, Associated Student Government councils at most campuses sponsor food drives in conjunction with the San Diego Food Bank. These drives have been strongly supported by faculty, staff and students.
For example, at San Diego City College, The Pantry provides emergency food resources to needy students. The Entrepreneurship Program students staff The Pantry and distribute food daily between 10 a.m. and 4 p.m. to an average of 300 students per week. In addition, about 25 students per week receive a weekend grocery bag to assist their families. The program also works in conjunction with the San Diego Food Bank and the Jacobs Foundation. In addition to food, The Pantry collects and distributes items such as household goods, diapers, detergent and person hygiene items.
At City College's Fantastique, homeless students are provided with business-interview clothing. Business suits sell for no more than $7. School clothes are sold for $2. Free clothing is provided to students who have upcoming job interviews and comes with a coupon for a free haircut, shampoo and style from the college's Cosmetology program. More than 100 students have also received blankets, sheets, shampoo, soap and towels free of charge. Students from the Cosmetology program regularly partner with local charities – providing haircuts to those in need and their families.
San Diego Mesa College's Drama Department recently brought the issue of homelessness to the stage with an original workshop production entitled, "Un-Sheltered," a compilation of vignettes based on student interviews with the homeless in downtown San Diego.
Mesa College also sponsors Feed the People, an annual event held to help feed the homeless of San Diego. This event is coordinated by Mesa College student/veteran Otto Lopez, co-sponsored by the Student Veterans Organization and San Diego Mesa College Associated Student Government (funding for pizzas and volunteers).
In addition, the Mesa College Associated Student Government has a Homeless Outreach Student Transition (HOST) Program. Each semester HOST sponsors a food/hygiene drive. Collected supplies are made available to students in need (they can simply take what they need, no questions asked from a designated area in the ASG Office throughout the year.) Last year, HOST held a Thanksgiving Dinner for more than 60 students, family and Mesa College community members who had no place to go for the holidays.
At Miramar College, the campus Anthropology Club recently held a two-week food drive for hungry and homeless students. The food drive ended May 22 with the collection of 440 items ranging from bottled water, canned goods and paper products. Goods will be given away as part of the Miramar College Food Exchange.
Students interested in receiving support are encouraged to visit the counseling office at any SDCCD campus location. For more information visit our student support page.