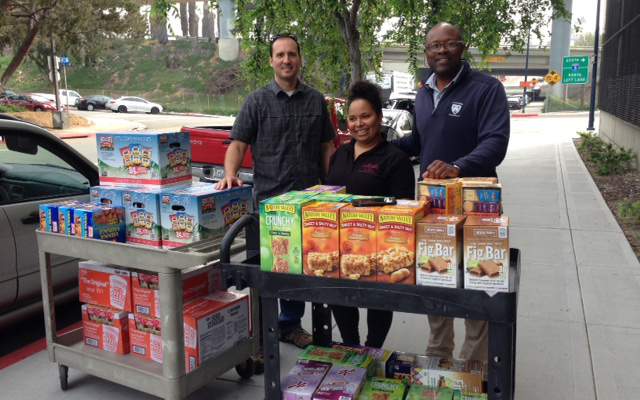 Resources available for homeless and hungry students
November 18, 2016

|
For many local community college students, homelessness and hunger are real challenges. That's why San Diego City College, Mesa College, Miramar College, and Continuing Education are collaborating with nonprofits and local government to assist students in need.
Each of the District's colleges and Continuing Education maintains a list of local resources and provides this information to students in need of shelter or a meal. In addition, all of the college's campuses run a food pantry to students in need.
At City College, for example, interns at the Small Business Entrepreneurship Program staff the campus food pantry and distribute food Monday through Thursday to approximately 200 to 250 students per week. In addition, struggling students are provided with gently used business suits for $10, affording them an opportunity to dress appropriately for an interview. More than 100 students also have received blankets, sheets, shampoo, soap, and towels free of charge. Students from the college's Cosmetology program regularly partner with local charities, providing haircuts to those in need and their families.
The Associated Student Government at Mesa College has a Homeless Outreach Student Transition (HOST) program that provides a variety of services, including Thanksgiving meals to scores of students. Mesa College also has launched The Stand, a food pantry and professional clothing closet supplied through monthly food drives and campus competitions as well as community donations. Meanwhile, the Professional Clothing Closet at The Stand provides students free professional and business casual attire appropriate for career fairs, interviews, and the workplace.
Likewise, Miramar Researching Equity, Action and Community for Transformation (REACT), a student-led social justice initiative group at Miramar College, operates the campus' Emergency Food Pantry, which is open five days a week.
The need is profound. National surveys show that large numbers of college students are skipping meals and going hungry because they cannot afford to feed themselves. A recent report from the National Student Campaign Against Hunger & Homelessness found nearly half of more than 3,700 respondents in 12 states reported instances of food insecurity within the previous 30 days. A 2015 survey by the University of Michigan of more than 4,000 students at 10 community colleges across the nation found that nearly one in four students had gone hungry because of a lack of money.
More recently, a study released in December by the Community College Equity Assessment Lab at San Diego State University found that one-third of community college students in California face uncertain housing and even homelessness while 12 percent sometimes aren't sure where they will get their next meal. Additionally, more than 48 percent of black men said they were facing housing insecurity.
"Students in the San Diego Community College District come from all walks of life and many of them are struggling with hunger and homelessness, which makes it incumbent upon us to do what we can to help them so they can thrive in their studies and contribute to our region and our economy," said Chancellor Constance M. Carroll.
Students interested in receiving support are encouraged to visit the counseling office at any SDCCD campus location. For more information visit our Student Support page online.