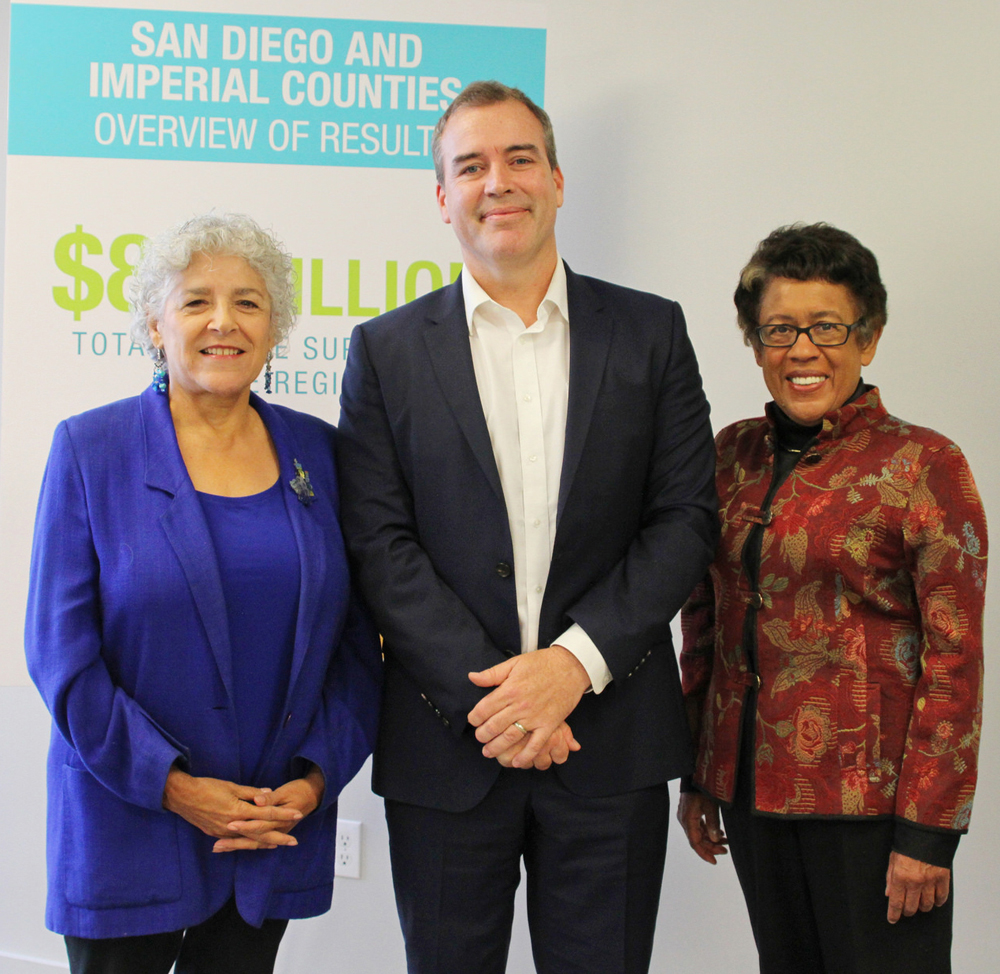 Report: SDCCD contributing $5.5 billion annually to region's economy
October 24, 2016

|
The San Diego Community College District is responsible for fueling $5.5 billion of spending annually in the regional economy, enough to support more than 74,000 jobs, according to a new independent analysis. The additional $5.5 billion created by the SDCCD is equal to approximately 2.8 percent of San Diego County's Gross Regional Product.
"The San Diego Community College District is the largest workforce trainer in San Diego County. Countless numbers of students have benefited from career and technical education programs at City, Mesa, and Miramar colleges, and Continuing Education," Chancellor Constance M. Carroll said. "We are proud to be playing a significant role in building the economic vitality of the San Diego Region."
The 91-page study by Idaho-based Economic Modeling Specialists International (EMSI) analyzes district spending in the 2015-16 fiscal year on everything from payroll to construction, in addition to the higher wages earned by current and former students that is attributed to the education they received at the district.
The SDCCD spent $261.9 million on payroll and benefits for 5,626 full-time and part-time employees, and an additional $258.4 million on goods and services to carry out its daily operations. That investment leads to more spending across other businesses throughout the county, resulting in what is commonly referred to as multiplier effects.
"Our District's commitment to the community is paramount, and that commitment manifests itself in many ways, from the emphasis on student success to partnerships with business and industry," SDCCD Board of Trustees President Maria Nieto Senour said. "This latest analysis underscores the impact we are having in building a better San Diego."
Among the highlights of the report:
- Taxpayers provided $416.1 million of state and local funding to the SDCCD last year. In return, taxpayers will receive an estimated present-day value of $1.5 billion in added tax revenue stemming from the students' higher lifetime earnings and the increased output of businesses. Savings to the public sector add another estimated $114.4 million in benefits due to a reduced demand for government funded social services in California. In all, for every tax dollar spent on educating students attending the SDCCD, taxpayers will receive an average of $3.90 in return over the course of the students' working lives.
- The state will benefit from an estimated $212.7 million in present-day value social savings related to reduced crime, lower welfare and unemployment, and increased health and well-being of current and former students.
- The average student who secures an associate degree from the SDCCD sees an increase in earnings of $12,400 each year compared to someone with just a high school diploma or equivalent. Over a working lifetime, this increase in earnings amounts to approximately $446,400 in higher wages.
Data and assumptions used in the study are based on a number of sources, including academic and financial reports from the district, industry and employment figures from the U.S. Bureau of Labor Statistics and the U.S. Census Bureau, and a variety of studies and surveys relating education to social behavior.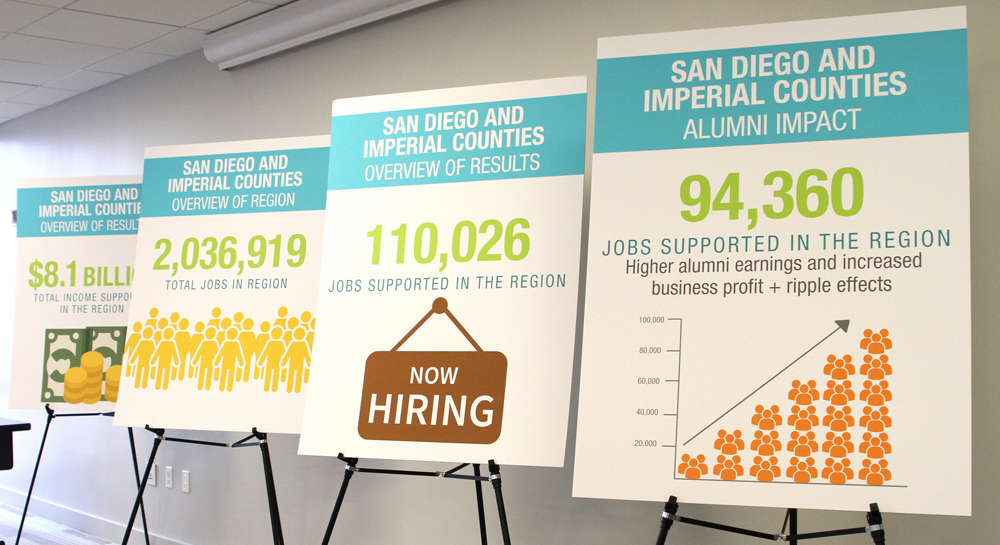 These displays show how San Diego & Imperial County community colleges contribute $8.1 billion in economic benefit to the region.