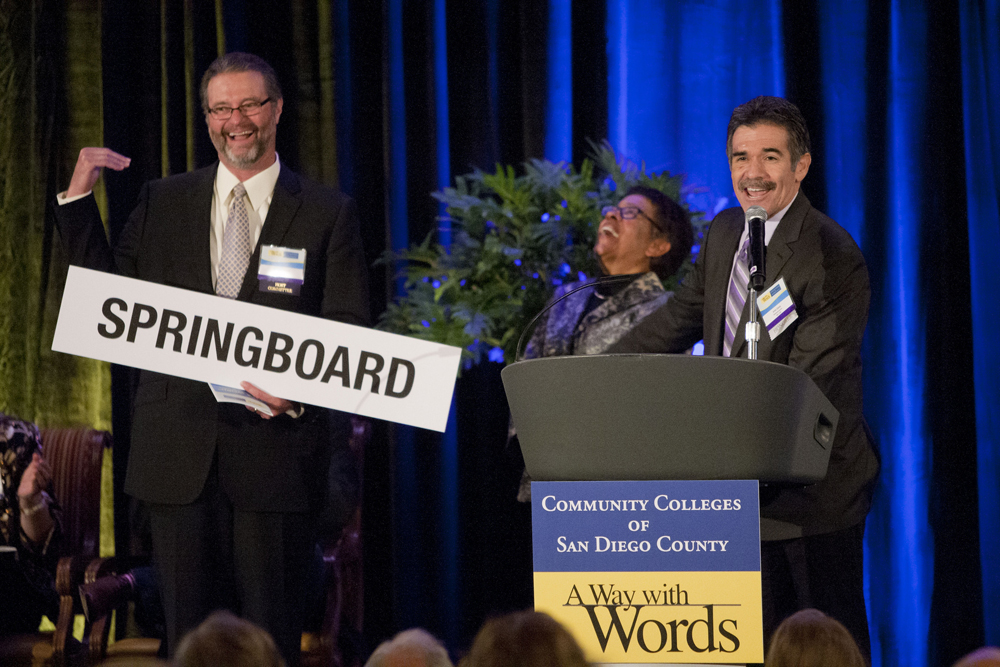 'In a Word' fundraiser honors distinguished alumni
September 24, 2015

|
"Serendipitous," "Springboard!" and "Soccer," were among the words local alumni selected to best represent their community college experience.
The community colleges of San Diego County and the popular public radio show A Way with Words hosted a special event Sept. 17, which celebrated local alumni. Those honored provided a single word that best describes their college experience; hence the title, "In A Word." Proceeds will benefit alumni and scholarship programs at the colleges as well as the educational nonprofit that produces A Way with Words.
The event featured an entertaining presentation by A Way with Words co-hosts Martha Barnette and Grant Barrett.
Distinguished alumni honored included: Jerry Sanders, former San Diego Police Chief and Mayor and current President at the San Diego Regional Chamber of Commerce (San Diego Miramar College) "Career"; Artie Ojeda, weekend anchor for NBC San Diego (San Diego City College) "Springboard!"; Dan McAllister, San Diego County Treasurer-Tax Collector (San Diego Mesa College)
"Activism"; Brad Daluiso, a former NFL kicker and Super Bowl veteran (Grossmont College) "Soccer"; Darren Greenhalgh, who headed construction of the $187-million downtown San Diego Central Library (Cuyamaca College) "Beginnings"; Aaron Byzak, founder of Hazel's Army and Director of Government and Community Affairs at UCSD Health Sciences (MiraCosta College) "Serendipitous"; Lori Holt Pfeiler, Executive Director for San Diego Habitat for Humanity and former Mayor of Escondido (Palomar College) "Fair"; Glen Degler, Planned Projects Supervisor, San Diego Unified School District (San Diego Continuing Education) "Rejuvenate"; and Dr. Olivia Graeve, a UC San Diego professor who has gained international recognition in the area of nanomaterials manufacturing (Southwestern College) "Inspired."
Other event sponsors included: The San Diego Foundation, Dr. Seuss Foundation, Price Philanthropies, RBC Capital Markets, the law firm of Stutz Artiano Shinoff & Holtz, the International Student Tutor Mentor Program sponsored by Director Gigie Price and retired KPBS Associate General Manager Stephanie Bergsma, Author Bridge Media, Front Porch Communities and Services, the law firm of Best Best & Krieger, the San Diego Community College District, Grossmont-Cuyamaca Community College District, Point Loma Nazarene University, Mission Federal Credit Union, AT&T, SDG&E, San Diego Community College District Chancellor Constance M. Carroll, Eleanor Musick, Palomar College, San Diego State University, UC San Diego, Southwestern College, San Diego City College, San Diego Mesa College, San Diego Miramar College, San Diego Continuing Education, MiraCosta College, Michael Breslauer and Rick Seidenwurm, Teresa Greenhalgh, San Diego City College President Anthony Beebe and his wife, Carolyn, and Jerry Sanders and Rana Sampson.