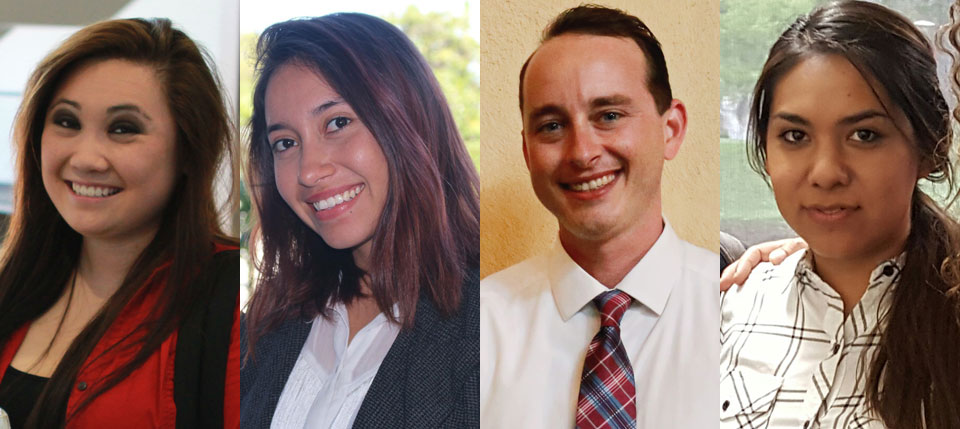 Four district students earn prestigious Jack Kent Cooke Scholarships
May 22, 2016

|
Four San Diego Community College District students – three from San Diego City College and one from San Diego Miramar College – have been awarded a prestigious Jack Kent Cooke Foundation Undergraduate Transfer Scholarships worth up to $40,000 annually to complete a bachelor's degree at a four-year college or university.
City College is one of just 11 community colleges nationwide with more than one awardee and is the only institution in California to have at least three winners. The college has had eight scholarship recipients since 2008.
"These scholarships are life-changing investments in these students' futures," said SDCCD Chancellor Constance Carroll. "Our entire district is proud of them and we congratulate City and Miramar colleges on the excellent education they have received."
The Cooke Foundation Undergraduate Transfer Scholarship is the largest private scholarship in the nation for students transferring from two-year community colleges to four-year institutions that award bachelor's degrees.
The four SDCCD recipients were among just 75 community college students from a competitive nationwide pool chosen this year. All of the Cooke Undergraduate Transfer Scholars have financial need, strong records of academic achievement, extraordinary service to others, and perseverance in the face of adversity.
The SDCCD Transfer Scholars are:
- Katya Echazarreta, a City College electrical engineering major who is transferring to UCLA in the fall. Katya plans to earn a Ph.D. in engineering physics and wants to work in the development of spacecraft technology. On the Dean's List with a 4.0 GPA, Katya has served as vice president of the Society of Women Engineers and as a mentor with the Price Scholarship and the First Year Experience programs. This summer, Katya will conduct research at Rutgers University in the RiSE (Research in Science and Engineering) Program through a NASA-funded grant.
- Joseph Heide, a City College sociology major, is graduating with high honors (3.75 – 3.99) and plans to pursue his studies in sociology and feminist studies at UC Santa Barbara en route to becoming a community college educator. A six-year Navy veteran, he is an active member of the Visionary Feminist Club, helps with weekly food distribution to the homeless and leads weekly meditation sessions at the Metropolitan Correction Center.
- Wendy Huerta, a City College psychology major, is graduating with high honors and is the first in her family to graduate from college. Wendy will pursue her studies in psychology at UC Berkeley as she works toward a Ph.D. in clinical psychology. She plans to conduct research on schizophrenia to further help those who suffer from this debilitating psychiatric illness. Wendy is a Psi Beta Tutor, active in Associated Students Government, and a community volunteer.
- Thaimae Le, a San Diego Miramar College student, is planning to transfer to UC San Diego in the fall and study English on her way to a possible career in entertainment marketing and public relations. Thaimae was named to the 2016 All California Academic Team, was named a 2015 Coca-Cola Leaders of Promise Scholar, is the co-founder of Miramar College's Pay It Forward Experience, was the 2014-15 Public Relations Secretary of Phi Beta Kappa International Honor Society, Beta Iota Lambda Chapter, and is the editor of PTK Press.
Scholarships are intended to cover a significant share of a student's educational expenses – including tuition, living expenses, books and required fees – for the final two to three years necessary to achieve a bachelor's degree.
In addition, the students are eligible for graduate school awards of up to $50,000 per year for up to four years, and two former San Diego Mesa College students – Abdiasis Hussein (Mesa College Class of 2012) and Tammy Schwinegruber (Mesa College Class of 2013) – were named Jack Kent Cooke Graduate Scholarship recipients.
Abdiasis is graduating with a degree in biochemistry from UCLA where he is an American Chemical Society Scholar and an aspiring research scientist. He will be attending the University of Washington in the fall. Tammy is graduating from UC Riverside with a chemical engineering degree and is enrolling at UCLA for her master's degree in water resource engineering.
The Jack Kent Cooke Foundation is dedicated to advancing the education of exceptionally promising students who have financial need. It offers the largest scholarships in the U.S., comprehensive counseling and other support services to students from 8th grade to graduate school. Since 2000 it has awarded about $147 million in scholarships to more than 2,000 students and $90 million in grants to organizations that serve outstanding low-income students. www.jkcf.org