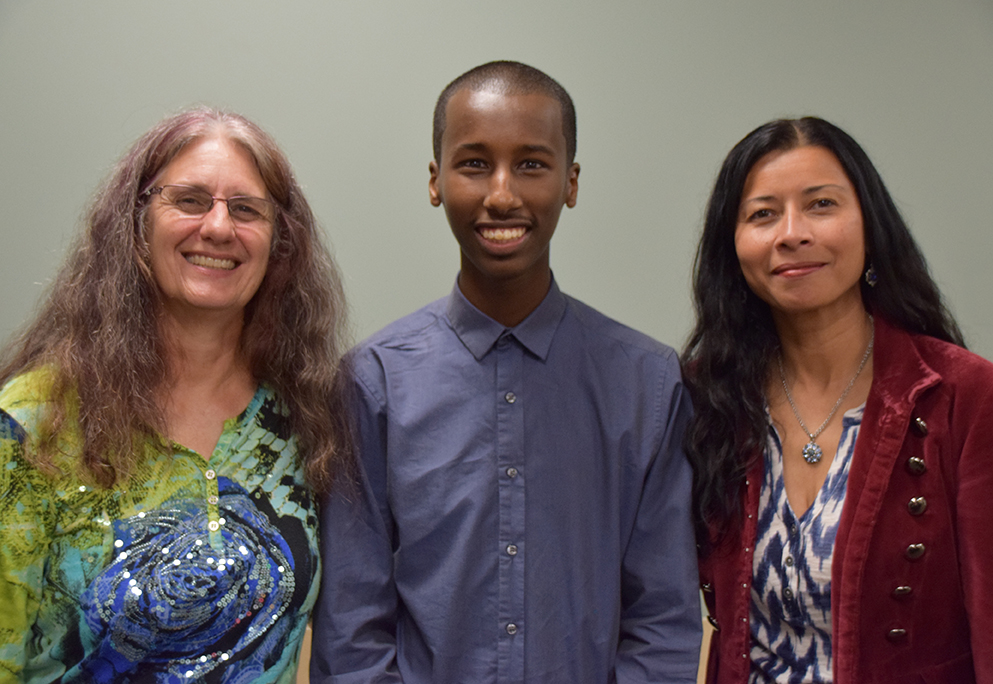 Ishak Mahamoud named 2017 Jack Kent Cooke Scholarship winner
April 19, 2017

|
San Diego Miramar College student Ishak Mahamoud has been awarded a 2017 Jack Kent Cooke Foundation Undergraduate Transfer Scholarship. He learned of the news at a surprise on campus ceremony April 19.
Mahamoud is one of only 55 community college students, from a nationwide pool of nearly 3,000 applicants, selected for this honor. The scholarship is for up to $40,000.00 per year and is intended to cover a significant share of the student's educational expenses - including tuition, living expenses, books and required fees-for the final two to three years necessary to achieve a bachelor's degree at a 4-year college or university.
"It was a huge surprise, I certainly didn't expect to win this," said Mahamoud. "It helps a lot because I have 5 other siblings in my family that are all trying to go to college and my parents can't pay for all of them, so this helps tremendously."
Mahamoud, 21, is one of six children born to parents who emigrated from Somalia. He plans to graduate from San Diego Miramar College this May and is still waiting to hear back on acceptances from colleges. He hopes to study electrical engineering next fall at either Cal or UCLA. Mahamoud is a graduate of Mira Mesa High School.
While at Miramar College, Mahamoud was a member of the Phi Theta Kappa (Beta Iota Lambda Chapter) Honor Society and was responsible for the construction of the chapter's website.
"This is the kind of student that sat in the front row of my class and had a thirst for critical thinking and knowledge," said Dr. Carmen Jay, director of the San Diego Miramar College Honors Program. "I am beyond excited for Ishak, it has been a journey of a couple years and here is the prize."
This is the fifth consecutive year that San Diego Miramar College has had at least one student win a Jack Kent Cooke Undergraduate Transfer Scholarship.