3 City College students awarded Jack Kent Cooke scholarships
May 18, 2016

|
San Diego City College proudly announces that three of its students, Katya Echazarreta, Joseph Heide and Wendy Huerta have been awarded the Jack Kent Cooke Foundation Undergraduate Transfer Scholarship.
The scholarship is worth up to $40,000 a year to complete a bachelor's degree at a four-year college or university. The scholarship funds are intended to cover a significant share of a student's educational expenses – including tuition, living expenses, books and required fees – for the final two to three years necessary to achieve a bachelor's degree. Cooke Scholars additionally are eligible for graduate school funding up to $50,000 per year for up to four years.
From a very competitive national pool, 75 Scholars were selected from record number of nearly 2,400 applications. On learning that only 11 community colleges in the nation had more than one student selected for this honor this year, San Diego City College President Anthony Beebe said, "Multiple graduates earning this honor is really a testament to the high-caliber of education our students receive. We are so proud of our three newest scholars."
Since 2008, City College has had eight Jack Kent Cooke scholars. The 2016 Jack Kent Cooke scholars include:
Katya Echazarreta
Katya, an electrical engineering major, is transferring to UCLA in the fall. Katya plans to obtain a Ph.D. in engineering physics and wants to work in the development of space craft technology with a position at either NASA or NASA's Jet Propulsion Laboratory. On the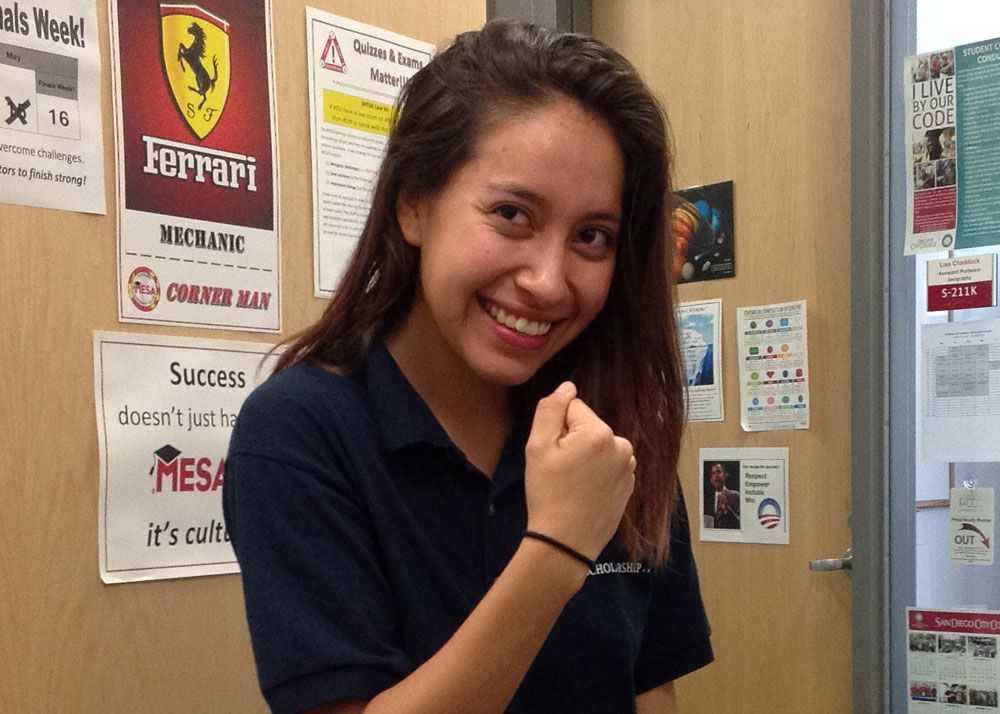 Katya Echazarreta
dean's list with a 4.0 GPA, Katya has received numerous awards and scholarships including the UCLA Regents Scholarship. Only the top 1.5% of freshman applicants to UCLA are invited to apply for this prestigious Regents Scholarship. At SDCC since 2013, Katya served as vice-president of the Society of Women Engineers, a mentor with the Price Scholarship and the First Year Experience programs, and is also an active member of the MESA (Math, Engineering, and Science Achievement) program. This summer, Katya will conduct research at Rutgers University in the RiSE (Research in Science and Engineering) Program for which she has received a New Jersey Space Grant funded through NASA. Katya shared, "City College has been the best decision I could have possibly ever made in my life. City College provided me the tools to discover my potential."
Joseph Heide
Joseph, a sociology major, is an Honors Core student and graduating with High Honors (3.75 – 3.99). An intern with the AFT (American Federation of Teachers) Guild, Joseph plans to pursue his studies in sociology and feminist studies at UC Santa Barbara and to become a community college educator. A six-year Navy veteran, Joseph began classes at SDCC in 2014. He is an active member of the Visionary Feminist Club, helps with weekly food distribution to the homeless and leads weekly meditation sessions at the Metropolitan Correction Center. Joseph shared, "Receiving this scholarship is just amazing. I went from not knowing how I was going to pay for my education to be totally covered. I can now go to the college of my choice."
Wendy Huerta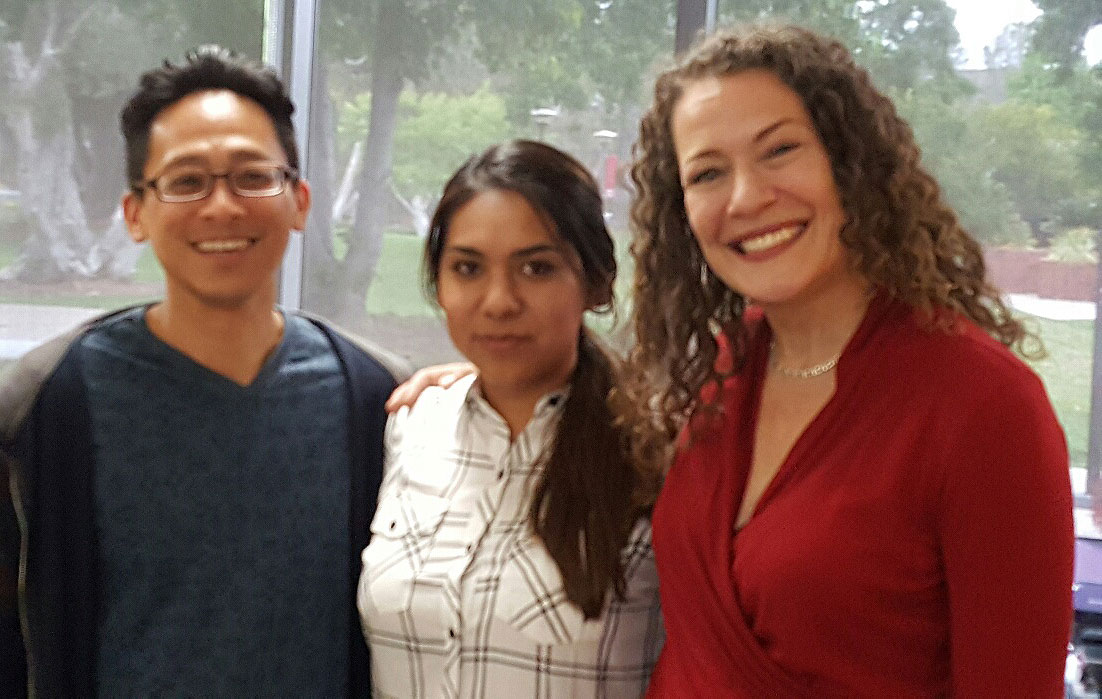 Scholarship Coordinator Oliver Mamangun,
Wendy Huerta, Professor Kim Sweeney.
Wendy, a psychology major, is graduating with High Honors (3.75-3.99). First in her family to graduate from college, Wendy will pursue her studies in psychology at UC Berkeley toward a Ph.D. in clinical psychology. She plans to conduct research on schizophrenia to further help those who suffer from this debilitating psychiatric illness. Wendy is a Psi Beta Tutor, active in Associated Students Government, and a community volunteer. Wendy said, "This means everything to me and provides me the opportunity to pay for my education."
The Jack Kent Cooke scholars will be announced at the May 20 City College commencement beginning at 5 p.m. in Balboa Park. SDCC is awarding 1,100 associate degrees and 600 certificates to 1,400 graduates. More than one-third of the 2016 class is graduating with honors.
The Cooke Foundation Undergraduate Transfer Scholarship is the largest private scholarship in the nation for students transferring from two-year community colleges to four-year institutions that award bachelor's degrees. Cooke Scholarships fund the costs of attending college not covered by other financial aid, plus academic advising, stipends for internships, study abroad, and opportunities to network with other Cooke Scholars and alumni.
"Many elite colleges and universities are reluctant to admit large numbers of transfer students from community colleges, even when these students have excellent grades and other qualifications," said Cooke Foundation Executive Director Harold O. Levy. "This is unfair and unwise. The Cooke Foundation's Undergraduate Transfer Scholars have a long record of success at the most selective colleges and graduate schools, such as the Ivy League in the United States and the University of Oxford in Great Britain. These extraordinary young people have proven repeatedly and conclusively that top community college students have the ability to thrive in top four-year colleges. They deserve equal educational opportunity."
According to the American Association of Community Colleges, 45 percent of the undergraduate students in the United States were attending community colleges in 2014.
Video: See Katya Echazarreta's story