Continuing Ed selects vice president of administrative services
September 1, 2016

|
Jacqueline Sabanos, will serve as the new Vice President of Administrative Services at San Diego Continuing Education, pending approval by the San Diego Community College District Board of Trustees on Sept. 8, 2016.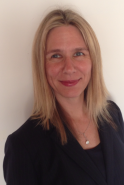 The Vice President of Administrative Services (VPA) manages an annual budget of approximately $49 million; oversees a large team of human resources and facilities professional employees and provides facilities management for 6 main campuses and 11 student resource centers.
"SDCE's five-year strategic planning goals include strengthening institutional effectiveness through integrated planning and resource allocation," said Carlos O. Turner Cortez, Ph.D., President of SDCE. "Ms. Sabanos' experience and budget oversight during this growth mode will be essential to help SDCE add programs and hire faculty to meet student demands."
Ms. Sabanos is currently employed with UC San Diego as the Management Services Officer III. In her current position, she is responsible for administrative, operations and business management for a student retention and success program with an annual budget of $11 million.
In addition to her fiduciary experience and accountability, Ms. Sabanos has significant experience managing human resource processes including payroll, recruitment, hiring, training, performance evaluations, and staff development. Ms. Sabanos has a strong background in providing leadership in facilities management procurement and purchasing.
Ms. Sabanos has provided leadership and consultation to as many as seven separate academic units with budgetary oversight, planning and coordination of contract administration during her career. She holds an M.B.A. from San Diego State University, and a Bachelor's degree in Anthropology from UC Berkeley.
Sabanos joins the administrative team following a competitive search to fill the VPA position. Dr. Turner Cortez has been building SDCE's leadership team since his arrival last year and she is the third of three Vice Presidents joining the administration this year. Sabanos begins her new position at SDCE on Sept. 15, 2016.