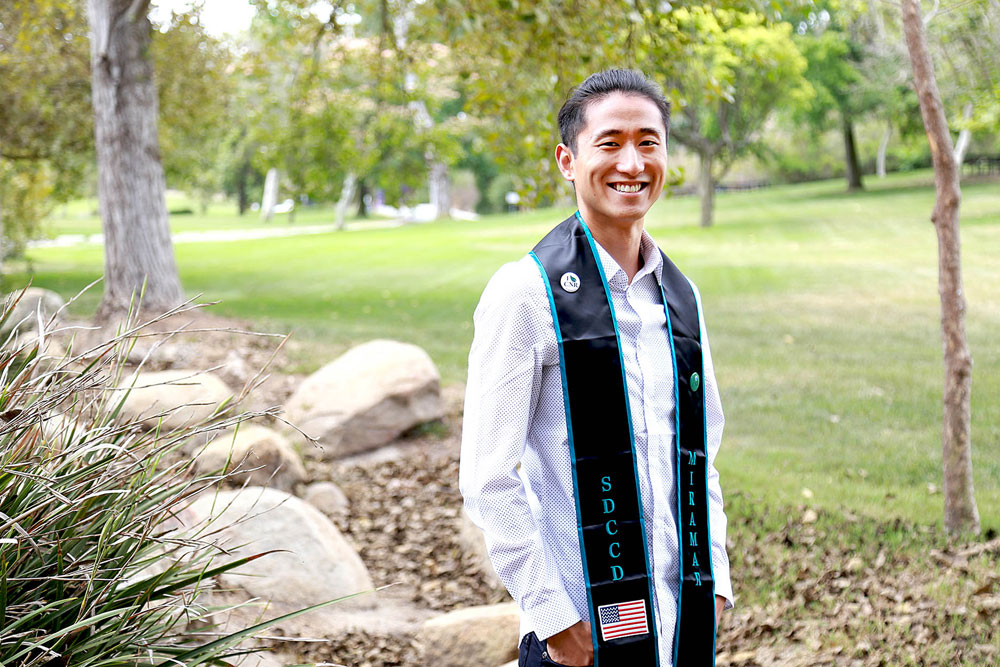 Javier Chen - From veteran to student
November 11, 2015

|
Javier Chen is a 25-year-old Navy veteran who graduated from San Diego Miramar College in the spring with an Associate Degree in Social and Behavioral Science and transferred to UC Berkeley this September with plans on a career with the Environmental Protection Agency.
We asked Javier a few questions about his experience at Miramar College.
Q. Why Miramar College?
A. After being honorably discharged from the service, I decided to stay in San Diego to continue my education. At the time I was residing in Mira Mesa, and Miramar College was conveniently located close to my home. What interested me the most about Miramar was that the campus was newly renovated and environmentally sustainable.
Q. What's the biggest difference between the Navy and college?
A. In the Navy, most of your time is managed by the military instructions of the day and your mission. In community college, you have more time to manage your academics and your social life.
Q. What advice would you give to military veterans interested in pursuing a college degree?
A. Plan ahead. Make sure they check out the campus veterans' office and ask questions regarding the benefits they are entitled to utilize.
Q. Favorite spot to relax at Miramar?
A. The Student Veterans Center.
Q. How has Miramar College changed your life?
A. Miramar provided me with a lifelong learning experience that I will forever hold dear as I progress into my future academic and professional life. The knowledge acquired from my professors, friends, tutors, and staff members are tools I'll use as I continue in higher education.
Q. Most memorable college moment?
A. My commencement ceremony. I had the chance to see all my professors, counselors, staff, and my fellow students graduate with me in receiving our certificates of achievement and associate degrees.