Miramar alum, staff member named Ms. Asian North America
October 14, 2016

|
We all know how incredibly vibrant and culturally diverse a community Mira Mesa is, but did you know that one of our own was recently named Ms. Asian North America 2016?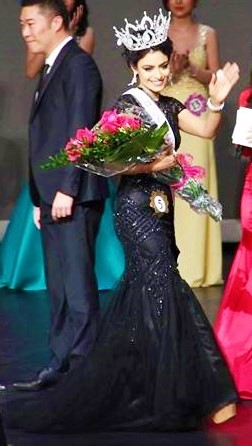 This past July, Miramar College alum and current staff member Kaanchan Farkiya won the honor in Las Vegas.
"I am out there doing my duties now as queen and my platform is education and helping children, so it is natural fit to be affiliated with Miramar College's Child Development Center."
Since 2013, Farkiya has been employed as a Supplement Instruction Coach for students pursuing course work in child development. In 2005, Farkiya arrived in the United States with a bachelor's degree and a master's degree she had obtained while in India. With a desire to help children, she enrolled at Miramar College and obtained an associate degree in Child Development and one in Computer Business Technology.
"I enrolled my preschooler in the Child Development Center at Miramar College and then decided to take classes, and even though I had a master's degree, I discovered myself again."
Through countless challenges and commitment, she served students as Vice President of Associated Student Council (2012). Farkiya has earned many scholarships and other awards such as "The Outstanding Student Leader of the Year".
Back in India, after winning a state level beauty pageant, Farkiya worked in showbiz as a television actress and model before moving to the states. When encouraged to run for Mrs. Asia San Diego in January of 2016, she said "yes". Farkiya finished runner up, and in the process won five additional titles: Mrs. Role Model of the year; Mrs. Elegance; Mrs. Congeniality; Mrs. People's Choice; and Mrs. Cultural of the Year. Next stop was the Ms. Asian North America pageant. "Winning the beauty pageant has allowed me to give back the community and that's what I love to do."
She is now exploring ways to meet with local state senators to introduce programs designed to wipe out child trafficking and child abuse. If you would like to invite her to a special function anywhere in the United States please reach out at info@msasiannorthamerica.com.
For more information find Kaanchan on Facebook.