Karla Arias - She broke down language barriers
February 15, 2017

|
Karla Arias came to the United States at 17 when her mom decided to immigrate to San Diego from Mexico. She took the opportunity to immerse herself in the English-speaking culture.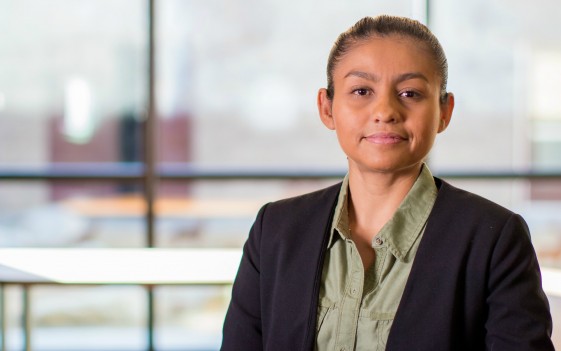 Karla Arias
In her late teens, she chose to attend San Diego Continuing Education for English as a Second Language (ESL) classes and a diploma. Karla's mother wanted to make sure her only daughter had a chance to a bright future. She felt gratitude. "It's hard because you see your mom working all the time to get you where you are." She says, "She would tell me, I know you can do this. I couldn't do it but I'm giving you the opportunity to learn and to go to school."
Despite the cultural shock of relocating to a new country, Karla was willing to go all-in. "I felt like I really needed to learn what other people were saying." Within a few weeks of attending classes, she encountered difficulties from the fast paced environment. "It was frustrating. I surrounded myself with people that were bilingual. I tried to understand them better if they didn't speak Spanish. They were my inspiration to make myself learn English. I wanted to be able to communicate with other people without the need of someone else telling me what they're saying."
The language barrier didn't matter to Karla. It liberated her. She reflects on her high school commencement, "I was happy that I was able to accomplish something like that. I was not perfect at speaking or understanding English but I couldn't let that stop me from graduating."
The Arias family set their sights high on the American Dream and Karla continues to make them proud. Following SDCE she transferred to San Diego City College and went on to become a San Diego State University graduate in psychology. "My first dream job is to be a clinical psychologist or work for the FBI," she laughs. "There are so many things I wish I could do. I want to understand why people behave a certain way and help them be better."
Karla Shares Proud SDSU Graduation Moment with Family and Friends
The ambitious Latina confirms, "right now I am applying for scholarships and volunteer positions to work on anything related to my degree as I wait to get into a master's program." Karla tributes her journey to the community of English learners at SDCE and specifically ESL faculty member, Beth Bogage.
Beth prepares all of her students to flourish and become what they ought to be. "I can't say I'm surprised by Karla. I am certainly proud of her. We see the student's potential but from their perspective, there is a lot of fear." SDCE's ESL program is designed to provide foreign, immigrant, and refugee students with basic skills needed to do well in all academic areas and certified professions. "In a sense, we are the first Americans this population interacts with and for some, it's their very first classroom. It is important we make them feel welcome in this country." SDCE is proud to play a vital role in bridging every student towards higher education and into America's dedicated workforce, no matter the circumstances of their birth.
The San Diego Community College District pledges support of students regardless of immigration status and religious beliefs.
SDCE is the adult education division of the SDCCD and served 13,504 students in the ESL program during 2016-17 and an additional 1,744 in citizenship classes.