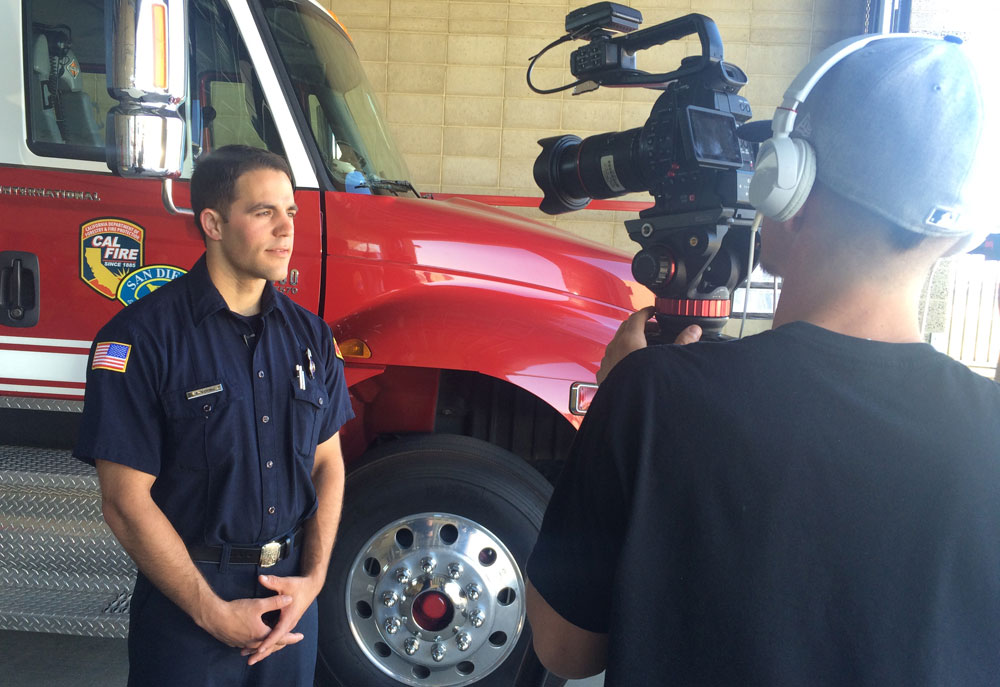 District launches partnership with KFMB-TV
April 22, 2016

|
The San Diego Community College District has established a partnership with KFMB-TV, San Diego's CBS affiliate, as part of the "Imagine the Possibilities" enrollment marketing campaign. A series of TV ads featuring district students and alumni is set to air starting the week of April 25 will run through the first week of October.
"Students are our best spokespersons," said Jack Beresford, SDCCD Director of Communications and Public Relations. "Each message tells the story of one student or alum who represents the best of City, Mesa, and Miramar colleges, and San Diego Continuing Education."
Four students and three alumni are featured in the documentary-style campaign, which includes 90-second and 30-second messages. The ads will run on KFMB-TV CBS 8, during the local news as well as "The Late Show with Stephen Colbert." The KFMB partnership also includes 5-second on-air "billboards" mentioning the district as a news sponsor. CBS News 8 is consistently rated San Diego's most-watched news program, giving the district considerable exposure.
Related Story:
"Education and the commitment to maximize access to higher education for every student in our community are priorities of KFMB-TV," said Alberto Mier y Terán, President and General Manager of the KFMB Stations. "We are proud to collaborate with the San Diego Community College District and invest in San Diegans' futures."
In total, messages promoting the district, its colleges, and Continuing Education, will run 192 times, reaching 100 percent of the San Diego market (1 million households with televisions) multiple times.
"This partnership is part of a strategic marketing effort to ensure the district meets its enrollment targets," Beresford said. "However, in addition to supporting enrollment growth, these ads provide very positive messages about the high quality of our students, faculty, and campuses. For many San Diegans, this may be their only exposure to how the district is moving our region forward."
The district's Communications and Public Relations Office collaborated with KFMB's in-house production team to produce the messages – with assistance from each campus' communications office. Perette Godwin provided the voiceover. A former reporter and news anchor, Godwin is also a proud SDCCD alumna herself – having taken classes at City, Mesa, and Miramar College. Robertstemler Media, the district's media-buying consultant, negotiated the partnership with KFMB-TV.
Two 90-second messages featuring Miramar College alumni have been completed thus far and are available for viewing on the district's YouTube channel. Other messages will be added to the channel in the next two weeks as they are finalized.