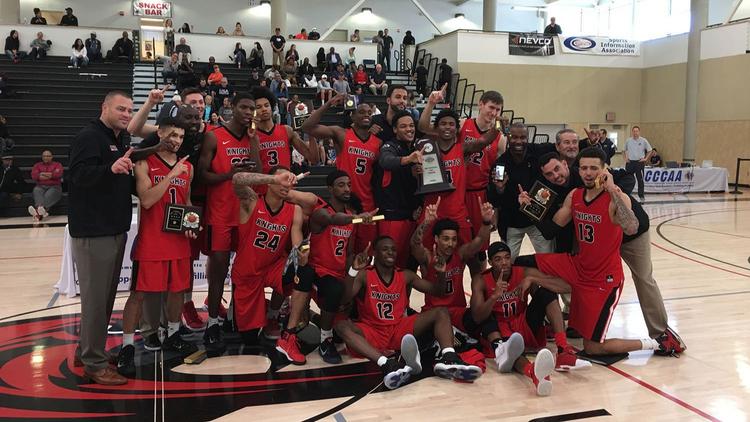 City College Knights win state championship
March 15, 2017

|
For the first time in the school's history, the San Diego City College Knights men's basketball team has been crowned the California Community College Athletic Association state champions. The thrilling 53-51 win in the championship game against Fullerton College on March 12 came at the buzzer, courtesy of a layup by Darien McClain, Pacific Coast Athletic Player of the Year.
"I couldn't believe it," McClain said. "To share the greatest moment of my life with this team, guys who are more like family, is something I'll never forget."
Coach Mitch Charlens won't forget it, either, after 13 years of building a winning program from one that was bare bones. This season Charlens guided the Knights to a 31-5 record and the championship. He was named Coach of the Year for the Pacific Coast Athletic Conference South for the sixth time.
"Every kid on this team has such high character, and sacrificed so much for this championship," Charlens said. "We created adversity in practice so they wouldn't get rattled when they faced it in a game."
The Knights overcame plenty of adversity on their climb to the top spot. They were in an 11-0 to start their quarterfinal game against Yuba City College and down by 15 to north #1 seed San Francisco City College in the semifinals before coming out victorious. In the championship game, against the south #1 seed, they were down seven with five minutes to go, tied it with 11 seconds left, and put the winning game ball in McClain's hands with just 4.1 seconds on the clock.
"It was a huge thrill watching the team celebrating and being so proud of each other," Charlens said. "Equally thrilling was all the support we received from former team members. About 40 of them came to our games in San Diego and I received plenty of heartfelt texts saying they were praying for this group to win."
Charlens is also proud of the team's academic achievements. Even while attending daily practices and often holding down a job as well, the players' fall GPA was more than 3.4. The coach believes that "top form" is applicable to basketball, books and character.
"We couldn't be more proud of this group of young men for bringing the CCCAA men's basketball championship to City College," said Denise Whisenhunt, SDCC interim president. "Excelling in their academics while also playing their hearts out shows the depth of passion our students give each day to achieve their goals."