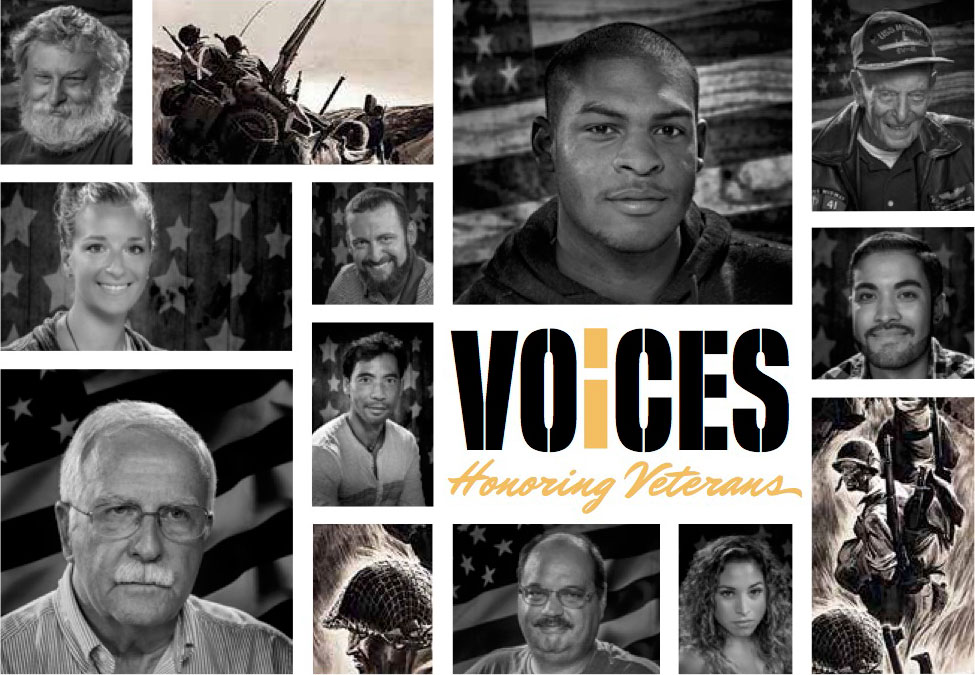 VOICES - An Exhibition Honoring Veterans
October 27, 2015

|
The faces and stories of military veterans are usually known only by family members and close friends. On Nov. 10, the Luxe Gallery at San Diego City College will open a special exhibition, VOICES: Honoring Veterans that shows the faces and shares the stories of 24 veterans.
Through a collaborative effort of the award-winning SDCC Graphic Design and Photography programs, the VOICES exhibit will feature compelling large-scale portraits of veterans taken by David King and their personal story of service that range from World War II to present day Afghanistan and Iraq. A special interactive veteran's wall will showcase the stories and photos of San Diego City College students, faculty and staff who have served.
Additionally, VOICES will include rare, original drawings, paintings and ephemera from World War II correspondent and acclaimed illustrator Carol Johnson. In this age of digital technology, this rarely exhibited collection is all the more striking as Johnson documented combat entirely through hand drawing.
Carol Johnson celebrated a distinguished 65-year career as an illustrator and painter. As a young man, he was one of the elite artists who shaped the public's perception of World War II, when he was sent by News Enterprises Association (NEA) to serve as a combat artist in the North African campaign and later in London. His daily drawings helped convey a first-hand experience of the war and were published in syndication through NEA and appeared in newspapers throughout the U.S. He also illustrated Ernie Pyle's book Here Is Your War.
After the War, Mr. Johnson began a prominent career as a freelance illustrator in New York, painting covers and story illustrations for Colliers, Boys Life, American Weekly, Yankee, and Sport Magazine. A staff illustrator at the influential Ogilvy & Mather advertising agency, his vision of the 1950's and '60's define the generosity and optimism of America in those decades. He died on August 29, 2003, at the age of 87.
Show curator, Graphic Design Professor Candice Lopez, said that she and Photography Professor King created this project to bring awareness of the many veterans on the City College campus and in our community. Their hope is that the exhibit will "celebrate Veteran's Day in a meaningful way that both educates and inspires." They also want to work to help veterans ease the transition from combat to campus life and expand the services provided by the college Veteran's Service Center and the Veteran's department.
N. David King is a Professor of Photography at San Diego City College. He served from 1966-1970 in the U.S. Army, assigned to Army Intelligence and Security and Temporary Duty missions wherever his skills were needed.
Trained as a painter, printmaker, and sculptor, David discovered photography while in college, expanded his skill sets as part of his military intelligence work and after service, began working as a commercial photographer in Denver. Specializing in product, industrial, and editorial portraiture his work in still photography and video earned numerous awards including a nomination for an Emmy. He teaches workshops, seminars, and gives special presentation to photo-related groups around the county and is a returning judge of the International Photography Exhibition at the San Diego Fair.
With several military bases in the area, San Diego County is home to nearly 240,000 veterans. More than 3,500 veterans are studying in the San Diego Community College District (SDCCD) and nearly 1,600 veterans are taking classes at City College. Housed at City College, the SDCCD Military Education Program is contracted to instruct more than 13,000 active-duty personnel in Florida, Illinois, Mississippi and California. San Diego City College is the only institution in the country to earn all three Military Friendly designations – Military Friendly Employer, Military Spouse Friendly Employer, and Military Friendly School – in consecutive years from Victory Media, publisher of G.I. Jobs and Military Spouse.
VOICES: Honoring Veterans
Opening Reception
Tuesday, November 10 | 6 to 8 p.m.
Exhibit
Nov. 10 - Dec. 1
Monday - Friday | 11am – 2pm
Evenings by appt.

San Diego City College
LUXE Gallery - CTC Building
1080 16th Street – 5th floor
San Diego, CA 92101
619-388-3281