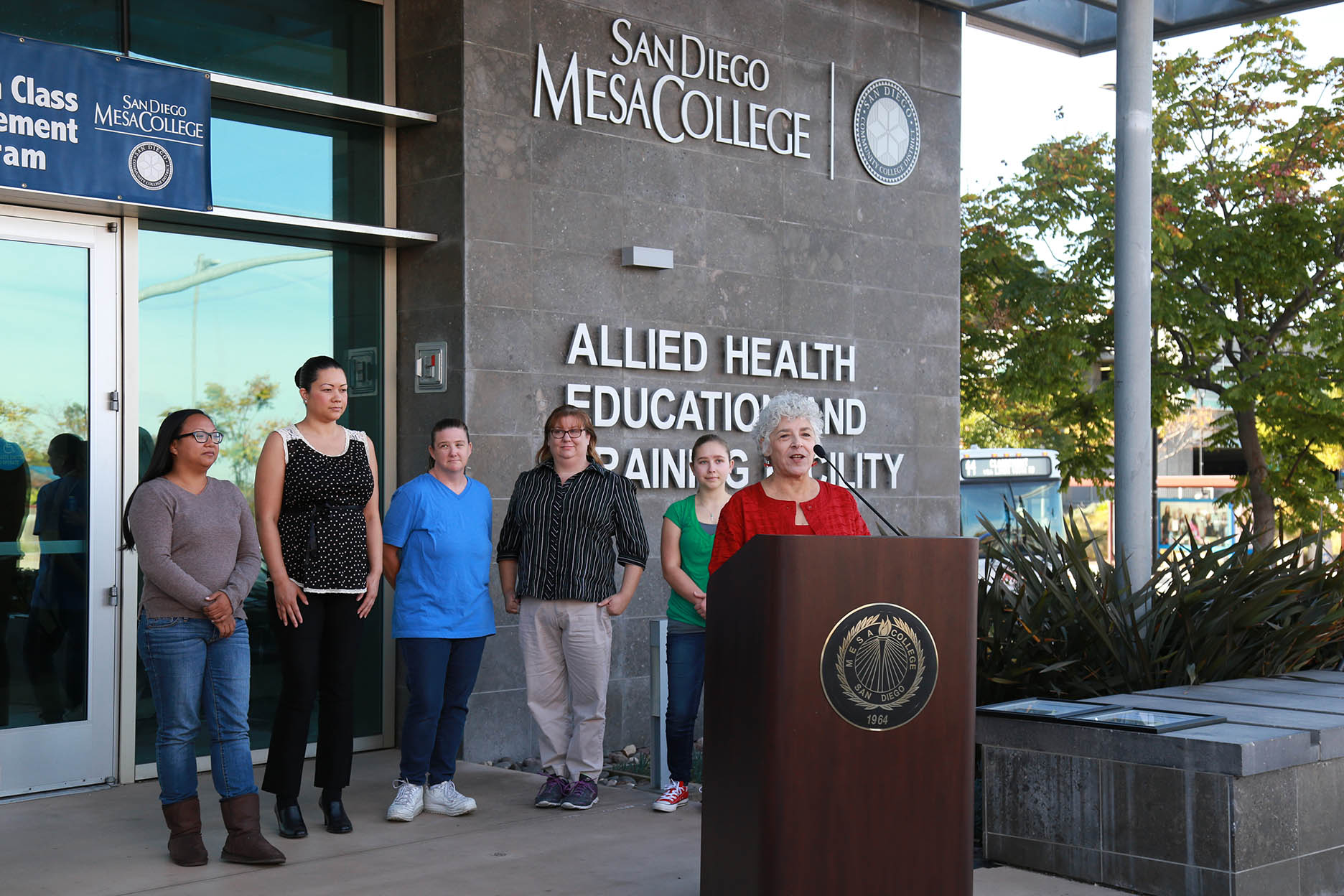 Maria Nieto Senour re-elected as Board of Trustees president
December 11, 2015

|
At its Dec. 10 organizational meeting, Maria Nieto Senour was re-elected as president of the San Diego Community College District Board of Trustees. First elected to the SDCCD board in 1990, Trustee Senour has served as president since January.
Trustee Senour thanked the Board for its confidence in her leadership, reflected on the past few years, and outlined plans for the future. "It is a pleasure to serve on this board and work collaboratively to pursue our district's important mission," said Senour. "I am proud of our accomplishments including the restoration of class sections, full-time faculty, and staff after five difficult budget years. The Propositions S and N bond construction program has transformed the district's facilities and opened up opportunities for thousands of additional students. We are certainly a district on the move."
District Chancellor Constance Carroll praised Trustee Senour and other board members for their service. "We are fortunate as a district to have a governing board that really understands the educational needs of our students and our community," said Chancellor Carroll. "As a direct result of our board's leadership, we now have new facilities, a solid financial base, and a districtwide commitment to student success."
In addition to Trustee Senour's election, Rich Grosch was elected as executive vice president of the board and Chancellor Carroll was appointed as secretary. Board members Mary Graham, Bernie Rhinerson, and Peter Zschiesche were named as vice presidents for specific functions.
The SDCCD is governed by a five-member, locally elected Board of Trustees. Three students also serve a one-year term filling a student trustee position on a rotating basis. Collectively, the five elected board members have served for 52 years.
Current board members have played a critical role in supporting effective management of voter-approved Proposition S, a $685 million bond passed in 2002, and Proposition N, an $870 million bond passed in 2006. The measures have provided for the completion of some 62 projects to date, including new, state-of-the-art instructional and career-training facilities and major renovations that have transformed San Diego City, Mesa, and Miramar colleges, and Continuing Education campuses.
Other highlights during their tenure on the SDCCD Board of Trustees include closer collaboration with the San Diego Unified School District Board of Education, increased student success, growing transfer rates, and adding more full-time faculty.