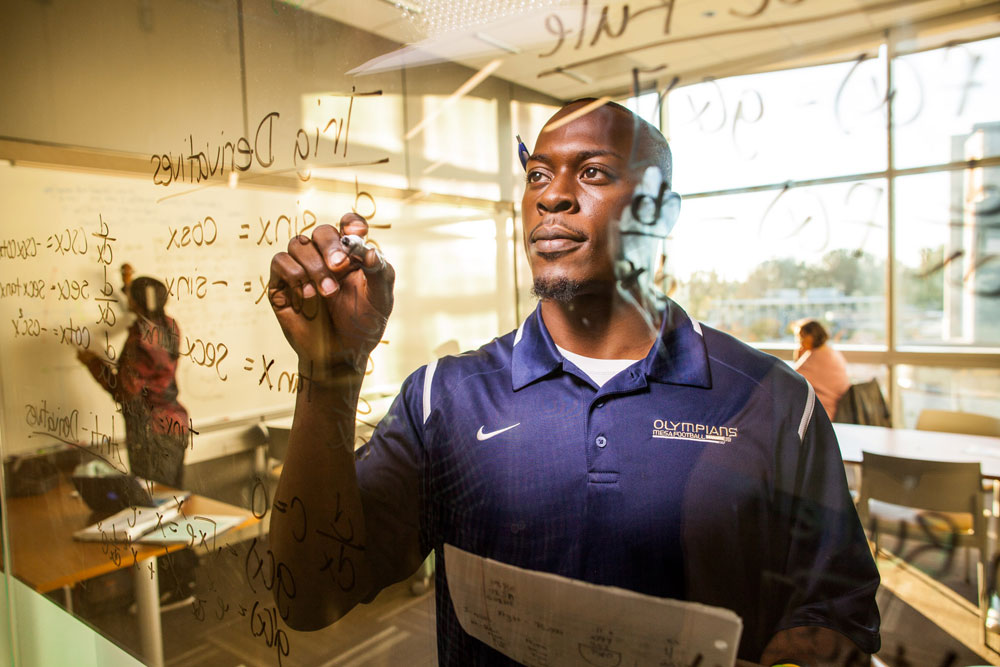 Aligning K-12 math with college expectations is focus of math summit
February 25, 2016

|
UPDATE: This Math Summit is being rescheduled to a date when more faculty will be available. A new date has not yet been determined.
Aligning what students learn in high school with what they are expected to know when they get to college will be the focus of a March 12 'Math Summit' involving San Diego Community College District mathematics professors and math instructors at the San Diego Unified School District.
The Math Summit is set to run from 9 a.m. to 2 p.m. at San Diego Miramar College. Sessions include an overview of required courses; a look at pre-college placement tests and how high school students are faring on such exams; high school math teachers updating math professors on Common Core requirements; and an examination into whether SDUSD instructors and SDCCD professors are teaching the same concepts the same way.
"What will come out of the Math Summit are the next steps in creating strategies to better align what students are learning in the San Diego Unified School District with what they're expected to know when they come to college," said Dr. Stephanie Bulger, the SDCCD's Vice Chancellor of Instructional Services.
The implications are huge. One-third of seniors graduating from the San Diego Unified School District attend a San Diego Community College District campus. The Community College Research Center at Columbia Teachers College, meanwhile, notes that nationwide, 60 percent of entering community college students who recently graduated high school are assigned to remedial classes, and studies show that students who are placed in remedial math courses are far less likely to complete a college math class.
"If you look at the research, math is the major stumbling block to student success in college," said Dr. Bulger. "We have to make sure we are getting this right."
What's more, Dr. Bulger noted that researchers are finding that pre-college placement tests can be a flawed indicator of what students know, resulting in too many being misplaced into remedial courses.
The Math Summit is the latest in a string of cooperative efforts between the SDCCD and the SDUSD in recent years. The boards of both districts will hold a joint meeting on April 19, and the districts also have been working together on aligning English courses and career and technical education programs. Administrators say such cooperation can result in innovative practices that redesign curricula and improve college graduation rates.
"San Diego Unified is excited about the opportunity for our high school teachers to collaborate with community college faculty during the Math Summit," said Dr. Wendy Ranck-Buhr, SDUSD's Director of Teaching and Learning Support. "We are looking forward to hearing from these educators regarding strategies and next steps they believe are important to help all students succeed at high levels in mathematics and to succeed in college. We know working together to develop a larger pool of knowledge and resources across the continuum will benefit all students."