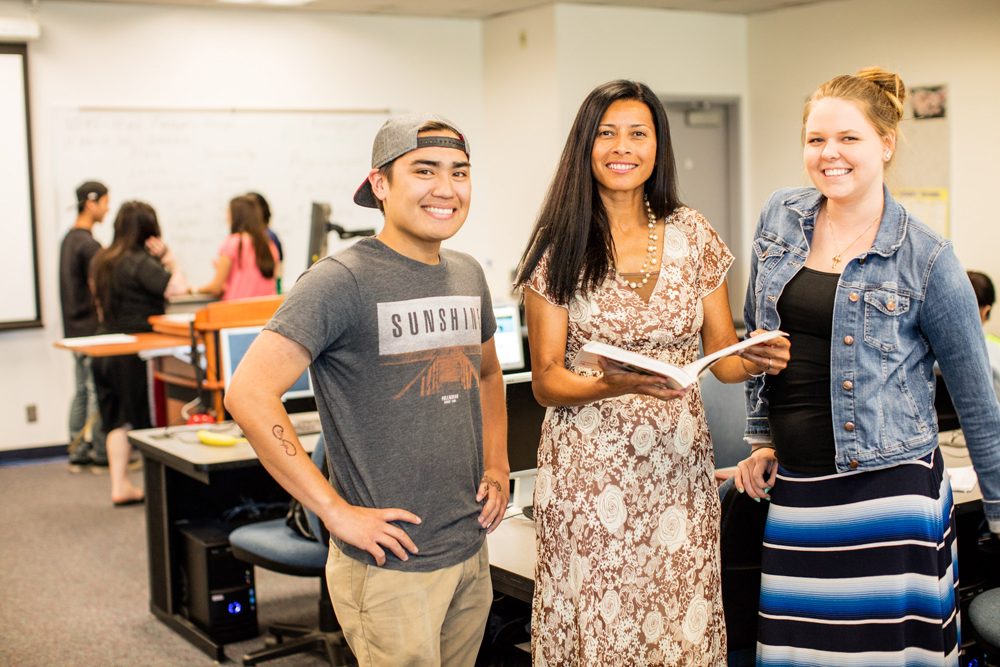 $2.59M Mellon grant expands humanities pipeline between UC San Diego, SDCCD
October 7, 2016

|
With the intent to strengthen and expand pathways for students studying the humanities, UC San Diego and the San Diego Community College District created a new collaborative effort funded by a $2.59 million grant from the Andrew W. Mellon Foundation, with UC San Diego receiving $1.42 million and SDCCD receiving $1.17 million.
The grant allows the two institutions to partner in building a pipeline of successful humanities students transitioning from California's second-largest community college district (San Diego City, San Diego Mesa, and San Diego Miramar College) to UC San Diego, the world's 7th best public university, according to Times Higher Education.
"We are very pleased that this pair of grants will support the transfer of humanities students from the San Diego Community College District to UC San Diego, while also engaging the humanities faculty at both institutions in collaborations about inclusive pedagogy, curriculum, research, and mentoring" said Executive Vice President of the Mellon Foundation Mariët Westermann.
This is the third grant from the Mellon Foundation in support of this type of collaboration between a research university and a two-year institution. The Foundation is currently supporting collaborations between Case Western Reserve University and Cuyahoga Community College in Cleveland, and a partnership between the Graduate Center of the City University of New York and LaGuardia Community College. As part of broader humanities initiatives at UCLA and the University of Washington, the Mellon Foundation also supports collaborations between those institutions and community colleges in Los Angeles and Seattle.
"This grant offers an exciting opportunity for our students to expand their experience in the humanities, which are critical disciplines for understanding our world, past and present," said SDCCD Chancellor Constance Carroll. "The grant fosters important faculty interaction, student research projects, and other benefits. We are grateful to the Mellon Foundation for supporting this unique and important collaboration between our colleges and UC San Diego."
Chancellor Carroll is recognized nationally as a leading advocate for the humanities – having been appointed by President Barack Obama in 2011 to serve on the National Council on the Humanities, which works with the National Endowment for the Humanities. She said the Mellon Foundation grant is the largest ever received for humanities in the history of the San Diego Community College District.
UC San Diego Chancellor Pradeep K. Khosla noted that the funding—which will be administered at the university through the Institute of Arts and Humanities—helps the campus increase its commitment to the humanities and to local students. Khosla leads a campus with more than 33,000 students, six undergraduate colleges, five academic divisions, and five graduate and professional schools. UC San Diego is also home to the prestigious Scripps Institution of Oceanography and the UC San Diego Health System. With annual revenues of $4.3 billion in fiscal year 2015, the university is an academic and research powerhouse, with faculty, researchers and staff attracting more than $1 billion in research funding a year.
"We will be recruiting prepared and diverse transfer students and making sure they receive the support they need to be successful not only in their transition but also through graduation and beyond," affirmed Khosla.
With a large percentage of first-generation and minority students – the SDCCD is uniquely qualified to take part in such an endeavor. Although UC San Diego is often seen as a STEM-centric campus, known as an internationally leading research institution, the La Jolla campus has a strong Division of Arts and Humanities and prioritizes serving first-generation and underrepresented student populations. In 2015, 7,970 new transfer students enrolled at UC San Diego, almost all of whom came from a California community college and 12 percent of whom transferred from the SDCCD.
"Across university campuses nationwide, humanities enrollments have declined recently because of the current trend toward STEM—Science, Technology, Engineering and Math—disciplines," explained UC San Diego's Division of Arts and Humanities Dean Cristina Della Coletta. "But I believe we are at a turning point. Our own scientists and engineers understand that society has a pressing need for flexible thinkers who are able to represent human problems effectively and communicate and advocate for ethically sound solutions. A humanities education is an excellent foundation for developing these talents."
The joint initiative is formally known as Activating the Humanities in the 21st Century: A Collaborative Path for Transfer Students from Community College to Research University and Beyond. The initiative comprises several components, including student outreach and recruitment; a Summer Academy in the Humanities to help prepare SDCCD students as they transition to the university; building connections and collaboration among faculty at the two institutions; a Peer Mentoring Program to support humanities students once they arrive at UC San Diego; and a Digital Commons that would foster digital literacy and a campus community through digital networking tools. The Summer Academy in the Humanities will offer incoming transfer students a five-week, residential program beginning in the latter part of June, 2017, and will include a seminar entitle Foundations in the Liberal Arts that is aimed at providing training in writing, reasoning, and speaking.
According to a new analysis from the American Academy of Arts & Sciences, the number of bachelor's degrees conferred to students majoring in the humanities has fallen 8.7 percent from 2012 to 2014 and is now trailing far behind the number of degrees conferred in the Natural Sciences, Business & Management, and Behavioral & Social Sciences. Just 6.1 percent of bachelor's degrees that were conferred in 2014 were in core humanities disciplines, which include English, history, languages and literature other than English, linguistics, classical studies, and philosophy.
According to Della Coletta, humanism today, more than any other time in history, is about mobility and the crossing of boundaries and barriers at all levels—social, economic, cultural, disciplinary and institutional.
"UC San Diego values social mobility—recruiting and graduating low-income students; research—producing leading-edge scholarship; and service—encouraging students to give back to society. In this socially responsible and holistic spirit of excellence, the UC San Diego Division of Arts and Humanities and SDCCD are ideal partners," said Della Coletta.
One key to the SDCCD's success with diverse transfer students has been its Honors Program. The program is coordinated by Dr. Kelly Mayhew at City College, Dr. Pegah Motaleb at Mesa College, and Dr. Carmen Jay at Miramar College.
"On behalf of the San Diego Community College District Honors Program and our students, I give profound thanks for the opportunity to further the necessary study of the humanities and to build a vital bridge between our colleges and UC San Diego," said Kelly Mayhew, Honors Program Co-Coordinator, City College. "Our project will be a unique opportunity for students to collaborate with humanities faculty at a world class university and learn the necessary research skills to successfully transition to their own academic careers."
Representatives from the new collaborative say the program is aimed at preparing students for a variety of career opportunities which will contribute to solving 21st century problems.
"Our main goal is to identify potential transfer students in the humanities, develop their talents as creative and flexible thinkers, provide supportive services during their transition, and ensure that they graduate with appropriate and essential skills so they are prepared to choose a stimulating professional career that utilizes their humanities education," said Dr. Stephanie Bulger, the SDCCD's Vice Chancellor of Instructional Services.