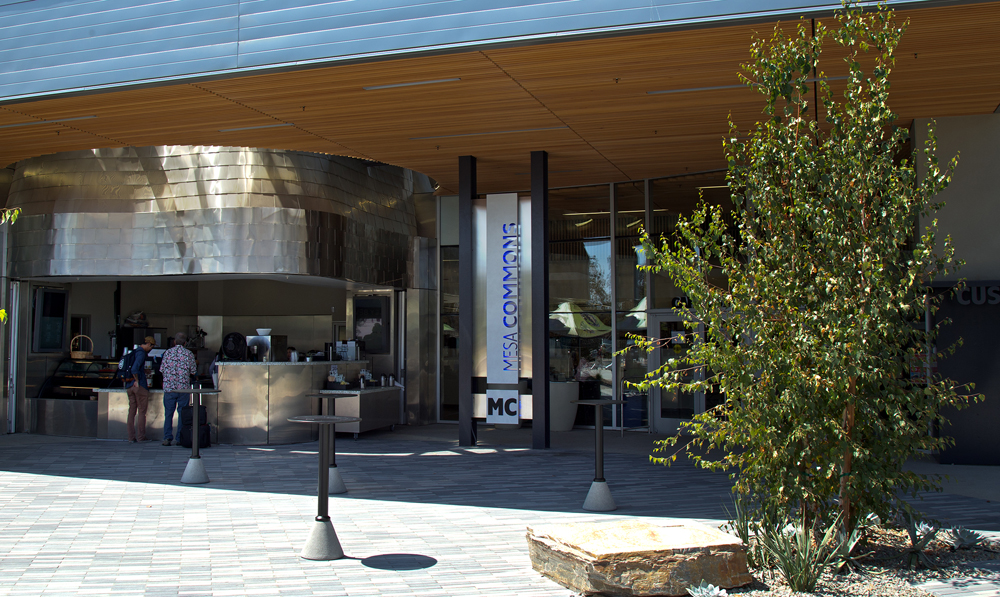 Mesa Commons serves as new student hub and campus gateway
September 15, 2016

|
An expansive new student commons at San Diego Mesa College was formally dedicated Sept. 14 before a crowd of students, staff, faculty and other guests who described the facility as "remarkable," "amazing," and much more than a new building; rather, a "new community."
"Those of us who have been on campus watching this building come out of the earth and watching it open this semester know it has changed the pattern of how our students and all of us experience this campus," said Pamela Luster, President of Mesa College. "It's really a remarkable space where students are finding their space and place on our campus, and that's exactly what Mesa is all about. We want them to come here, and we want them to be in community with one another and with all of us."
The new $44.3 million, 73,000 square foot Mesa Commons project serves as a student hub and gateway to the campus, housing the college's state-of-the-art culinary arts management labs and classrooms, modern student-run M-Fusion Dining Café, expanded new cafeteria and food court, campus bookstore, convenience store, coffee café, faculty and student lounge spaces, and conference rooms. The new facility, funded through the District's $1.555 billion construction bond program, also includes the campus stockroom, mail and printing services.
Ava Fakhrabadi, president the Mesa College Associated Student Government, praised the Commons as a place that "feels less like a school and a little more like home."
"Every year, Mesa proves more and more that it's not a commuter school but a community. Student government this year wants to work more closely with students and give them more opportunities to be involved on campus. And with the community that the Mesa Commons has given us, we know that this is going to be totally possible," she added. "We want to make Mesa a home for everyone here. With all of the amazing people surrounding us, we know there is no limit to what we can achieve."
Constance Carroll, SDCCD Chancellor, reflected on when she served as the President for Mesa College.
"What a great day for the students of Mesa College. It makes my heart proud to look around and see all of these new facilities, especially what is now the new heart of the college, the Mesa Commons," she said, also thanking local voters for their support of the bond measures which made the project possible. "These bond measures were the result of bold action on the part of our board, bold action on the part of the entire community, and bold action on the part of the voters of San Diego."
"I have now been on this board since 1990, so I've seen the transformation to our district because of these wonderful measures," said Maria Senour, President of SDCCD's Board of Trustees. "This is a wonderful addition to the campus. This is a place where they can meet with their peers, they can study together. We all know one of the parts of retention of students is their sense of community within the campus, and this building helps to create more of that sense of community within the campus that already exists. We're very proud of this achievement."
A hallmark of the SDCCD bond program is sustainability through its Green Building Policy, and the Commons has extensive 'green' features. It is the first building on campus to house a group of cisterns that provide 100% of the site's irrigation needs through reclaimed refrigeration condensate water and collected rain water. An organic roof garden is also a first for the campus. Used by the Culinary Arts Management department and fed by reclaimed water, the garden will provide some of the produce used in the building's student-run café. Multiple solar chimneys, radiant floor heating/cooling, and a substantial solar thermal array all make this building stand out for energy efficiency.
The new Commons was funded through the District's $1.555 billion construction bond program, and is one of seven new academic and career training facilities, four major renovations, numerous infrastructure projects, parking facilities, and public safety enhancements at Mesa College.